ELON MUSK THINKS TESLA WILL HAVE FULLY AUTONOMOUS CARS ready by the end of 2020. "There are no fundamental challenges remaining," he said recently. "There are many small problems. And then there's the challenge of solving all those small problems and putting the whole system together."
While the technology to enable a car to complete a journey without human input (what the industry calls "level 5 autonomy") might be advancing rapidly, producing a vehicle that can do so safely and legally is another matter.
There are indeed still fundamental challenges to the safe introduction of fully autonomous cars, and we have to overcome them before we see these vehicles on our roads. Here are five of the biggest remaining obstacles.
1. SENSORS
Autonomous cars use a broad set of sensors to "see" the environment around them, helping to detect objects such as pedestrians, other vehicles, and road signs. Cameras help the car to view objects. Lidar uses lasers to measure the distance between objects and the vehicle. Radar detects objects and tracks their speed and direction.
These sensors all feed data back to the car's control system or computer to help it make decisions about where to steer or when to brake. A fully autonomous car needs a set of sensors that accurately detect objects, distance, speed, and so on under all conditions and environments, without a human needing to intervene.
Lousy weather, heavy traffic, road signs with graffiti on them can all negatively impact the accuracy of sensing capability. Radar, which Tesla uses, is less susceptible to adverse weather conditions, but challenges remain in ensuring that the chosen sensors used in a fully autonomous car can detect all objects with the required level of certainty for them to be safe.
To enable truly autonomous cars, these sensors have to work in all weather conditions anywhere on the planet, from Alaska to Zanzibar and in congested cities such as Cairo and Hanoi. Accidents with Tesla's current (only level 2) "autopilot", including one in July 2020 hitting parked vehicles, show the company has a big gap to overcome to produce such a global, all-weather capability.
2. MACHINE LEARNING
Most autonomous vehicles will use artificial intelligence and machine learning to process the data that comes from its sensors and to help make the decisions about its next actions. These algorithms will help identify the objects detected by the sensors and classify them, according to the system's training, as a pedestrian, a street light, and so on. The car will then use this information to help decide whether the car needs to take action, such as braking or swerving, to avoid a detected object.
In the future, machines will be able to do this detection and classification more efficiently than a human driver can. But at the moment there is no widely accepted and agreed basis for ensuring that the machine learning algorithms used in the cars are safe. We do not have agreement across the industry, or across standardization bodies, on how machine learning should be trained, tested or validated.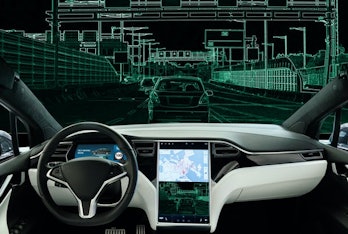 3. THE OPEN ROAD
Once an autonomous car is on the road it will continue to learn. It will drive on new roads, detect objects it hasn't come across in its training, and be subject to software updates.
How can we ensure that the system continues to be just as safe as its previous version? We need to be able to show that any new learning is safe and that the system doesn't forget previously safe behaviors, something the industry has yet to reach agreement on.
4. REGULATION
Sufficient standards and regulations for a whole autonomous system do not exist – in any industry. Current standards for the safety of existing vehicles assume the presence of a human driver to take over in an emergency.
For self-driving cars, there are emerging regulations for particular functions, such as for automated lane-keeping systems. There is also an international standard for autonomous systems that includes autonomous vehicles, which sets relevant requirements but does not solve the problems of sensors, machine learning, and operational learning introduced above – although it may in time.
Without recognized regulations and standards, no self-driving car, whether considered to be safe or not, will make it on to the open road.
5. SOCIAL ACCEPTABILITY
There have been numerous high-profile accidents involving Tesla's current automated cars, as well as with other automated and autonomous vehicles. Social acceptability is not just an issue for those wishing to buy a self-driving car, but also for others sharing the road with them.
The public needs to be involved in decisions about the introduction and adoption of self-driving vehicles. Without this, we risk the rejection of this technology.
The first three of these challenges must be solved to help us overcome the latter two. There is, of course, a race to be the first company to introduce a fully self-driving car. But without collaboration on how we make the car safe, provide evidence of that safety, and work with regulators and the public to get a "stamp of approval" these cars will remain on the test track for years to come.
Unpalatable as it may be to entrepreneurs such as Musk, the road to getting autonomous vehicles approved is through lengthy collaboration on these hard problems around safety, assurance, regulation, and acceptance.
This article was originally published on The Conversation by John McDermid at the University of York. Read the original article here.RELATED TAGS

INNOVATION
TESLA CYBERTRUCK: ELON MUSK OUTLINES IDEAS FOR TWO ALTERNATIVE VERSIONS
Tesla CEO Elon Musk has hinted that the company has ideas for alternative versions of the Cybertruck.FREDERIC J. BROWN/AFP/Getty ImagesMIKE BROWN15 HOURS AGO
Elon Musk has suggested two alternative versions of the Tesla Cybertruck, the all-electric pickup truck with a striking design due for launch in late 2021.
Over the past three days, the Tesla CEO has made reference to ideas for different designs for the Cybertruck. One proposal is focused on offering a more conventional truck design, while another is focused on offering a smaller version of the vehicle to better suit the smaller roads of markets like Europe. While the first idea outlined Sunday appears to be intended as more of a backup plan if the first Cybertruck fails, Musk claimed on Twitter Tuesday that the second idea is "highly likely down the road."
The suggestions show how Musk is thinking about the Cybertruck's unique design, first unveiled in November 2019. A pickup truck appeared in Tesla's second master plan in July 2016, as part of a three-phase plan to reach the mass market. This plan also covered the Model 3 sedan released in July 2017 and the Model Y SUV released in March 2020.
But while these two vehicles wouldn't look out of place in a conventional car lineup, Musk has taken a notably different approach with this third vehicle. Musk described it in November 2018 as "heart-stopping" and went as far as to say "I actually don't know if a lot of people will buy this pickup truck or not, but I don't care." The truck has been compared to something out of sci-fi classic Blade Runner.
Here's what we know about Musk's alternative ideas:
CONVENTIONAL TRUCK – In an interview with Automotive News shared Sunday, Musk suggested that the company would build a regular truck if the Cybertruck proves a commercial failure.
"It can be a better sports car than a Porsche 911, a better truck than an F- 150, and it's armored and looks sort of kick-ass from the future. That was the goal, recognizing this could be a complete failure. But I wasn't super worried about that because if it turns out nobody wants to buy a weird-looking truck, we'll build a normal truck, no problem. There's lots of normal trucks out there that look pretty much the same; you can hardly tell the difference. And sure, we could just do some copycat truck; that's easy. So that's our fallback strategy."
The pressure is on to capture some of the pickup truck market, as the Ford F-series has ranked as the United States' best-selling vehicle for the past 42 years.
SMALLER TRUCK – Musk suggested via his Twitter page Tuesday that a smaller version of the truck is "highly likely down the road." At the truck's unveiling, the provided specifications said the truck measured 79.8 inches wide, 75 inches tall and 231.7 inches long. That's not an outlandish size for a pickup truck, but it could be a challenge for smaller roads. In follow-up posts, Musk suggested that reducing width was more important than reducing length for overcoming these issues.
It's not the first time Musk has made reference to a smaller version. In May 2020, he wrote on Twitter that "we'll probably do a smaller, tight world truck at some point."
The truck was unveiled at the Tesla Design Studio, complete with its angular shape. Musk later claimed the vehicle's body, made from cold-rolled 30X steel, is so tough that Tesla couldn't shape it as they would with a conventional car. In a sector that includes conventional designs like the Ford F-150, the Cybertruck made a strong first impression.
The Cybertruck is set to hit roads in late 2021, at which point it may become clearer whether the gamble has paid off.
Source : https://www.inverse.com/innovation/tesla-cybertruck-elon-musk-two-alternative-versions
Source : https://www.inverse.com/innovation/tesla-cybertruck-elon-musk-two-alternative-versions
KEY POINTS
CNBC's Jim Cramer warned investors against over-speculation in the electric vehicle market.
"The bull market in Tesla is real and it's spectacular. The bull market in the rest of the electric vehicle plays feels way less substantial, and once again I'm warning you to stay away, no matter how awesome it seems," the "Mad Money" host said.
"Especially now that Tesla's pulling back from its highs, I think it's time to stop overthinking this story and go with best of breed," he said.
Wall Street's craze for electric vehicle stocks is coming to an end after valuations ballooned to levels that are unwarranted, CNBC's Jim Cramer said Tuesday.
That is with the exception of Tesla, the Elon Musk-helmed electric-vehicle company whose stock price has increased fourfold from its low point in March.
"I think the rest of the electric vehicle space looks like a boom, and then more like a bubble, one that's already started to burst," the "Mad Money" host said. "We keep seeing more and more of them come public, often via reverse mergers with special purpose acquisition vehicles," known as SPACs, "and after some big moves higher, their stocks have started to implode."
The electric vehicle, or EV, market is an emerging segment of the auto industry powered by the growing consumer interest in more eco-friendly products. The International Energy Agency projects that the EV adoption will reach 125 million cars by 2030.
Investors have thrown money into EV start-ups to get exposure to the market with companies like Nikola, Nio, Li Auto, Tortoise Acquisition, Spartan Energy Acquisition and DiamondPeak, a special purpose acquisition company whose shares spiked nearly 27% since news broke Monday that it would acquire Lordstown Motors in a reverse takeover.
Cramer, a once long-time skeptic of Tesla who got behind the stock late last year, said investors are trying to get in on what they think could be the next Tesla. Shares of the electric-auto maker are up more than 255% this year, settling Tuesday at $1,487.
However, many of these speculative EV plays have no business to show for and justify their valuations, he said.
Nikola, a battery-electric and hydrogen-powered truck manufacturer that came public via an SPAC two months ago, saw its shares more than double to peak near $80 in early June and flutter below $39 as of Tuesday. The company plans to put an electric truck on the market next year with another to come in 2023.
Cramer said the stock is a "victim of its own success."
"In other words, most of the value here is in the idea, the concept, and that simply can't justify a $25 billion valuation, where Nikola was not long ago … or even a $14 billion valuation where it is right now," he said. "Now, the company just reported tonight and the stock got hammered in after-hours trading. I don't know what people expected. They don't have any products to sell yet."
Nio, which some call the "Chinese Tesla," entered public markets nearly two years ago. The stock, trading near $2 earlier this year, from March through July rode the Tesla wave as Tesla shares surged 354% to a peak close. Nio's stock price topped out when it closed near $15 in July and has since pulled back 9% to $13.64 Tuesday.
The company is a long way from profitability, Cramer noted.
"I think Goldman Sachs tells the tale perfectly here: they upgraded Nio from neutral to buy in early June when it was trading at $4, then downgraded it to neutral at $6, then slapped a sell on the stock after it broke out to the teens."
Meanwhile, some traders think otherwise about placing bets on the fledgling EV stocks. Boris Schlossberg, managing director of FX strategy at BK Asset Management, said Monday on CNBC that he thinks Nikola is the "first real interesting competitor to Tesla." Ari Wald, head of technical analysis at Oppenheimer, offered that Nio shares are consolidating after reaching overbought territory in July and to expect a "resumption of the uptrend."
Cramer, though, is skeptical of the speculation.
"The bull market in Tesla is real and it's spectacular. The bull market in the rest of the electric vehicle plays feels way less substantial, and once again I'm warning you to stay away, no matter how awesome it seems," he said.
"Especially now that Tesla's pulling back from its highs, I think it's time to stop overthinking this story and go with best of breed."WATCH NOWVIDEO12:11The electric vehicle bubble, minus Tesla, has 'started to burst,' Jim Cramer says
Source : https://www.cnbc.com/2020/08/04/cramer-the-electric-vehicle-bubble-minus-tesla-has-started-to-burst.html
Bob Behnken and Doug Hurley returned to Earth in the first water landing by an American space crew since 1975.
Bob Behnken and Doug Hurley returned to Earth in the first water landing by an American space crew since 1975.
"On behalf of the SpaceX and NASA teams, welcome back to planet Earth," Michael Heiman, the SpaceX engineer communicating with the astronauts, said after splashdown. "And thanks for flying SpaceX."
More than an hour later, after Mr. Behnken and Mr. Hurley were helped out of the spacecraft, Mr. Hurley thanked the employees of NASA and SpaceX who helped make the mission a success.
"We are entering a new era of human spaceflight, where NASA is no longer the purchaser, owner and operator of all the hardware," Jim Bridenstine, the NASA administrator, said during a news conference after the splashdown. "We are going to be a customer, one customer of many customers in a very robust commercial marketplace for human spaceflight to low Earth orbit."
NASA has hired two companies — SpaceX and Boeing — to provide transportation of astronauts to and from the International Space Station, and SpaceX was the first to be ready to take astronauts to orbit, launching Mr. Behnken and Mr. Hurley in May.
Gwynne Shotwell, the president and chief operating officer of SpaceX, said the mission was "incredibly smooth" and a step to more ambitious trips.
"This is really just the beginning," she said. "We are starting the journey of bringing people regularly to and from low Earth orbit and onto the moon and then ultimately onto Mars."
After two months on the space station, Mr. Behnken and Mr. Hurley reboarded the Crew Dragon and undocked from the space station on Saturday evening. The spacecraft autonomously maneuvered away from the space station and, while Mr. Behnken and Mr. Hurley were sleeping, performed a six-minute burn of the thrusters to line up with the splashdown zone.
Earlier concerns about the Isaias storm system working its way up the Florida Atlantic coast prompted splashdown near Pensacola, the westernmost of seven possible landing sites, where calm weather cooperated to enable a safe return.
ADVERTISEMENT
On Sunday morning, the astronauts woke up to familiar voices.
"I'm happy you went into space, but I'm even happier that you're coming back home," said Mr. Hurley's son, Jack.
"Wake up, wake up, wake up, wake up, Daddy, wake up!" said Mr. Behnken's son, Theo. "Don't worry, you can sleep in tomorrow. Hurry home so we can go get my dog!"
About an hour before splashdown, the spacecraft began a final series of maneuvers. As it passed over the Indian Ocean, just to the west of Australia, it jettisoned a bottom piece, known as the trunk, which was no longer needed. That exposed the capsule's heat shield.
"Oh yeah, we felt it," Mr. Hurley said after the maneuver was confirmed on the ground.
An 11-minute firing of the thrusters set the Crew Dragon on a trajectory to fall out of orbit at 17,500 miles per hour. The rush of air heated the bottom of the capsule to 3,500 degrees Fahrenheit and, as expected, cut off communications with the spacecraft for six minutes.
"I'm almost speechless as to how well things went today with the deorbit," said Steve Stich, manager of the commercial crew program at NASA.
As SpaceX crews raced to attend to the capsule and its crew in the water, they also had to contend with a flotilla of small boats piloted by private onlookers seeking a closer view of the spacecraft. One of them flew a banner supporting President Trump.
"That was not what we were anticipating," Mr. Bridenstine said. The Coast Guard cleared out the area for the splashdown.
"After they landed, the boats just came in, and we need to do a better job next time for sure," he said.VideoTRANSCRIPT0:00/0:37
Several Private Boats Encroach on SpaceX Landing Zone
Onlookers circled the SpaceX Crew Dragon capsule as it bobbed in the water after its return to Earth, raising concerns about their possible exposure to toxic propellant fumes from the spacecraft.
"And you are seeing a few more boats than expected. The team's currently working with a few private vessels in the area, making sure that they get out of there." "There's a live view of Dragon floating in the water there in the background, along with many onlookers. [Laughs] Certainly from a safer distance at this point."0:36Several Private Boats Encroach on SpaceX Landing ZoneOnlookers circled the SpaceX Crew Dragon capsule as it bobbed in the water after its return to Earth, raising concerns about their possible exposure to toxic propellant fumes from the spacecraft.CreditCredit…Bill Ingalls/NASA, via Associated Press
SpaceX crews on the boats told them to move farther away, seeking to maintain the safety zone around the capsule because toxic propellant fumes from the spacecraft thrusters can endanger passengers on vessels nearby. Detection of residual fumes once the spacecraft was pulled from the sea delayed the opening of the hatch for the astronauts to exit.
Mr. Behnken addressed the SpaceX team just before he left the Crew Dragon: "Thank you for doing the most difficult parts and the most important parts of human spaceflight — getting us into orbit and bringing us home, safely."
Once back on land, the astronauts were flown from Pensacola to Ellington Field, a military base in Houston.
By the time they walked off the Gulfstream plane, Mr. Behnken and Mr. Hurley looked as if they had already largely acclimated to gravity again, walking with only slight wobbling to seats on the tarmac. They again thanked the people at SpaceX and NASA who had worked to make the mission a success.
Mr. Hurley said the journey was still "a lot to process," then joked that he and Mr. Behnken had been in the capsule "making prank satellite phone calls to whoever we could get a hold of."
He added that the phone bill should be sent to Mr. Musk, who had flown from California, where he had watched the splashdown from SpaceX headquarters, to Houston to welcome the astronauts back.
"I really came here because I just wanted to see Bob and Doug, to be totally frank," Mr. Musk said during his brief remarks.
"I'm not very religious, but I prayed for this one," Mr. Musk said.
NASA has been busy in the past week. On Thursday, it launched Perseverance, its next robotic rover, on a six-and-half month journey to Mars. Mr. Bridenstine took the opportunity of Mr. Behnken's and Mr. Hurley's return on Sunday to promote the space agency's next major push: to send astronauts back to the moon.
The House of Representatives, controlled by Democrats, has been reluctant to provide the money that NASA says it needs to meet a goal set by the Trump administration of a moon landing in 2024.
"What I'm asking for our members of Congress to do is look at what we've done with what we have," Mr. Bridenstine said at Ellington after Mr. Behnken and Mr. Hurley had spoken. "And if you fund us at our budget request level, we will be on the moon."
After the splashdown on Sunday, Mr. Trump tweeted, "Great to have NASA Astronauts return to Earth after very successful two month mission. Thank you to all!"
Mr. Behnken and Mr. Hurley ended up with a longer and busier stay at the space station than the two weeks originally planned. Because of repeated delays by SpaceX and Boeing, NASA ended up short-handed, with only one astronaut, Christopher J. Cassidy, aboard the space station when the Crew Dragon and its two passengers docked.
They stayed two months. Mr. Behnken and Mr. Cassidy performed four spacewalks to complete the installation of new batteries on the space station. Mr. Hurley helped by operating the station's robotic arm. The men also contributed to science experiments in low-Earth orbit.
Mr. Cassidy will remain aboard the station with two Russian astronauts, Anatoly Ivanishin and Ivan Vagner. All three are to stay on board through October, when another crew of one American and two Russian astronauts will replace them.
Once the mission is formally certified as a success, the next flight of the Crew Dragon will launch no earlier than late September. It will take three NASA astronauts — Michael S. Hopkins, Victor J. Glover and Shannon Walker — and one Japanese astronaut, Soichi Noguchi, to the space station.
The second operational flight, tentatively scheduled for February 2021, will use the same capsule that just returned with Mr. Behnken and Mr. Hurley. It will carry two NASA astronauts, Robert S. Kimbrough and K. Megan McArthur; Akihiko Hoshide of Japan; and Thomas Pesquet of the European Space Agency.
Ms. McArthur is married to Mr. Behnken.
SpaceX's counterpart in the commercial crew program, Boeing, will almost certainly not be able to launch astronauts until next year. An uncrewed flight last year suffered significant software errors, which could have led to a loss of the spacecraft during its orbital test. Boeing will now repeat the uncrewed test later this year before putting astronauts aboard.
https://nyti.ms/31eLZnR
Source : https://www.nytimes.com/2020/08/02/science/spacex-astronauts-splashdown.html