General Motors CEO Mary Barra said the company will bring new electric vehicles to market faster than anticipated as the automaker announced a major step forward Thursday in its self-driving car development.
GM is also making strides in hiring and calling back workers at two of its facilities. 
GM said it has started hiring what will eventually be more than a thousand workers at its new EV battery plant near GM's former Lordstown Assembly factory in northeast Ohio. GM will start calling back workers to Factory ZERO in Detroit and Hamtramck starting early next year as it converts the facility to build EVs.
GM has said it would bring at least 20 new EVs to market by 2023. It has shown two of those: the Cadillac Lyriq SUV, due to market in 2022, and the GMC Hummer EV pickup, hitting the market late next year. 
During an earnings call with analysts Thursday, Barra said GM will be bringing EVs to market faster than it had initially anticipated, crediting its strategic partnerships and investments in technology for having allowed it to speed up product development. Barra said future EVs will cross all of GM's brands to include high-volume cars too.
Hiring in Ohio
One of GM's partnerships is with LG Chem in the joint venture Ultium Cells LLC.
The venture will mass-produce Ultium battery cells for electric vehicles and GM is building a 3 million-square-foot plant for it that sits adjacent to GM's former auto assembly plant near Lordstown, Ohio.
GM shuttered Lordstown Assembly, which had made the Chevrolet Cruze compact car, last year as part of a cost-cutting restructuring of the company. GM transferred most of the thousands of workers there to other GM facilities across the country. GM sold the facility to electric truck maker Lordstown Motors last year. 
But GM said Ultium Cells will create 1,100 new jobs. GM isn't saying when the plant, which will supply batteries for Factory ZERO and Spring Hill Assembly in Tennessee, will open other than that it is expected to do so during the first quarter of 2022.
Job seekers can now start applying on the Ultium Cells LLC website beginning Thursday. The plant will be hiring people to set up and launch battery cell manufacturing. The website lists various engineering jobs and purchasing, but GM said additional job openings will be posted as they become available.
On its website, Ultium said, "We need technology-savvy people to fill roles across our organization — manufacturing, administration, and more."
It said the jobs offer health benefits, holiday pay, discounts on GM vehicles, a stipend for personal cell phone use and annual educational support, as well as a comfortable air conditioned environment.
GM and LG Chem have invested $2.3 billion in the Ultium Cells LLC facility, which will be about the size of 30 football fields and manufacture battery cells for the GMC Hummer EV, Cadillac Lyriq, Cruise Origin and others, GM said.
Thanks largely to Tesla, manufacturer of the quickest car we've ever tested, we've come to expect great rapidity from electric vehicles. But if EVs are going to become mainstream (and both governmental and automaker pledges indicate that is going happen eventually, ready or not), then they can't all be high-priced rocket ships for early adopters. Enter the 2021 Volkswagen ID4, the electric ambassador for the post-"Dieselgate" VW. The ID4 is meant to be a true volks wagen, an everyday SUV for everyday drivers. It's sized, powered, and almost priced to match conventional compact SUVs such as the Honda CR-V and Toyota RAV4.
2021 Volkswagen ID4 By The Numbers
We've got lots to tell you about the new 2021 VW ID4, most of it good, but let's start with our performance numbers. We tested the rear-wheel-drive model, which uses a 201-hp, 229-lb-ft electric motor mounted at the rear axle. Our ID4 hit 60 mph in 7.4 seconds and ran the quarter mile in 15.9 at 86.3 mph, comparable to a Honda CR-V and 1.5 seconds quicker than the last Volkswagen Tiguan we tested. The ID4 doesn't slam you back in your seat with tire-shredding torque like that record-setting Tesla, but it accelerates smoothly and steadily right up to freeway speeds.
We question the choice of rear-wheel-drive for a mainstream crossover SUV, though. Despite the inherent coolness of a rear-motor VW, we think Mr. and Ms. America would prefer something more sure-footed in the snow, but we hoped it might pay some dividends in the real world. Separating power and steering across the front and rear axles has advantages. For instance, the ID4's turning circle is ridiculously tight, and the steering feels eager and accurate. On both the figure-eight test track and our favorite curvy roads, we could feel the tail trying to step out, but the stability control always stopped it. (We never did figure out how to turn the nanny off, but this VW-produced video of Tanner Faust caning the ID4 implies it can be done.)
The heft of the battery pack under the floor certainly helps with the 2021 Volkswagen ID4's stability, though it sometimes hinders ride quality. The ID4 is smooth and comfortable in most circumstances, but on poorly paved streets it jiggles and jostles, a consequence of the damping stiffness required to keep 4,659 pounds of ID4 from flailing out of control.
The shocks are generally successful in this endeavor, but on curvy roads, we found that a good, hard bump taken at speed could send the ID4 into oscillations the suspension had a hard time reining in. If such a bump happened to be in the middle of a fast corner, it made for a wild ride. Still, everyone from our team who drove the ID4 enthusiastically said they had a better time than they were expecting.
2021 Volkswagen ID4: Regen And Range
One thing we really liked during our test drives was the battery-power-generating braking setup. The VW ID4 only has one selectable level of regen (accessed from shifting from D to B), which we thought wouldn't be enough; in our experience, the Hyundai Kona Electric's setup, with multiple driver-selectable levels of regen, is the best solution. Much to our surprise, the VW ID4's single setting turned out to be just right, slowing the car appreciably but not aggressively or to a degree that forced a major adjustment to our driving styles.
And what of range? Like its acceleration, the ID4's EPA-rated 250 miles is not the stuff of headlines, but it's an honest number. In ordinary driving, including quite a bit of time on the freeway (generally a range-sponge for EVs), we found the ID4 eagerly met or slightly exceeded this figure. More aggressive driving clipped our range by about 10 percent, but we don't test cars or scream through the curves every day, and an overnight charge was sufficient for four or five days' worth of ordinary driving. A 300-plus-mile figure would give the ID4 bragging rights, but for electric-car owners charging at home, the ID4 need cause no range anxiety.
2021 Volkswagen ID4: Brace Yourself For The Future
If the ID4's performance was pleasantly ordinary, the way it presents itself is anything but. Let's start with the exterior styling, a familiar two-box SUV shape shaved and sanded to slip through the air. The 2021 Volkswagen ID4 is about the same length and width as a Honda CR-V or a Toyota RAV4, but it sits quite a bit lower, the better to cheat the wind. From the outside, the VW ID4 strikes us as something we'd see in a movie set in the not-too-distant future.
The interior made us feel more like we were part of the cast. Volkswagen cabins have been remarkably consistent for the last couple of decades, to the point that when VW finally went to digital dashboards, it basically recreated its trademark analog gauges in video form. With the ID4, tradition goes right out the window along with the internal combustion engine. Warning to the Veedubisti: Before you hop into an ID4, brace yourself for some major culture shock.
The 2021 VW ID4's gauge cluster is now a small video screen that perches atop (and moves with) the steering column. Like VW's traditional analog dials, it distills lots of useful info into a simple format: speed, range, driver-aid status, and (optionally) next-turn directions. It's all presented in a manner that reminds us of a really good head-up display. Jutting out from the pod's right side is the simplified shifter: twist for a Drive, Reverse, or Neutral, and push for Park. On the limited-run 1st Edition model we tested, the steering column, wheel, and all its attachments were done up in dirt-magnet white, but other models will have a more conventional dark-gray scheme.
2021 Volkswagen ID4: Learning Curve Or Learning Curb?
Nearly all other controls—stereo, climate, phone, and settings—reside on the tablet-like center screen (10.0-inch display standard, 12.0-inch optional), which has a capacitive touch panel below it to change temperature and volume and quickly access the parking camera, climate control settings, driver-assist settings, and drive-mode screens. Steering wheel buttons play an important role, as they should, but locating the defroster switches with the headlamp controls on the same panel to the left of the wheel is a head-scratcher.
We have no doubt the new control system will be a lightning rod for complaints, particularly from car reviewers like us. Truth told, we were all set to bash the system after our first day of using it, but we soon found the learning curve, while steep, isn't very high. The touch-sensitive "buttons" can be a little confusing; some activate via swiping and some need to be pressed, and some provide haptic feedback and others don't. We found the ID4's new interface is a bit like visiting a country where the citizens speak English with a strong, different accent: Once you get an ear for it, everything mostly makes sense.
Kudos to VW for incorporating a little Tesla-like magic in the startup sequence. There's a start button on the steering column, but you need not use it; once you're inside the car—with the key on your person, of course—stepping on the brake turns the powertrain on. Twist the dial for D, and away you go. Turning it off is even cooler: Put the car in park and open the door, and everything shuts down as you get out.
2021 Volkswagen ID4: Pricing And More—Is It Worth It?
In terms of interior and cargo space, the ID4 delivers about as much of the former and almost as much of the latter as you'd expect from its gasoline-powered competitors. All the seats are comfortable and reasonably roomy, but cargo space suffers a bit from the ID4's swept roofline.
Key to accessibility is affordability. Volkswagen says the average price paid for a compact SUV (luxury or blue-collar) is $33,000, which was its post-incentive price target for this EV. The 2021 VW ID4 starts at $41,190, for which you get cloth seats, dual-zone climate control, and automatic headlights and wipers. Subtracting the $7,500 tax credit brings the price down to $33,690, and state incentives may further lower the figure. Also, let's not forget the costs of home charging are negligible compared to fueling a thirsty SUV.
Prices rise sharply from there on out. When all-wheel-drive arrives later this year, with two motors and more power (but presumably less range, as it uses the same battery pack), it'll cost $3,680 extra. An AWD ID4 Pro S with all the trimmings will set you back nearly $51,000, which is Tesla Model Y territory, though Tesla's federal tax incentives have run out and VW's haven't. But the limited-run ID4 1st Edition is a good one-time bargain, offering all the trimmings of the rear-drive Pro S for just more than $45,000 before incentives.
We came away impressed by the 2021 Volkswagen ID4, an electric SUV with one set of tires in the present and one in the future. It's good fun to drive, novel but not baffling, and most important a reasonably practical SUV. If this is what mainstream EVs will be like in the not-too-distant future, then the future might not be as dark as you think.
Source : https://www.motortrend.com/cars/volkswagen/id4/2021/2021-volkswagen-id4-ev-first-test-review/
The Tesla Model 3 is designed to be one of the best city cars available in the market today, and since its release, it has certainly played the part. While the Model 3 has proven itself as an excellent vehicle on paved surfaces, however, the all-electric sedan remains challenged when it drives off the beaten path, thanks to its low ground clearance.
This has been mentioned by several Model 3 owners. YouTube host Shelby Church, who purchased a Standard Range Plus version of the all-electric sedan, previously noted that the Model 3's ride height is so low that it is pretty easy to scrape the vehicle in steep areas like her garage. As noted in a recent report from auto motor und sport, this was a situation faced by a Tesla Model 3 owner in Norway.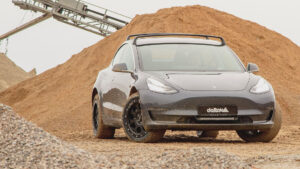 See how the Mazda CX-30 measures up to the competition and explore model packages.
According to the publication, the Model 3 was so low that the vehicle could barely handle its owner's garage. It was also fairly easy to scrape the bottom of the Model 3 during the Norwegian winter. Fortunately for the Tesla owner, German off-road specialist firm Delta 4×4 offered a rather novel solution: a lift kit that raised the Model 3's ground clearance by 35mm and some all-terrain 245/45 R18 tires.
The result of the off-road modification is actually pretty impressive. Images of the vehicle shared online show what could very well be one of the most aggressive-looking Model 3s on the road today. Together with the Model 3's sleek lines, the lift kit makes the all-electric sedan look futuristic and extremely tough at the same time. What's doubly impressive is the fact that the 4×4 modification has been approved by the local Technical Inspection Association, as per The Driven.
There are advantages and disadvantages that are brought about by Delta 4×4's off-road modifications on the Model 3. With the lift kit, the Tesla Model 3 is now able to navigate uneven surfaces and steep terrain. This makes the Model 3 a pretty proficient off-road vehicle, especially if the car is a Dual Motor AWD variant. However, the changes to the vehicle have also resulted in some range reduction.
Check out Delta 4×4's Model 3 off-road kit in the video below.
---
NEWS
Ford CEO pledges to keep EV lineup affordable with no "six-digit" prices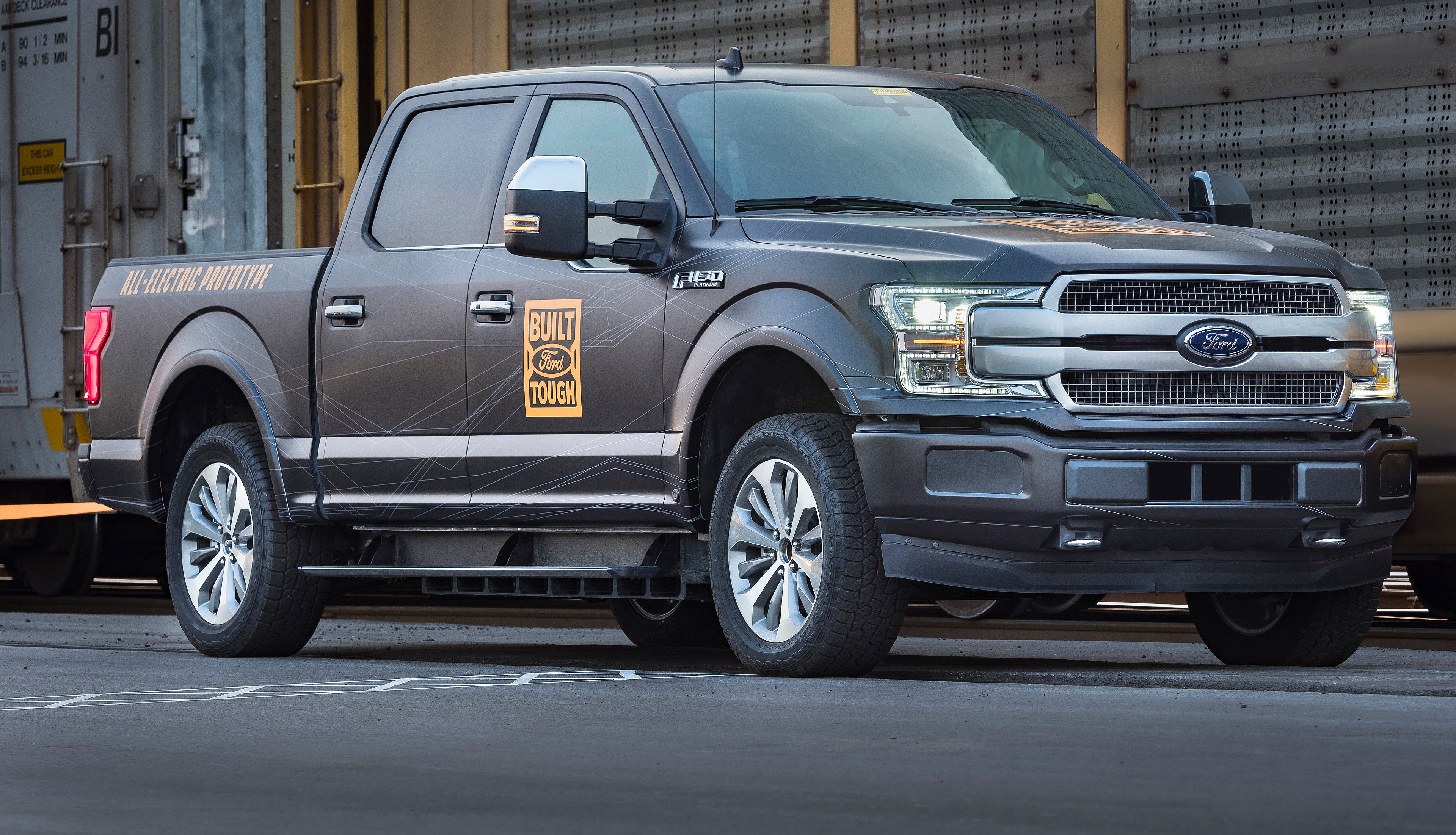 With the electric vehicle segment becoming more and more crowded, Ford has announced that its upcoming EVs will be priced quite aggressively. In what seems to be a subtle dig at the $112,595 GMC Hummer EV, CEO Jim Farley noted that Ford would not be releasing electric vehicles that are in the six-figure range. Instead, Ford's EVs will be as affordable as possible.
"We are not going after the $100,000-plus market. These are affordable vehicles," Farley said in a statement to Wards Auto.
Farley later noted that the lineup of Ford EVs he has in mind would be priced between $20,000 to $70,000 before options. This is a very aggressive target, considering that even EV leader Tesla is still in the process of lowering its production costs to such a degree that it could release a $25,000 car, a vehicle that's more affordable than the Model 3, the company's current entry-level vehicle.
Interestingly enough, Farley did not elaborate if his $20,000 to $70,000 price range estimate includes government incentives. Unlike Tesla and longtime rival GM, after all, Ford is yet to exhaust its government incentives, so customers of vehicles like the Mustang Mach-E will still be able to take advantage of the US government's $7,500 tax credit.
Farley's recent statements bode well for the upcoming Ford F-150 Electric, a vehicle that is being promoted as a "real" work truck. Considering the CEO's statement, it appears that the Ford F-150 Electric's most expensive variant will start at around $70,000, allowing it to compete directly with the Tesla Cybertruck, at least in price. The Cybertruck's tri-motor variant, which boasts over 500 miles of range per charge, starts at $69,990.
As noted in an AutoBlog report, it is quite challenging to speculate how Ford intends to come up with electric vehicles that are in the $20,000 range. The company's alliance with the Volkswagen group does give it access to the modular MEB platform, but even the ID.3 has not reached such a price yet. The Mustang Mach-E, Ford's upcoming all-electric crossover, starts at about $43,995.
While Farley noted that Ford would not venture into six-digit territory, this does not mean that the company would not produce premium vehicles for the upscale market. Ford's luxury Lincoln brand, for one, could still offer electric cars that are priced at around the same range as the Hummer EV. Such an EV seemed to be in the works previously with Lincoln sourcing technology from Rivian, but the project was canceled this April. Lincoln executives, for their part, pledged then that they are committed to releasing an EV in the near future.
Source : https://www.teslarati.com/tesla-model-3-off-road-4×4-video/
Audi on Thursday revealed a few more details about the Audi E-Tron GT, though it won't fully be revealed until early 2021. For now the electric performance flagship's distinct design and styling follows Audi's own performance path and veers away from the closely related Porsche Taycan. 
The GT was developed and prepared by Audi Sport and will be sold with the performance-focused RS badge. Made alongside the Audi R8 on Audi's own line at Böllinger Höfe, Germany, the model will be "the sporty flagship of the electrification strategy at Audi," according to Audi Sport managing director Julius Seebach. "It paves the way into the all-electric RS world and it is our commitment to the company's CO2 target."
Although Audi notes that these two vehicles ride on the same 800-volt platform, called J1, and that they were developed at the same time, the tuning of each model was done independently by each brand.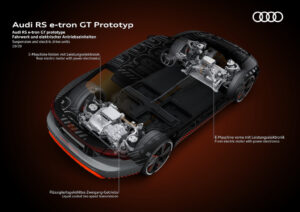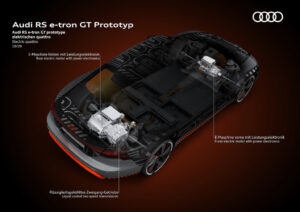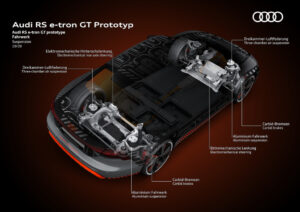 Like the Taycan, the E-Tron GT will offer rear-axle steering that helps boost maneuverability at low speeds while improving stability at higher speeds. Its three-chamber air suspension, which is tuned to be softer in Comfort mode and firmer in its Dynamic setting, allows nearly 2.0 inches of variability in ride height. 
Propulsion specs haven't changed that much since Audi showed the GT in thinly veiled concept form in 2018. A 235-horsepower front motor and 449-hp rear motor together make 590 hp—or up to 640 hp in an overboost mode.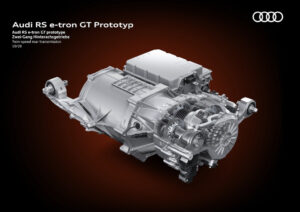 The front motor has a single-speed reduction gear, while the rear motor has its own 2-speed gearbox, in what sounds like the same hardware from the Taycan. The unique 2-speed setup should allow strong, consistent launch characteristics, and an official 0-60 mph time of 3.5 seconds. 
Battery-pack capacity is one spec that makes no match with the Taycan. While the Porsche has a 79.2-kwh Performance Battery or a 93.4-kwh Performance Battery Plus, the E-Tron GT has an 83.7-kwh (net) battery with 396 pouch cells split into 33 modules.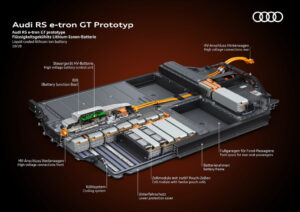 The GT has two coolant circuits running at different temperature levels—a cooler one for the battery pack and a warmer one for the motors and power electronics. There are also cooling and heating circuits for the interior. 
Between the four circuits, a series of valves allow the systems to be flexibly interconnected, to function as a heat pump for the interior. The potential of the cooling systems is most used during high-performance driving, or during the highest-power DC fast charging, where the GT, like the Taycan, can reach 270 kw. 
To access that peak charging rate, a route planner in the GT's navigation system starts preconditioning the battery so as to match the charging capacity of the anticipated charge connector.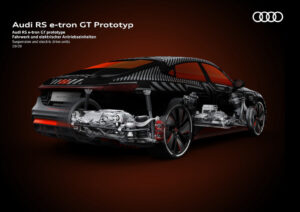 Steel discs are standard, with a tungsten carbide coating optional. The RS model will have carbon fiber ceramic brakes with 10-piston calipers. Wheels will range up to 21-inchers, but Audi says that the 20-inch wheels are the best for aerodynamics and the 19-inch ones for the front wheels weigh the least, at about 50 pounds each.
We also expect many of the sensory pieces of the driving experience to be inspiring in Audi's own signature way. For instance, last month the brand outlined how it had developed its own distinct sound for the GT.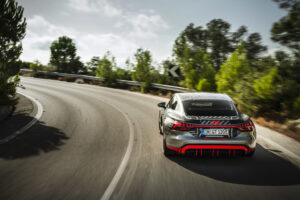 With its influences from Audi Sport and Formula E racing, the E-Tron GT promises to be the halo car where all-electric and performance cars meet. Audi was the first German automaker to enter Formula E, in 2017, and it says that motorsports will play a key role in the electric transformation. 
Audi's family of fully electric E-Tron vehicles is set to grow significantly just next year with the introduction of the Audi Q4 E-Tron SUV and Sportback, in addition to the GT. In all, it plans to launch about 30 electric vehicles and plug-in hybrids by 2025. 
Source : https://www.greencarreports.com/news/1130199_2022-audi-e-tron-gt-electric-car-details-battery-charging-performance
---
Now, it's important to understand it's not that Mercedes is completely abandoning self-driving technologies, it's just that it's no longer seeking Level 5, at least on its own. Whoever does manage to reach Level 5 first will benefit from significant financial and branding advantages for years to come, but Mercedes sees the writing on the wall regarding its ability to deliver here.
Its decision also does not mean Mercedes will no longer develop autonomous vehicle technologies. In fact, just a few days ago, Mercedes and Waymo announced a partnership to build driverless semi-trucks.
Last month, Waymo also revealed plans to expand its driverless ride-hailing services throughout Arizona with its fleet of modified Chrysler Pacifica minivans. In the very near future, this 400-vehicle fleet will become fully driverless. Mercedes' decision is probably for the best because unlike firms such as Waymo, it has numerous other projects in various stages of development.
Funneling resources into just one or two areas of technology is not smart business for a major international automaker, so perhaps Level 5 is best left to tech firms like Waymo and even Amazon.
Source : https://carbuzz.com/news/mercedes-withdraws-from-fully-autonomous-vehicle-race
Guess we won't see driverless Mercedes vehicles in the foreseeable future.
With Lewis Hamilton and Valtteri Bottas at the helm, Mercedes-Benz is currently employing a one-two punch in Formula 1, winning races and populating the podium quite frequently. Unfortunately, there's a race that Mercedes won't win – something that doesn't involve drivers.
In a report by Redaktions Netzwerk Deutschland, Mercedes said that it's withdrawing from the autonomous driving race. Take note that this doesn't pertain to the level 3 self-driving tech found in the 2021 Mercedes S-Class, nor the recently announced partnership between Daimler and Waymo to produce driverless semis.
The target is level 5 autonomous driving for public use – something that Waymo unveiled in Phoenix in October with its self-driving robot taxi. For Mercedes, however, that was the target.
"We don't compete in any race that we can no longer win," a Mercedes spokesman told the German publication.
As early as five years ago, we've already heard about Mercedes-Benz developing self-driving cars. The first Mercedes autonomous bus was also revealed, completing a 20-kilometer route in Amsterdam without a human being behind the steering wheel. This had put the automaker ahead of the pact that's chasing autonomous driving technology.
But that's a thing of the past now as confirmed by Mercedes through its spokesman in the RND report. The company said that it will move away from that goal, citing a new business strategy for the marque. In Mercedes' perspective, car-sharing isn't a profitable business anymore. Level 4 autonomy, in relation to driver assistance in private cars, is still on the table, but a business model similar to Waymo won't happen.
"Our investors don't just expect sales, but also especially profit," said Mercedes' spokesperson.
In line with this, Mercedes' boss Ola Källenius has cut research and development investments in autonomous mobility. The previously reported BMW and Mercedes-Benz joint development of self-driving cars has also been terminated – a mutual decision between the two German firms.
Source: Redaktions Netzwerk Deutschland
https://www.motor1.com/news/452351/mercedes-cancels-autonomous-drivin-plans/
Nio has surpassed General Motors in market value, as investors continue to bet on the long term outlook of electric vehicle manufacturers.
Nio's market cap of more than $56 billion on Thursday was more than General Motor's $53 billion. 
Shares of Nio have surged this week after the Chinese electric vehicle maker said it delivered a record 5,000 cars in the month of October.
Visit Business Insider's homepage for more stories.
Source : https://markets.businessinsider.com/news/stocks/nio-stock-more-valuable-general-motors-wall-street-sees-upside-2020-11-1029772420