With their electric vehicles, BMW, GM and Ford are re-inventing the grille in ways both familiar and strange
When BMW unveiled its next generation of electric vehicles — the i4 and the iX SUV — in March, their faces generated at least as much chatter as their electric guts. There on the front of both was BMW's design hallmark: two kidney-shaped grilles. But these were far bigger than the kidneys on the automaker's gas-burning models and seemingly turned upright, with a glossy black lattice in place of the trademark vertical bars. They seemed like an anachronism. With no engine sitting behind them, and no radiator pulling in air, why bother?
"The kidney is not just an air-cooling system," explains BMW design lead Domagoj Dukec. "It's the strongest differentiator between us and our competitors."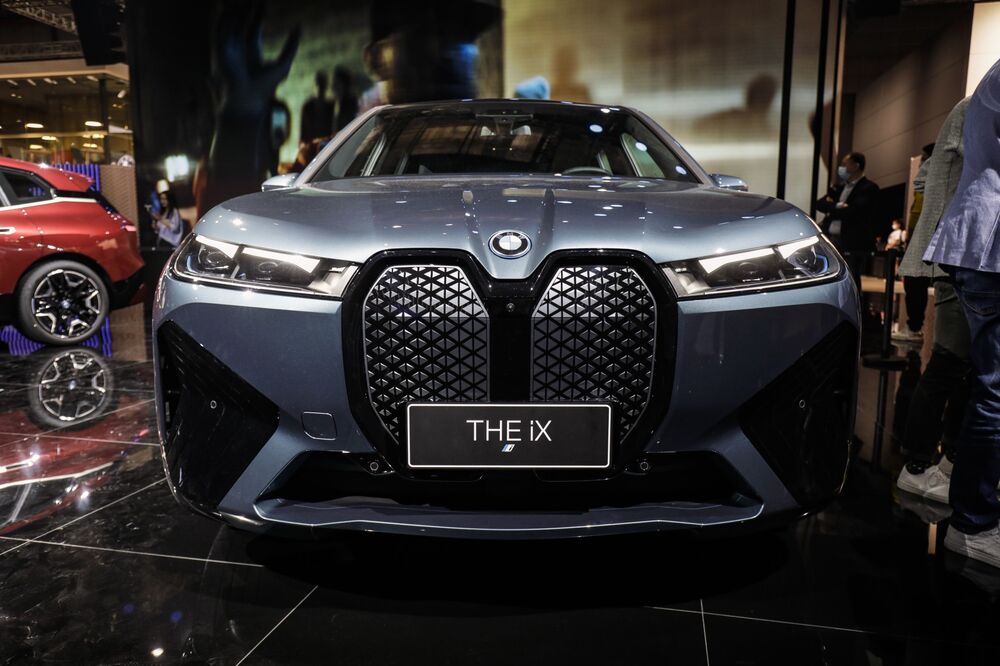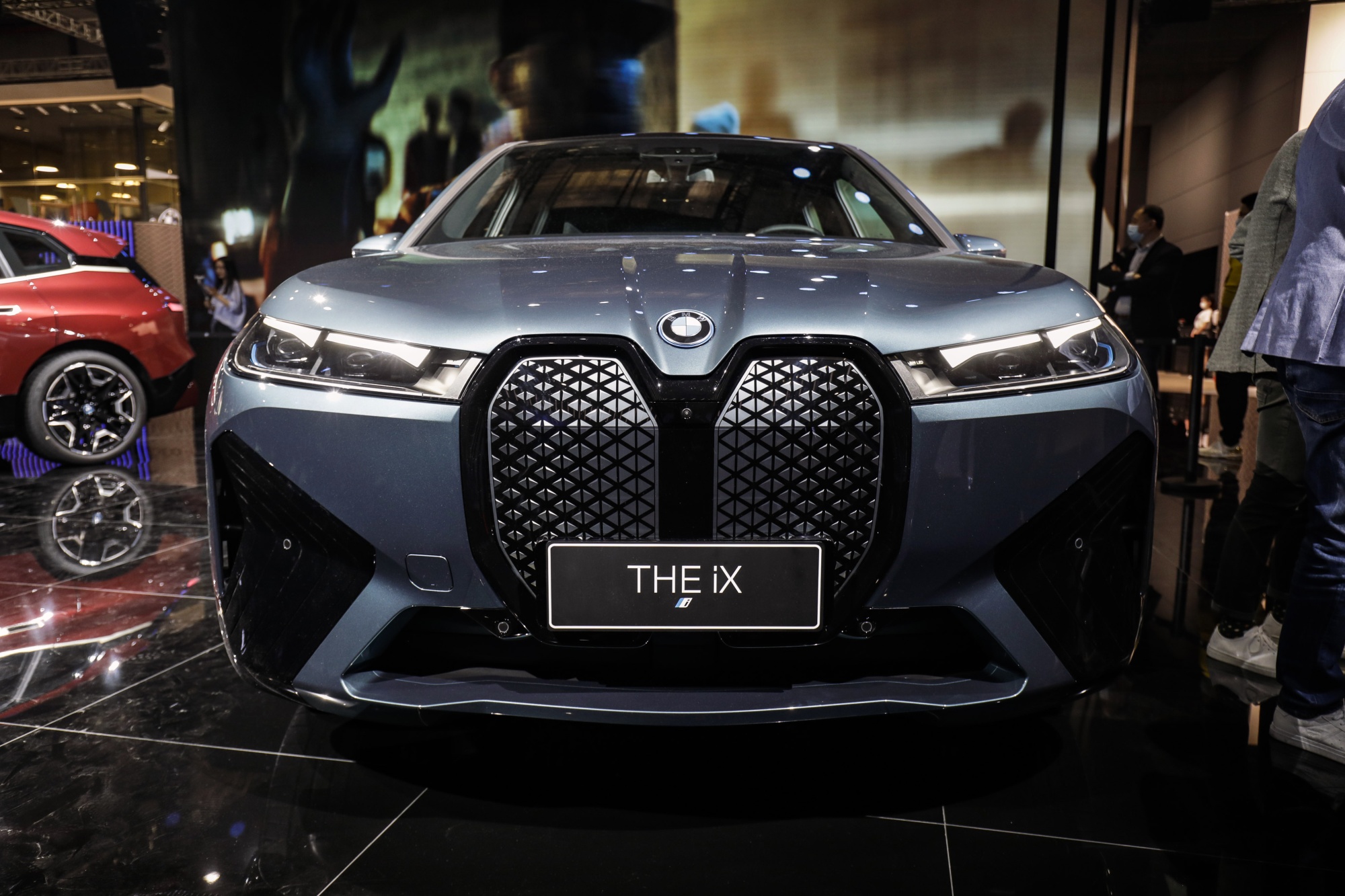 BMW is not alone. As legacy automakers move to electric powertrains, they're re-inventing the grille in ways both familiar and strange. GMC's new Hummer EV, set to begin production in the fall, features a reinterpretation of the SUV's famous seven-slot grille. Two decades ago, GM successfully fought off a challenge from Chrysler over the right to use the seven slots, which are also a hallmark of Jeep. This time around GM has abandoned the slots in favor of six blocks that spell out the word "Hummer." If you squint, however, you can still make out seven slots lining the letter blocks. "We're having fun with that," says Rich Scheer, design director for the Hummer EV, "It's kind of an illusion."
The new Hummer, like the new BMW EVs, doesn't use the space above the bumper for cooling. "Behind what you would think is the grille, that's a huge storage compartment," says Scheer. "You could take air in there, but you're going to cool an empty space." While the BMW i4 and iX use their new-fangled kidneys to hide cameras and other sensors, the letter boxes on the front of the Hummer are pure showmanship.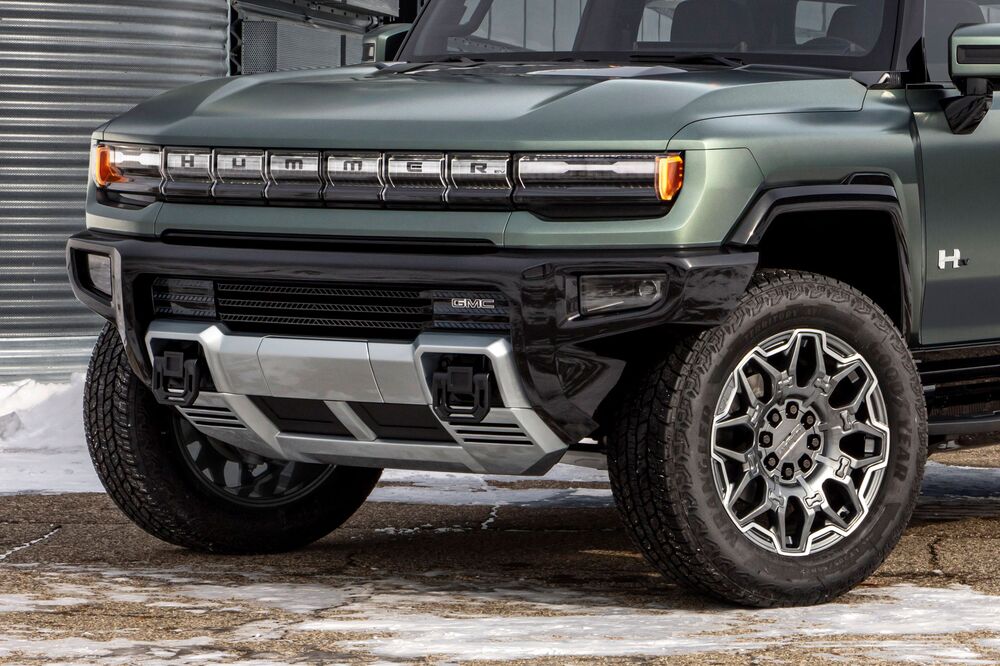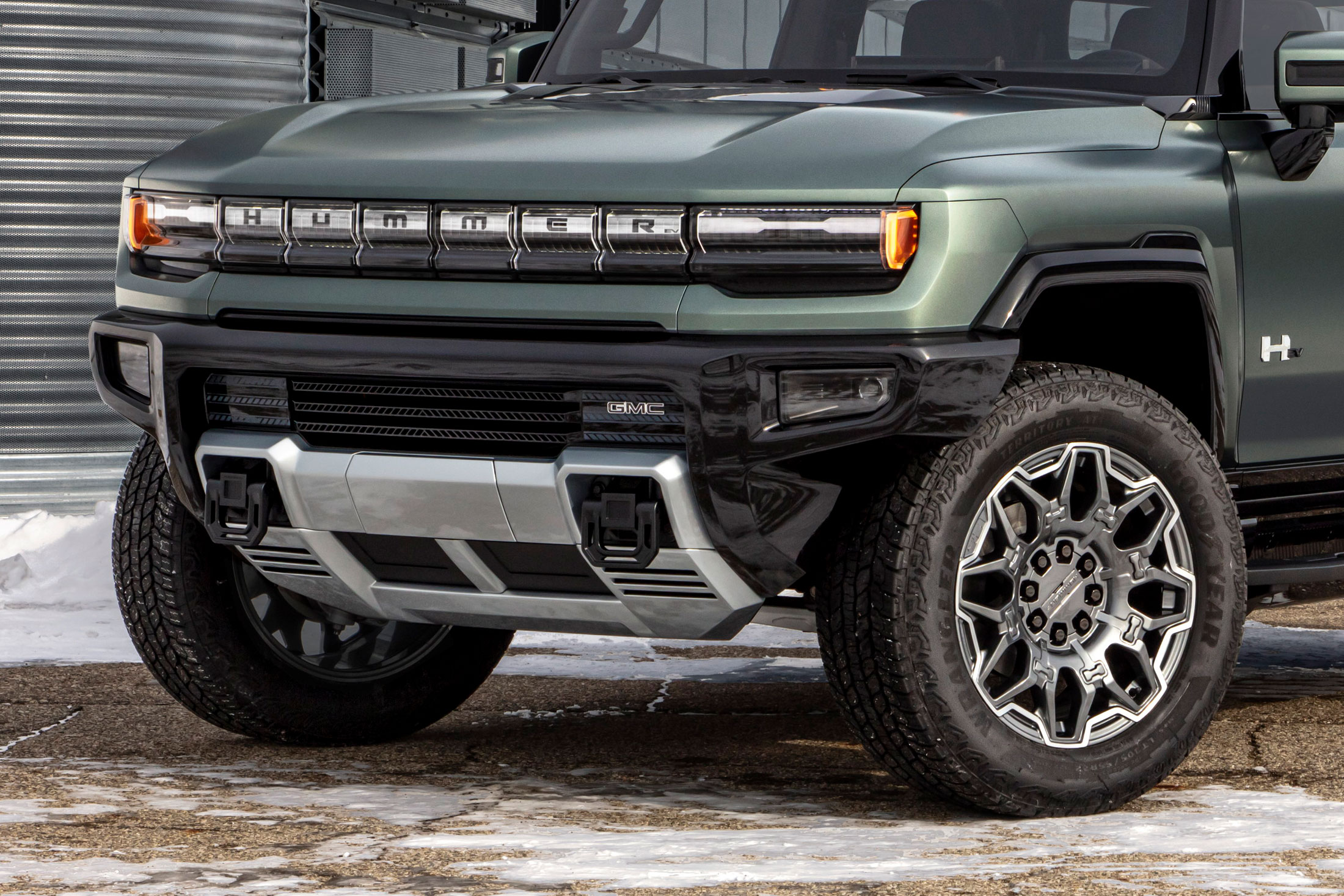 "We treated that whole upper lighting element as just great design theater," says Scheer. The word "Hummer" lights up as the driver approaches with the key. The idea, says Scheer, was to make the front the vehicle act like an iPhone: blank and cold when you are not using it; welcoming and bright when you are. For BMW and Hummer, the primary function of the grilles on their new EVs is to uphold the brand, which was built, in both cases, around combustion engine cars.
As the first to sell hundreds of thousands of EVs in the U.S., Tesla has had the privilege of setting consumer expectations for how an electric car is supposed to look. Its designers did not have to fret over legacy grilles. In 2016, when Tesla gave the Model S its first major design overhaul, or facelift, as it's known among owners, it replaced the shiny black oval at the front of the car with a fascia that matched the rest of the body. The new front of the Model S resembled those of the recently launched Model X and soon-to-be launched Model 3, creating a consistent—and conspicuous—aesthetic for the brand. On all three models, as with the Model Y that came after, it looks as if somebody has painted over the place where the grille used to be. "It wasn't just grille-less, it was an anti-grille," says Eric Noble, president of the Car Lab automotive consultancy.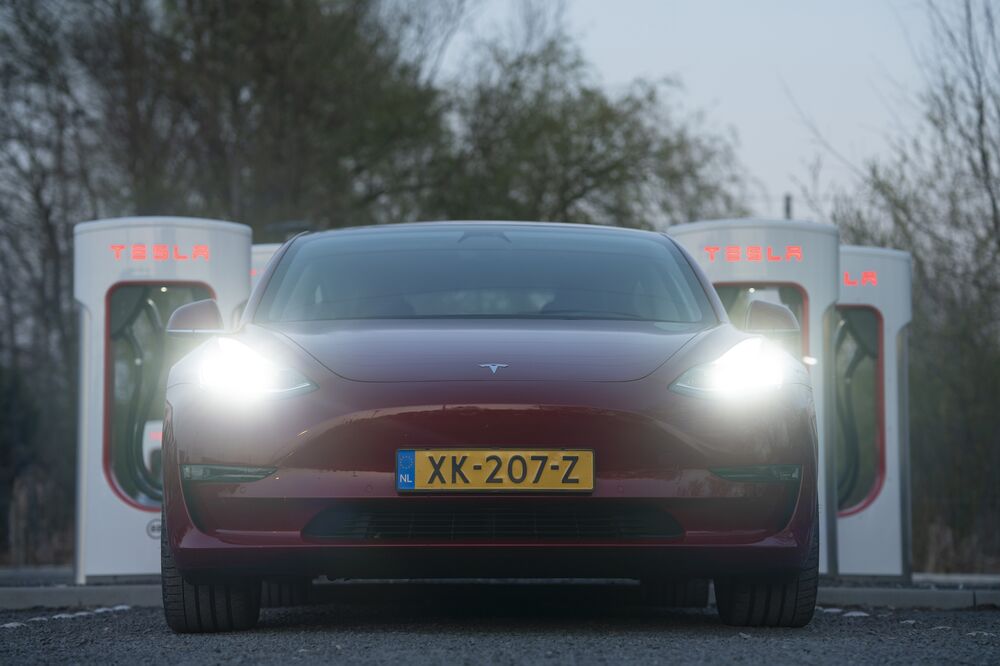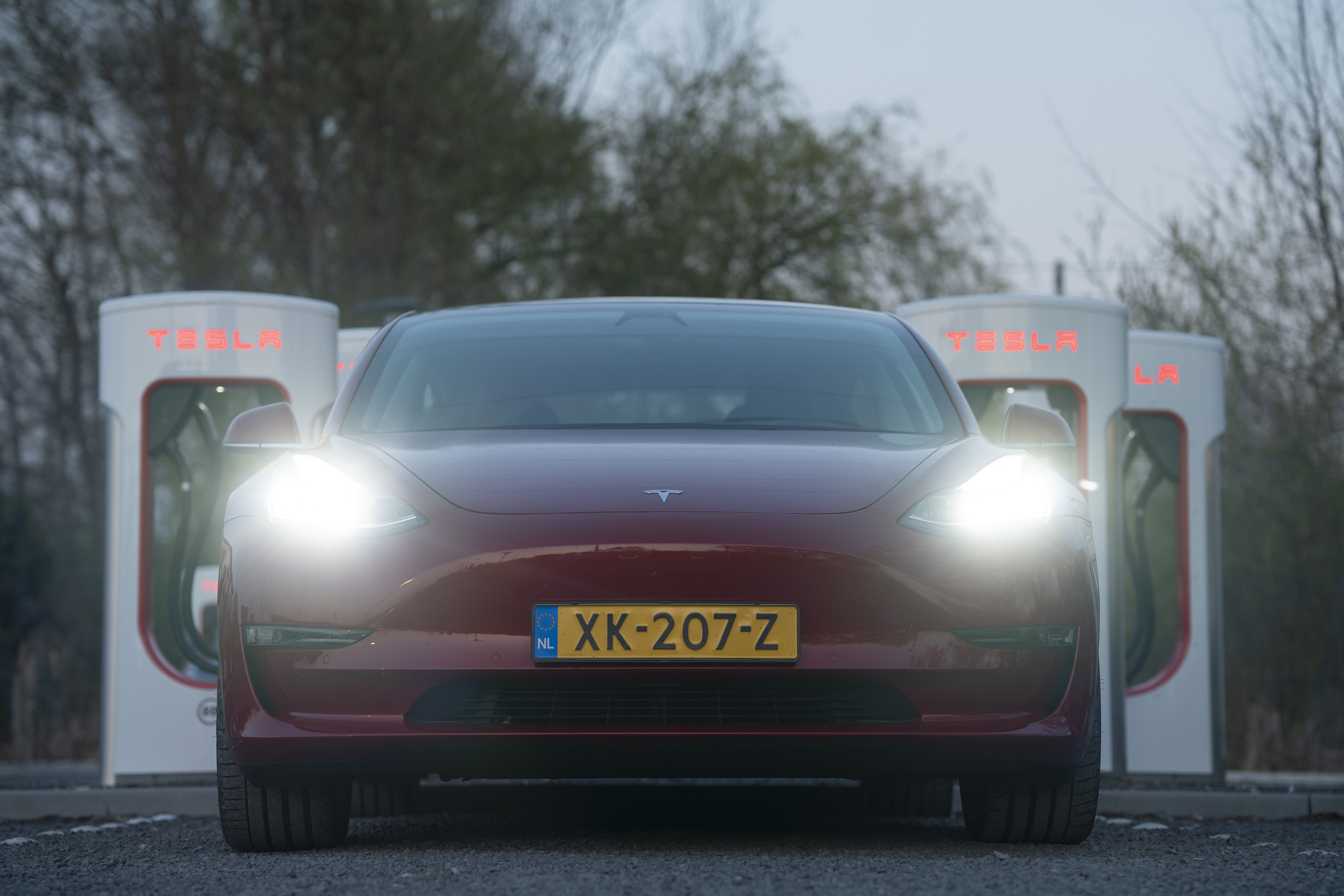 The design fit well with Tesla's identity as a disruptor: the anti-carmaker made cars with anti-grilles. It also helped create the notion that EVs don't need grilles. While it's true that electric powertrains do not generate as much heat as internal combustion engines do, EVs still need to take in air for cooling motors and batteries, especially in high performance models.
"It actually amazed me how much cooling we did need," says Gordon Platto, lead designer for Ford's new electric Mustang Mach-E. But with the batteries and motors typically placed along the bottom of the car, it usually makes sense to take that air from lower down. (Look closely at any Tesla and you will see a grille tucked beneath the bumper.) Smoothing over the front also helps with aerodynamics, which translates directly into greater range.
While Tesla merely made it look like the grilles had been papered over on their cars, some legacy automakers have literally covered grille openings on the electric versions of gas-powered models. The EV versions of Hyundai's Kona, Kia's Niro, and Volvo's XC40 SUVs, for instance, all feature panels over the erstwhile grille space. The fronts practically shout, No gas-guzzling engine here!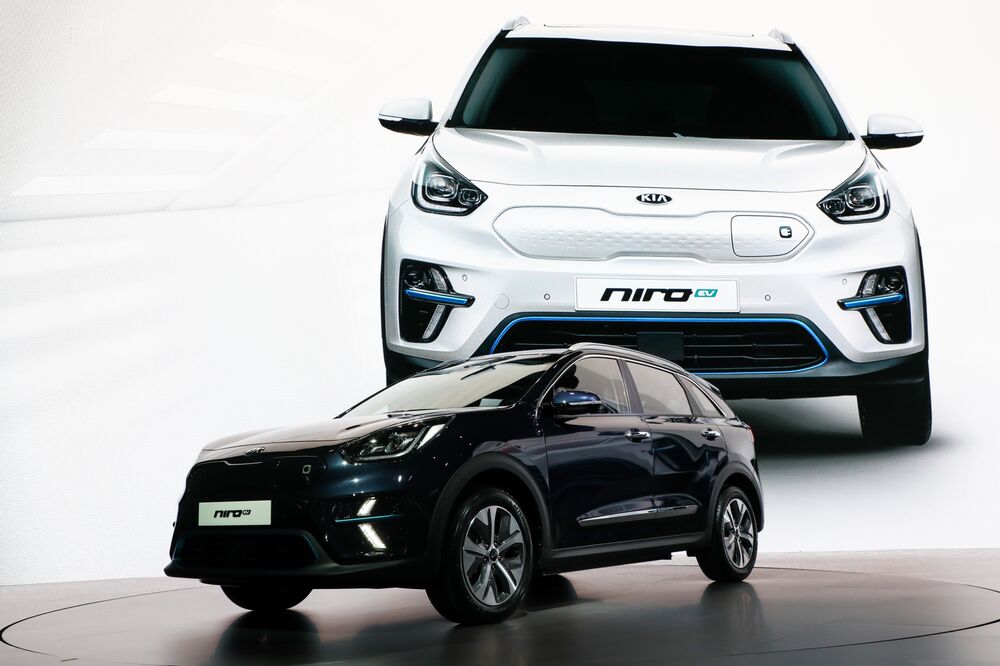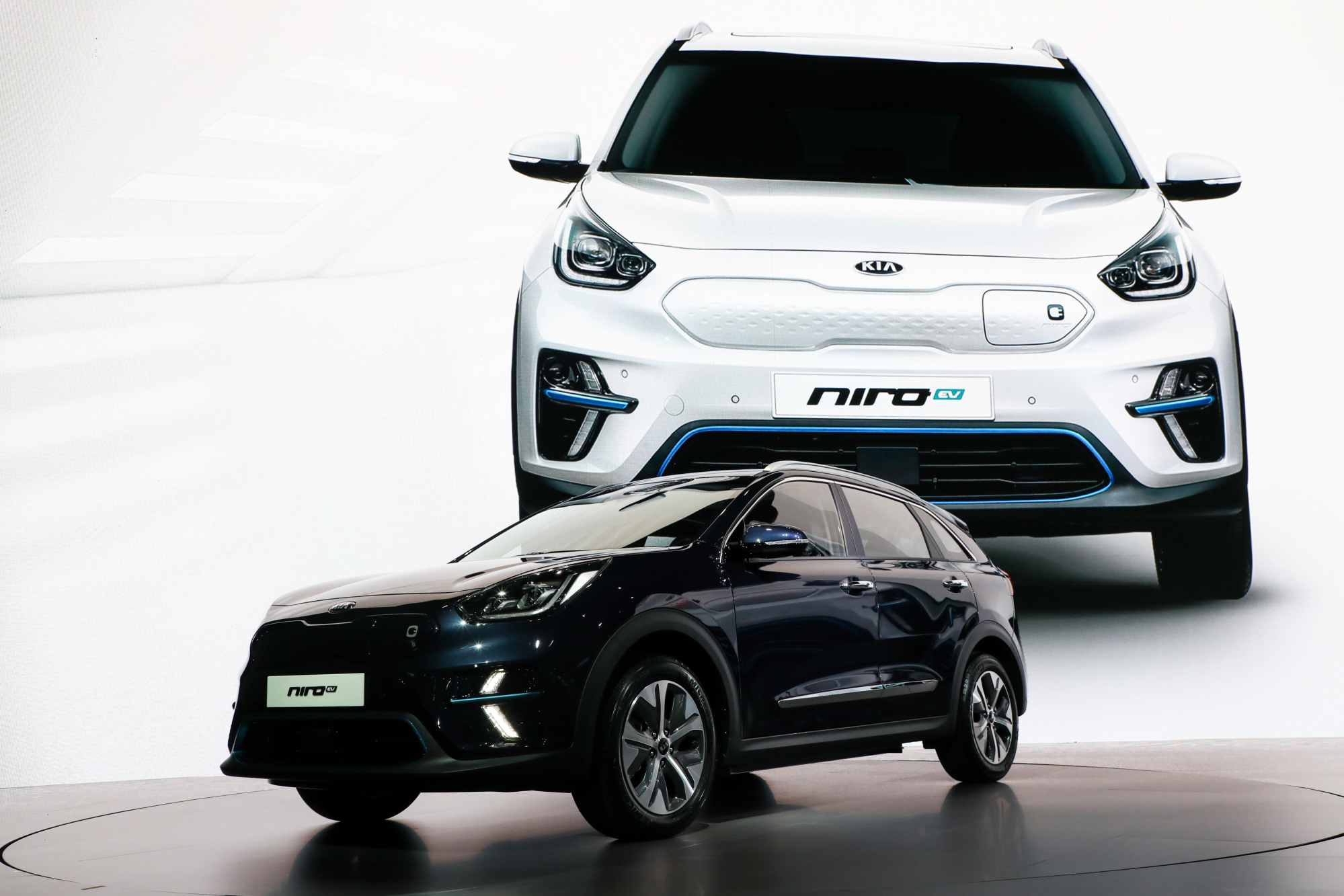 For early adopters, this kind of signaling is especially important. If you bought an EV for its novelty or out of a civic-minded desire to do less damage to the planet, you probably want your neighbors to know about it. But as the technology becomes more established, according to consumer research by the Car Lab, the reasons for buying an EV are becoming more mundane. People are buying them to save on fuel costs, to access carpooling lanes, or because they are fun to drive. For these customers, it doesn't especially matter whether other people know that they have an electric car. "Ten years ago, the consumers who bought an EV really wanted to sort of visually shout about them," says Noble, "Now we find that need is rapidly diminishing."
Dukec at BMW, Scheer at GM, and Platto at Ford all say they were not necessarily trying to signal the electric powertrain with their grille designs. Instead, the goal was to make something that both evoked a familiar brand and promised cutting edge technology. "If you have a different powertrain, it doesn't have to look different," says Dukec, "We don't have to hide and say 'Oh, because Tesla has no grille—because they have no past and no heritage—that this is the only way. For them it was one way to show clearly 'I'm different.' For us, our customers don't expect us to be different; they just expect us to offer the best mobility product no matter what kind of powertrain."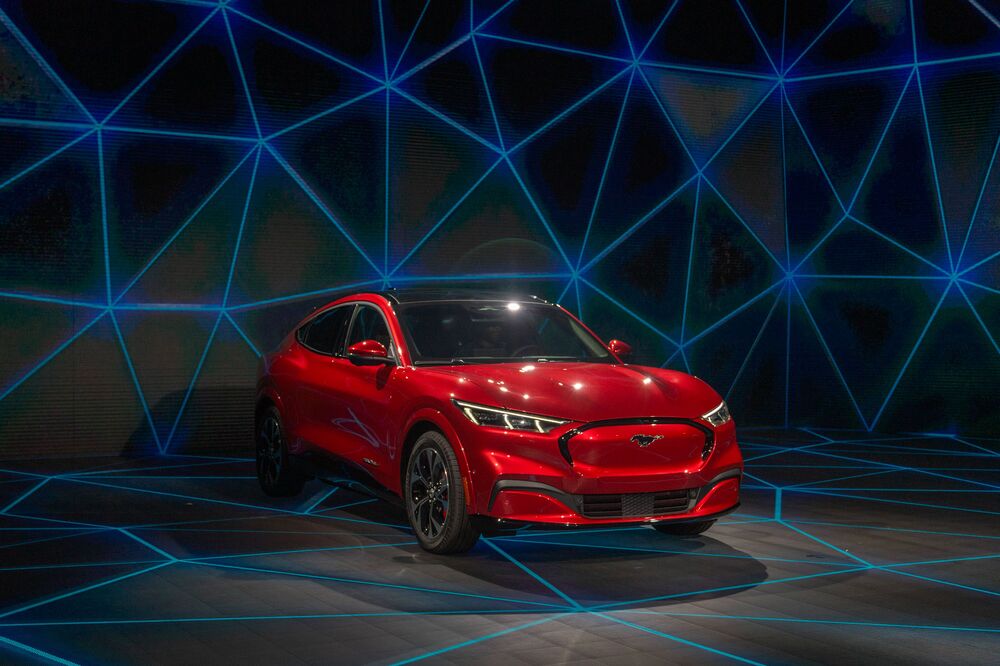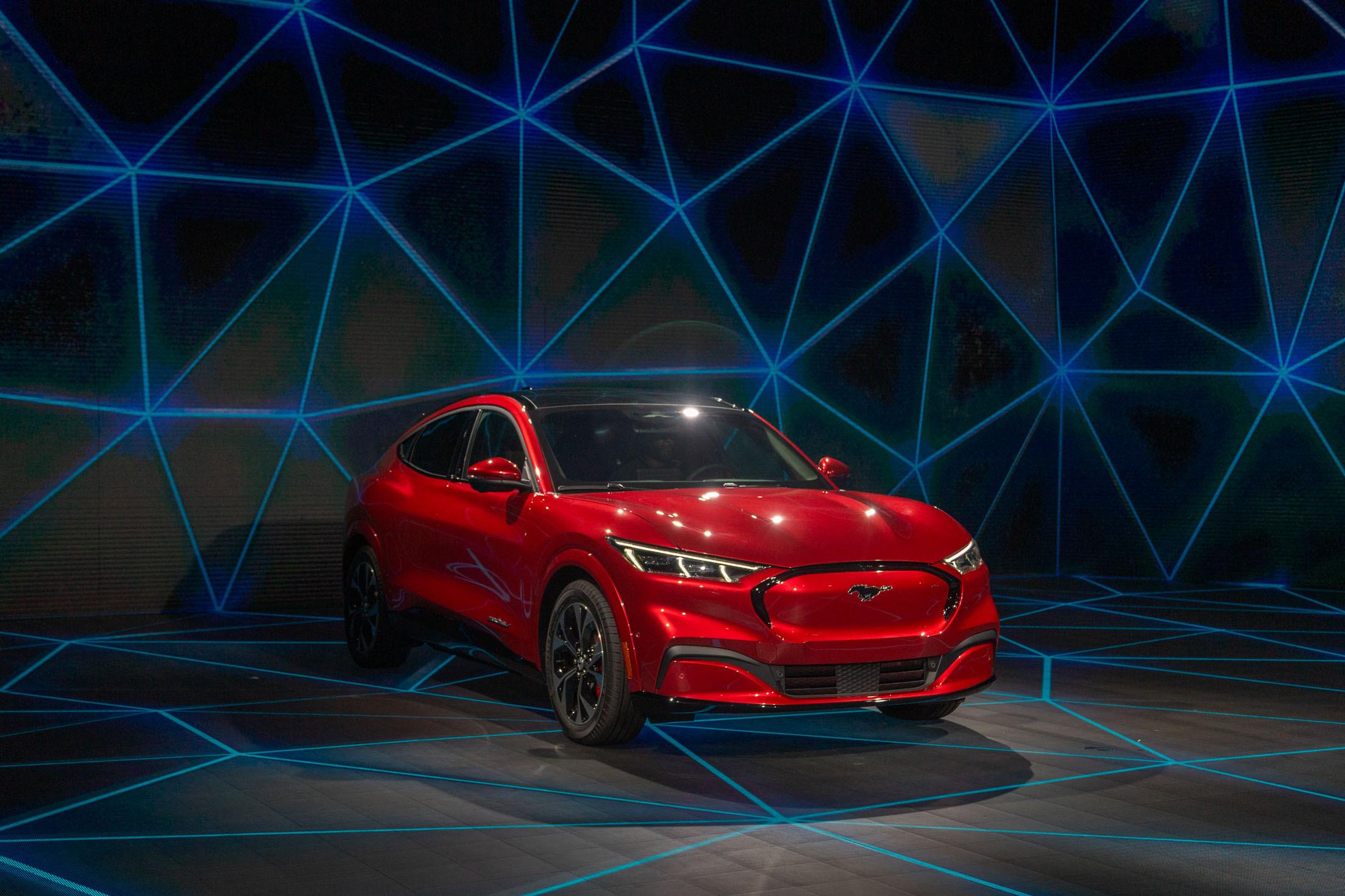 While Ford's Mustang Mach-E features a Tesla-esque fascia panel on its base model, there's also a stripe of black trim to outline the place where a grille might have gone and the Pony logo in the center to remind everybody that it's still a Mustang. "We've tried to create this signature appearance with what we call this horse collar that kind of implies where a grille location would be," says Platto, "Our customers don't want to drive a science project, they want a beautiful looking vehicle that represents the brand properly."
Toyota, which up until now, has resisted the industry trend to introduce electric cars, is now touting hydrogen-engined cars. Last weekend, in Japan's only full-day race, the Fuji 24 Hours, Japan's biggest automaker entered a specially prepared hydrogen-engine powered Corolla Sport race car, driven in part by company CEO and avid amateur racer, Akio Toyoda, and FIA World Endurance Championship legend Kamui Kobayashi.
The reason? Toyota wants to use motorsport to promote hydrogen as a viable alternative to electric cars. Toyota has only just launched its second-generation hydrogen fuel-cell powered Mirai sedan, but this is the first time the company has raced a car powered by hydrogen. At this stage, it is probably a good idea to quickly explain that the Mirai's powertrain and that of the Corolla race car are very different. The Mirai generates electricity to power its motors from a chemical reaction between hydrogen and oxygen where as hydrogen engined vehicles, are like conventional engined cars except that they burn hydrogen in place of gasoline.
The Rookie Racing Corolla Sport which burns compressed hydrogen to power its turbocharged 1.6-liter inline 3-cylinder engine completed a total of 358 laps at an average speed of 67 km/h, a lap count which translated to less than
Toyota believes that electric cars will proliferate and gain public acceptance over time as prices come down and infrastructure improves, but it sees issues with battery production capacity and the difficulty in sourcing sufficient materials needed to produce enough batteries for the growing number of EVs. Having introduced the world's first-ever hybrid car back in 1997, Toyota believes that hybrids offer a better bridge than EVs between internal combustions vehicles and hydrogen fuel-cell vehicles.
MORE FOR YOU
An Idyllic Martha's Vineyard Home Across From The Kennedy's Historic Compound
2021 Ram 1500 TRX: Introducing The Apex Predator Supertruck
The Story Behind Rolls-Royce's New $28 Million Hand-Built Boat Tail
In explaining its reasoning behind the firm's slow take-up on electric cars, a company spokesman in 2019 mentioned that Toyota is able to produce enough batteries for 28,000 electric cars each year, or enough for 1.5 million hybrid cars. One other important factor is emissions. Toyota says that selling 1.5 million hybrid cars reduces carbon emissions by a third more than selling 28,000 electric cars. So, put simply, its carbon footprint is smaller if it sells many more gasoline-electric hybrid vehicles.
But just how efficient is a hydrogen-engined race car? After hearing the figures, I have more questions than answers. In the Fuji 24 Hour race, Toyota Rookie Racing's Corolla Sport actually only spent 12 hours competing on the track. It had to pit 35 times to replenish its hydrogen tanks, a process which on average took around seven minutes, translating to a grand total of 4 hours refueling. And for logistical and safety reasons, given that the hydrogen refueling trucks are so large, a process that took place in a corner of the paddock at Fuji Speedway. The Corolla also lost extra time for mechanical and maintenance issues which meant that the car could only compete for half the race.
But Toyota CEO, Akio Toyoda was happy to explain the company's reasoning for their rare hydrogen excursion. "Since it's powered by hydrogen it emits almost no CO2," he says. "We wanted to show the world one way Japan can be carbon neutral. And how we can benefit from a hydrogen powered society. Since we made this statement, I, as the chairman of the Japan Automobile Manufacturers Association, have been asking the Japanese government to take the necessary steps and increase the number of carbon-neutral options. This is because, if all cars become battery-electric, one million jobs will be lost in Japan.
Hydrogen combustion actually has advantages in that it could help save jobs in the transition between today's economy and tomorrow's future technologies down the road. By using a hydrogen-powered engine you don't have the extra expense of developing the electric motor or hi-tech batteries. Thus it's a simple clean solution to a complicated problem. And hydrogen-engined cars are expected to be cheaper than current hybrids.
Of course, one of the biggest issues with hydrogen powered cars is the refueling infrastructure. Hydrogen is expensive and the refueling stations require significant investment. Meanwhile, you still have the expensive onboard hydrogen storage tanks which require hi-tech carbon-fiber wound technology to maximize the safety aspects. And after all, when it comes to hydrogen being marketed on a huge scale to power tomorrow's society, the public will need to be convinced of the safety aspects of dealing with and managing hydrogen storage, transport and propulsion.
So from what we've seen with the Mirai fuel-cell car and the hydrogen-engined Corolla, hydrogen does have definite future applications. But if it can only run for 12 hours of a 24-hour race and require four hours in the pits to refuel, then I'm afraid I can't see it having many motorsport options.
In a career that spans 30 years, I have written about automobiles, innovation, games, luxury lifestyles, travel and food. Based in Tokyo since 1988, I was in the front
Tesla said it plans to transition its driver-assistance system to rely exclusively on optical cameras, or rather than radar, in a sign it is advancing with its effort to develop autonomous vehicles.
"Beginning with deliveries in May 2021, Model 3 and Model Y vehicles built for the North American market will no longer be equipped with radar," reads a blog post from the company about the new Tesla Vision system. "Instead, these will be the first Tesla vehicles to rely on camera vision and neural net processing to deliver Autopilot,…
Fremont-founded Pony.ai gets DMV permit for testing cars with no 'safety driver'
FREMONT — The ponies are coming.
Pony.ai, a Fremont-based self-driving car technology company that also operates in China, has been cleared by the California Department of Motor Vehicles to test driverless cars on the streets of Fremont, Milpitas, and Irvine.
The DMV announced late last week it issued the permit, noting that Pony.ai is the eighth company to receive a driverless testing permit in California.
The company, which was founded in Fremont in 2016 by James Peng and Tiancheng Lou, both formerly of Baidu and Google, has been testing cars equipped with its self-driving technology suite since 2017.
However, in those tests, a "safety driver" was always behind the wheel to take over if something unexpected happened while on the road. A total of 55 companies are cleared to do that kind of testing in the state.
The new permit means up to six cars running Pony.ai's software on city streets will have no one behind the wheel, though there are some limitations to the testing.
The cars and software Pony.ai will be testing are designed to operate on roads with posted speed limits 45 miles per hour and slower, in clear weather and light precipitation, according to a statement from the DMV.
Testing will initially happen in Fremont and Milpitas, on weekdays between 10 a.m. and 3 p.m., the DMV said.
To get a driverless testing permit, companies must certify that they "meet a number of safety, insurance and vehicle registration requirements," according to the DMV, including having insurance or a bond equal to $5 million, verifying vehicles are capable of operating without a driver, and notifying local governments of the planned tests.
Source : https://www.timesheraldonline.com/2021/05/25/driverless-cars-hitting-streets-of-fremont-milpitas-irvine/
While Tesla and Volkswagen compete for EV buyers, a winner of their battles for customers may be another billion-dollar company that doesn't even make cars called Facedrive.
That might come as a surprise after the banner year Tesla had in 2020.
In just the last 12 months, Tesla has seen an incredible 503% gain in its stock price.
And they've continued to dominate the industry in many parts of the world thanks to their superior battery costs and massive advantage in their cutting-edge software.
Volkswagen has been a late arrival to the EV scene but is quickly working to close the gap with Tesla.
By 2025, VW plan to scale up production to sell more than 2 million electric vehicles and become the second largest software company in all of Europe.
And as they ramp up, experts are now expecting they could just pass Tesla in terms of sales, selling 300,000 more electric vehicles than their competitor in the next few years.
In fact, they're so set on putting their name behind the EV wave that they even joked recently about changing the name of their US arm to Voltswagen.
The battle for the throne of the EV world has become so contentious that headlines have been popping up non-stop featuring these two industry titans.
The New York Times says, "Volkswagen aims to use its size to head off Tesla."
CNN reports, "Volkswagen could soon steal Tesla's crown."
And Bloomberg says, "If Tesla is the Apple of electric cars, Volkswagen is betting it can be Samsung."
But it's possible they're both operating under a fundamental misunderstanding.
And while it's hard to believe the electric vehicle craze could slow down after the hot streak the market has had throughout 2020 and into this year, the numbers don't lie.
That's because, for the first time in decades, private car ownership numbers are moving in the other direction.
So while Tesla and Volkswagen are ramping up to produce more and more electric vehicles, the number of no-car families is finally on the rise again.
And many are voting that while transportation is still incredibly important in their lives, owning a car isn't.
This is especially true for millennials and Generation Z, with around half of people in these groups saying they don't see the need to buy a vehicle of their own.
That's why Business Insider is calling it Car-pocalypse and reporting, "We're already in the endgame for cars."
US News is saying, "Say goodbye to owning your own car."
And in the Wall Street Journal, author and entrepreneur Tony Seba predicted, "By 2030, […] only 40% [of all light-duty vehicles] will be individually owned."
Imagine a world where consumers own less than half of all vehicles on the road. That's what many experts are expecting we'll see within the next 10 years.
But who will benefit from the EV war when people don't actually own cars?
Ridesharing Goes Electric
A major part of the shift away from car ownership is due to the rise of ridesharing and little known Facedrive (TSX.V:FD, OTCMKTS:FDVRF) is uniquely positioned to be one of the biggest beneficiaries of this huge social change.
As taxis are quickly getting swapped out for the more economical, user-friendly Uber model, the ridesharing industry surged ahead and never looked back.
Now Uber and Lyft have amassed multi-billion dollar market caps, despite having some serious issues trying to finally become profitable.
And in the new EV-dominant world, both of these companies are making the shift toward electric slowly but surely.
Lyft has pledged to have an all-electric fleet by the year 2030.
They've made clear that they won't pay drivers to make the switch but will at least help them access incentive funds provided by some outside party.
Uber is in a similar boat, making the same commitment to be 100% electric by 2030.
Their plan is to pay drivers an additional $1.50 per ride if they drive an electric vehicle.
Unfortunately, that added incentive comes at the cost of the rider, as they'll pay an additional surcharge to go green.
But Facedrive (TSX.V:FD, OTCMKTS:FDVRF) has a different plan to help people ride green without spending more in the process.
The eco-friendly rideshare company offers people the choice of riding in an electric vehicle, hybrid or a standard, gas-powered vehicle.
This way riders get the choice to go electric without paying any additional fees for the privilege.
While Uber and Lyft have plans to go green gradually over the next 10 years, it seems obvious that Facedrive could come out ahead as they've built this into their business model from day 1.
But ridesharing will only be a portion of the big picture when more decide to give up their keys for good.
New Models of Driving Use
When thinking through your normal daily routine, you'll surely come up with plenty of reasons why ridesharing isn't the cure-all in this EV future.
It may be a great solution for a night out or a ride to a friend's house. But It makes much less sense when you think about hailing a ride to and from work every day.
That's where Steer comes in with their unique model for driving EVs.
While a Tesla may cost you anywhere from $40,000 to $80,000 or more to buy it outright, you can rent a Tesla month-to-month for just a fraction of that through Steer.
It's a first-of-its-kind solution that offers far more flexibility than leasing and with a much smaller commitment as you're not locked into long contracts.
Subscribers just pay a simple monthly subscription fee, just like you would for Netflix or a gym membership…
And they have instant access to their pick of a whole fleet of electric vehicles.
Plus, if they feel like swapping it out for a different vehicle at any point, they have that option whenever they'd like.
This is the best of both worlds for the EV future, as you don't have to hail a ride every time you need to leave the house…
But you also don't need to lock yourself in and commit to owning an electric vehicle for tens of thousands of dollars.
These sorts of creative models are becoming even more popular as the younger generations show they're less interested in owning a car than those before them.
And that's why it's flourished as Steer has gone from the U.S. across the border.
As the service has been so successful in Washington D.C., Steer has now opened up operations in Toronto as well.
Source : https://finance.yahoo.com/news/could-no-1-ev-stock-230000445.html
Ford Motor Co (F.N) will announce on Wednesday that it is developing two dedicated all-electric vehicle platforms, one for full-size trucks and SUVs, the other for cars and smaller SUVs, as part of a strategy to catch General Motors Co (GM.N), Volkswagen AG (VOWG_p.DE) and Tesla Inc (TSLA.O) in the global electrification race, sources familiar with Ford's plans said.
The all-EV platforms are part of an ambitious multi-year, multi-billion-dollar plan the No. 2 U.S. automaker will outline to investors at its Capital Markets Day in an online event.
The dedicated platforms will give Ford common architectures — including shared chassis components, electric motors and battery packs — on which to base many of its future electric vehicles. That will enable it to simplify and reduce the expense of everything from logistics to manufacturing as it transitions from a global lineup of mostly fossil-fueled products.
Ford said it does not comment on future product speculation.
At Wednesday's investor event, the company also will provide more details on its long-range battery strategy, including a recently announced battery joint venture with Korea's SK Innovation (096770.KS), as well as broader goals for electric, commercial and self-driving vehicles, said the sources, who asked not to be named. read more
Ford previously said it will spend $22 billion through 2025 on electrifying many of its vehicles in the Americas, Europe and China. The sources said Ford is planning to launch at least nine all-electric cars and car-based SUVs and at least three electric trucks, vans and larger SUVs, including second-generation editions of the Ford F-150 Lightning and Mustang Mach-E at mid-decade.
What Ford Chief Executive Jim Farley cannot predict, however, is whether — and how many — customers will embrace the newer battery-powered vehicles, even if they are able to match or beat current combustion-engine counterparts in price, performance and operating costs. That concern is shared by nearly all automakers except Tesla, whose lineup is 100% electric.
Ford's traditional rivals have sprinted ahead, with both VW and GM committing tens of billions of dollars to electrify their fleets in the same markets as Ford, but on more aggressive timetables. VW and GM each will have at least two dedicated EV platforms, on which many of their future vehicles will be based.
VW launched the first of its all-new electric vehicles, the ID.3, last year in Europe, while GM will begin building its new Hummer EV pickup later this year in the United States. Both companies also are rolling out additional EV models that will share key components with those vehicles.
Ford earlier this year introduced the Mustang Mach-E, an electric crossover built on a new dedicated platform with the internal designation GE, the sources said.
A newer version of that platform, designated GE2, will debut in mid-2023, underpinning new Ford and Lincoln SUVs, according to Sam Fiorani, head of global forecasting at AutoForecast Solutions.
The same GE2 platform eventually will be used as the base for replacements for the Mustang coupe and Mach-E, the sources said.
Ford will use a second passenger car platform — a version of Volkswagen's MEB architecture — in Europe for at least two new models beginning in 2023, the sources said.
In February, Ford said its European lineup will be all-electric by 2030. read more
The redesigned F-150 Lightning, due in late 2025, is expected to be the first to employ the new TE1 truck architecture, Fiorani said. The first-generation Lightning, which debuts next spring, uses a platform that is heavily derived from the standard F-150.
Ford could also use the new TE1 platform for electric versions of the Lincoln Navigator and Ford Expedition SUVs, the sources said.
In addition, Ford is expected to get a new electric vehicle, possibly a midsize pickup, that would be based on a platform from EV startup Rivian, in which Ford is an investor.
Our Standards: The Thomson Reuters Trust Principles.
Source : https://www.reuters.com/business/sustainable-business/exclusive-ford-follows-gm-vw-with-two-new-dedicated-ev-platforms-by-2025-sources-2021-05-25/
The U.S. Senate Finance Committee advanced legislation on Wednesday that would boost electric vehicle tax credits to as much as $12,500 for EVs that are assembled by union workers in the United States.
The bill would limit tax credits to vehicles with a retail price below $80,000 to qualify for the tax credits. The current maximum tax credit is $7,500 with no maximum price and currently phases out for individual automakers once they hit 200,000 total EVs sold.
Both General Motors (GM.N) and Tesla (TSLA.O) have hit the cap and currently do not qualify for the $7,500 tax credit.
The "Clean Energy for America" bill, which advanced on a 14-14 tie vote, would eliminate the existing EV cap, while the credit would phase-out over three years once 50% of U.S. passenger vehicle sales were EVs. It has numerous other green energy tax incentives and would rescind or cut many fossil fuel tax provisions.
The EV proposal led by Senator Debbie Stabenow, a Michigan Democrat, would boost the $7,500 tax credit by $2,500 for vehicles assembled in the United States and another $2,500 for cars at facilities whose production workers are members of, or represented by, a labor union.
That would mean smaller credits to automakers such as Tesla, Volkswagen (VOWG_p.DE) and others who do not have U.S. union workers, and companies building EVs outside the United States.
The EV incentives are estimated to cost $31.6 billion through 2031, according to a congressional estimate. The bill must still be approved by the full Senate and U.S. House of Representatives.
The bill also includes a 30% tax credit for manufacturers to retool or build new facilities to produce advanced energy technologies including batteries and new incentives to purchase commercial electric vehicles.
President Joe Biden has proposed $174 billion for electric-vehicles and charging stations, including $100 billion for consumer rebates. Last week at a Ford Motor (F.N) factory in Michigan, Biden ruled out consumer incentives for high-priced electric luxury models and urged automakers not to build EVs abroad for U.S. consumers.
United Auto Workers President Rory Gamble praised the legislation for ensuring "EV production will directly create the good paying union jobs of the future President Biden has championed."
Stabenow said a century ago as automakers were debating between electric and gasoline-powered vehicles Congress provided tax incentives for the oil industry.
"We picked a winner and they won – 100 years ago," Stabenow said "And now we're just trying to level the playing field."
Republicans said Democrats were using the tax code to devastate the oil and gas industry. They also cited reports that children are involved in some countries in the mining of minerals for EV batteries.
"This is a frontal assault on my state," said Republican Senator John Cornyn of Texas. "This is an ideological jihad against the status quo… where many jobs in our country depend on the oil and gas sector."
Our Standards: The Thomson Reuters Trust Principles.
See the latest news for the top stocks in the electric vehicle space including Tesla, General Motors, NIO, Lordstown Motors, Fisker, and more.
Ford Motor  (F) – Get Report shares hit the highest levels in five years Wednesday after the carmaker dramatically increased its clean energy vehicle investment plans by $8 billion and vowed to have 40% of its fleet fully electric within the next decade.
Ahead of the investor day event in Detroit, the first under CEO Jim Farley, Ford said it will up its investment and spending in EVs to at least $30 billion by 2025 and will create a new division called "Ford Pro" that will focus on commercial vehicles and government customers. Ford also said it would deliver an 8% adjusted profit margin — a long-held goal for the carmaker — by 2023.
This is our biggest opportunity for growth and value creation since Henry Ford started to scale the Model T, and we're grabbing it with both hands," Farley said.
Over on Real Money, Stephen "Sarge" Guilfoyle has been telling subscribers for months that Ford's EV program was underrated and underappreciated. Now he has a solid and specific 3-pronged approach to buying shares. Check out his recommendations on Real Money.
Ford shares rose 8.5% to close Wednesday at $13.90, and added another 1.8% in after-hours trade. The stock traded as high as $13.95 earlier in the session, the highest in more than five years.
The carmaker cautioned last month that the ongoing shortage in global semiconductors would cost it around $2.5 billion — more than double its previous estimate — and likely last until at least the first half of 2022 after its smashed first-quarter earnings forecasts with a bottom line of $3.3 billion, the best in a decade, on revenues of $36.2 billion.
Last week, Ford unveiled the mainstream version of its electrified F-150, the top-selling car in the United States, during a visit to a production facility in Dearbon, Michigan from President Joe Biden.
It's been a long time since the market has been able to say that traditional automakers like Ford and General Motors  (GM) – Get Report were on fire, TheStreet's Bret Kenwell wrote.
Source : https://www.thestreet.com/technology/electric-vehicle-checkpoint-ford-stock-soars