The global Formula E electric race series, a partner with the UN Environment Programme (UNEP),  has grown in popularity since it launched some seven years ago, attracting the attention of major car manufacturers, changing people's perceptions of electric vehicles, and bringing the world one step closer to a sustainable transport future.
Transport is believed to be responsible for around a quarter of all greenhouse gas emissions, and combustion engines are a major cause of poor air quality in urban areas, which is a factor in asthma and other respiratory diseases.
Despite being around for many years, electric vehicles remain a small part of the overall car market. However, with growing concern about climate change, and some eye-catching commitments from governments and car manufacturers, which include plans to ban or end the production of combustion engines within the next few decades, that could be about to change.
Formula E is so far the only sport to be certified net zero carbon since its inception, and those associated with the championship are committed to combatting the climate crisis by accelerating the adoption to electric vehicles.
In July, Conor Lennon from UN News spoke to Julia Pallé, Formula E's Sustainability Director, and Lucas di Grassi, who won the championship's first ever race back in 2014, and is a clean air advocate for the UN. They discussed the growth of electric car racing, and why it can help convince the general public to give up combustion engines.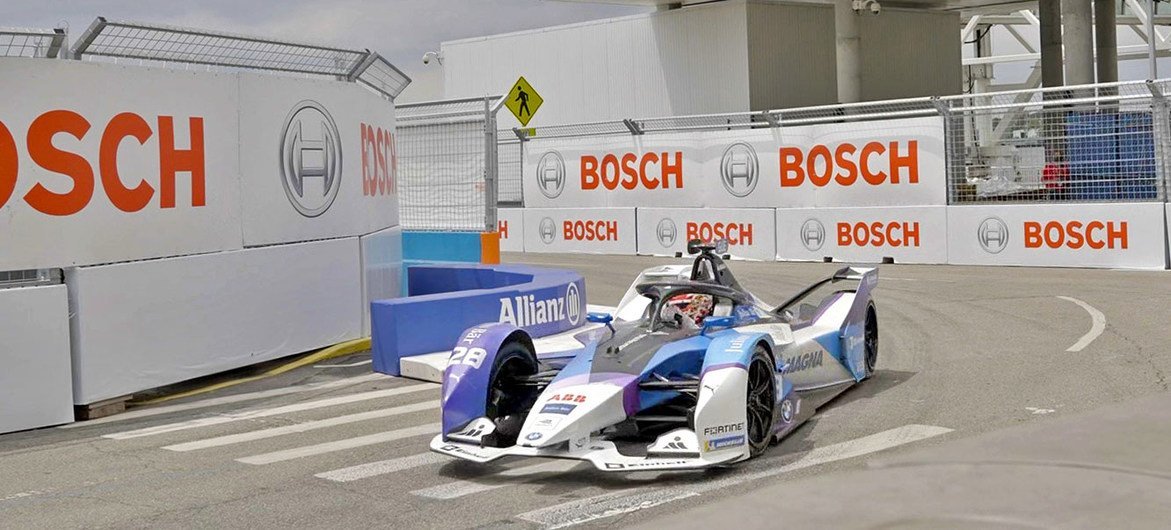 Julia Pallé: Formula E was built with sustainability in its DNA, and it is part of the reason that teams, drivers, and partners join us. Everyone is involved in pushing electric vehicles to the mass market.
We are using the championship as a platform to advance the electrification of transport by showcasing a range of products and services that are contributing to the creation of a low carbon economy.
Lucas di Grassi: I joined Formula E back in 2012, and I was the third employee. I had already driven an electric car, and I was very interested in the technology.
I think that the public understands that sustainability is not a choice. There are too many people consuming too much, and we need to improve everyone's quality of life sustainably, without damaging the planet for future generations.
Electric vehicles are a part of that, and Formula E is at the core of the transition, in terms of research and development, and also changing people's perception of electric vehicles, which has changed massively over the last five years.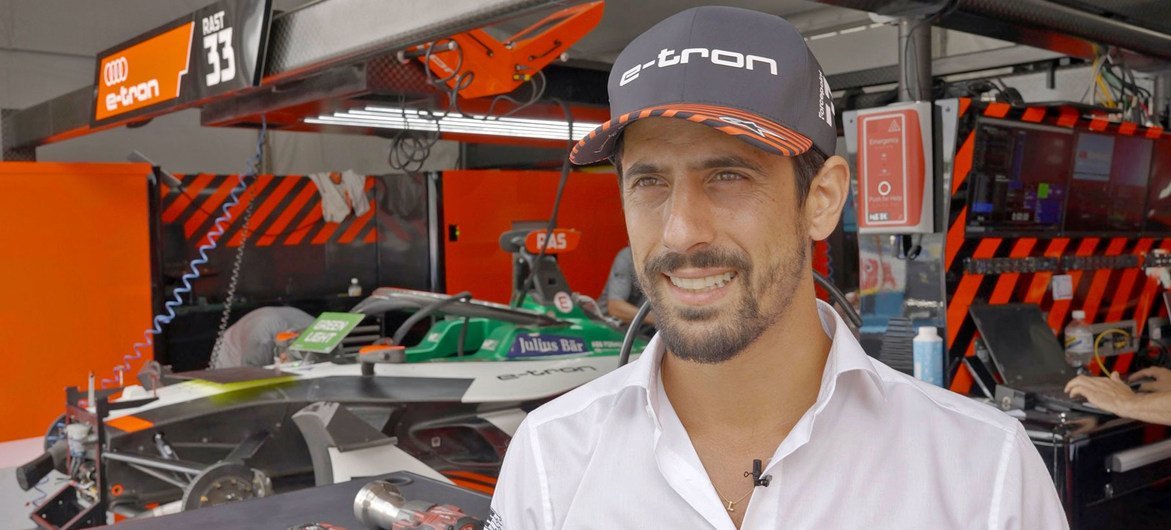 Overcoming a resistance to change
Conor Lennon: Did you encounter any scepticism in the early days of the competition?
Lucas di Grassi: Yes, especially in the motor sport world, where people are very nostalgic. First of all, people laughed about the project, they thought it was a joke. Then they criticised the cars for being slow, for not making any noise, and because we would have to change cars during the races. Then they started to take it seriously, and a few years later they all wanted to join the series!
The famous American physicist Richard Feynman once said that you measure intelligence by people's ability to adapt or to understand change without getting offended. Formula E is a good example: I grew up loving combustion engine cars, but it is clear that we have to go electric. The motor sports world didn't agree, but a large proportion of people now understand that electric vehicles can be exciting and fun.
Julia Pallé: There was a lot of scepticism and a reluctance to change. We have seen many victories along the way. From finishing the first season, to more and more partners joining us, and now we are the world championship with the biggest line-up of car manufacturers!
We have also seen many new electric racing series following our example, and this is the biggest testimony that we opened up the way, and showed that electric vehicle races are highly attractive.
Concentrating on the low-hanging fruit
Lucas di Grassi: we have to remember that electric mobility is not just about passenger cars. It ranges from e-bikes, scooters, mopeds, and motorbikes, to cars, vans, trucks, and buses.
However, smaller vehicles are much easier to electrify than trucks travelling long distances, or planes. Large freight ships can't just go electric, and even if we were to switch to a technology such as hydrogen or nuclear power, the cost of transporting the goods would be much higher.
So we need to concentrate on the low-hanging fruit first, such as e-bikes and cars. That's why I created the world's first electric scooter championship. These are not regular scooters, they are very fast, and can reach up to 120 kilometres per hour. Another important development in the growth of sustainable transport is autonomous driving, which is much more efficient, and in 2015 I joined Roborace, the first global championship for autonomously driven, electrically powered vehicles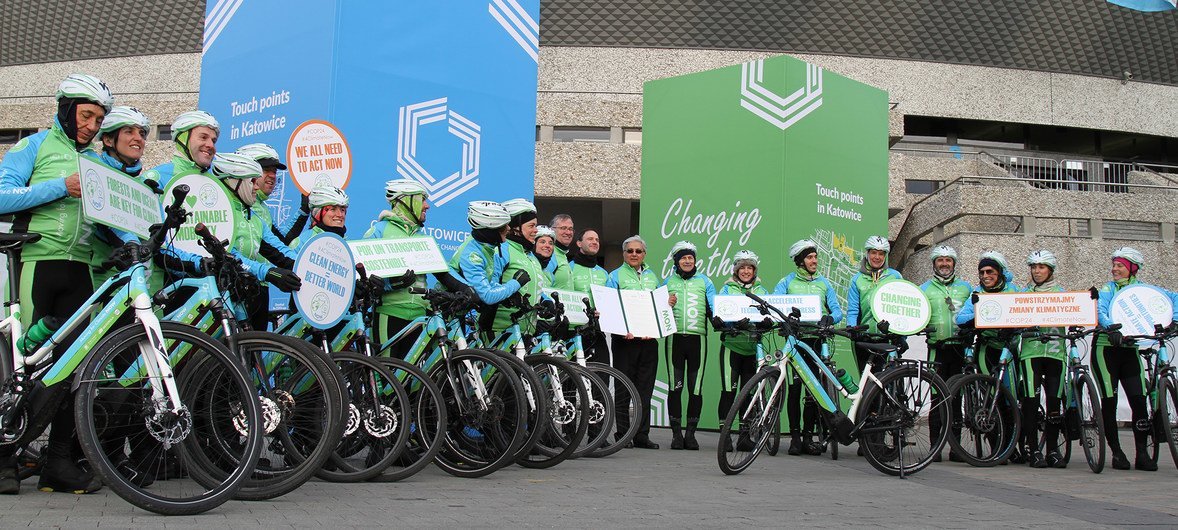 An electric race against time
Conor Lennon: it seems that you're taking a twin-track approach with Formula E, testing, and developing a fast-evolving technology, and raising awareness. But there's a race against time, because the number of people who want to use cars is fast rising, and we have to show that is possible to massively scale up electric transportation to meet that demand.
Julia Pallé: It is clear to all of us, from professionals, to those working with the UN, and the general public, that we have nine years to cut emissions by some 50 per cent in order to reach our climate action goals. To do this we have to change the way we live and, at an individual level, the biggest impact we can have is in the way that we travel.
What we are trying to do is to offer concrete solutions: we are backed by many car manufacturers who are developing technology in Formula E that is used to improve the cars, which ultimately benefits consumers.
We are also a showcase, giving a taste of what a future sustainable lifestyle can look like: offering plant-based food options, banning single-use plastics. So, it's not about compromising, or giving up things we like, but doing things in a different, enhanced way.
This discussion is adapted from an SDG Media Zone video, part of a series produced for the 2021 High Level Political Forum, the largest annual gathering on progress on the Sustainable Development Goals (SDGs).
The UN and Sustainable Transport
The United Nations is playing a part in this coming transition towards clean energy, bringing together major players in the industry at the Sustainable Transport Conference, which takes place in Beijing this October.
This year's conference will focus on how to plan and develop transport systems that boost economic growth, reduce inequalities, and improve the environment for everyone.
The programme will reflect the diversity and complexity of the transport sector and will provide an opportunity for policy dialogue as well as forging partnerships and initiatives to advance sustainable transport.
VW's ID models had a rocky start getting into dealerships, but everyone sort of half-hoped that once sales were up and running, the mainstream rivals to Tesla would take off. That's only come half true.
The big news this week is VW has declared its sales offensive in China a failure. This is a real problem as China is the biggest EV market in the world at the moment, and the largest car market overall, as well. The buying public over there, however, don't seem particularly interested in VW's rather bland, staid EVs, as the Financial Times reports:
Sales of new electric models, such as the ID. 4, have been slow, with VW delivering just 18,285 battery-electric vehicles in the first half of 2021.
"VW has had more than 70,000 ID. 4 test drives [in China], but only converted a few thousand of these into sales," said Arndt Ellinghorst, an analyst at Bernstein.
I wondered if maybe VW's ID sales were just depressed in China, so I looked up what we've been buying here in the States. Well, they haven't been great, as Reuters reported at the start of July:
The German-built ID.4 hit U.S. dealers earlier this year and sold 5,756 units in the first half, with 85% of trade-ins coming from owners of non-electric vehicles.
VW at least said it's the brand's most profitable vehicle. That's something!
I did find a few headlines saying that sales were strong for the ID models in Europe, so I went and pulled up VW's global sales figures. On July 20, VW issued this rosy report:
.In total, 170,939 BEV models were delivered throughout the world up to the end of June, more than twice as many as in the prior-year period (+165.2 percent).
The problem is that this includes all VW Group EV sales. Audi e-trons, Porsche Taycans, various Skodas — they all get lumped in. VW's ID sales are more restrained: 37,292 units for the ID.4, 31,177 units for the ID.3. What's more, the vast majority of EV sales across VW are in its home country of Germany, where everyone and their dog drives a VW:
As regards BEV deliveries by regions, the Group's home market of Europe was clearly in the lead in the first half year, with 128,078 vehicles (share: 74.9 percent). Here, the Group was the market leader, with a share of about 26 percent in BEV deliveries. In the USA, the Group handed over 18,514 BEV models to customers, corresponding to 10.8 percent of its worldwide BEV deliveries. Thus, the Group achieved a higher market share there with BEV, at about 9 percent, than in the overall market including conventionally powered vehicles. In China, 18,285 battery-electric vehicles were handed over to customers in the first half of 2021, accounting for 10.7 percent of the Group's worldwide BEV deliveries.
This is all to say, just about the only people buying these German EVs are Germans.
Curious again, I wondered how these 68,469 ID.3s and .4s compared to their closest rivals, the Tesla Model 3 and Y. It turns out Tesla delivered 199,360 3/Ys worldwide in Q2 alone, 382,140 for this year altogether when you add in the 182,780 delivered in Q1. It's not entirely fair to say VW's wonderfully-engineered ID models are a flop, but let's say I'm sure VW execs are as eagerly awaiting the more interesting ID.Buzz microbus versions as much as anyone else.
How far can today's electric cars go on a single charge? Is the Tesla Model 3 the true leader?
What Car? chose 10 of today's best EVs and drove them all until they died. This should give you a solid idea of how various EVs compare. However, arguably most importantly, it should prove whether or not the Tesla Model 3 has the most range, and how each EV's real-world range stacks up to official range estimates.
As electric cars are gaining traction across the globe, and they're getting much more coverage from mainstream media and traditional automotive outlets, more people are becoming aware of the concepts behind range and charging.
There was a time when it didn't really matter which EV you owned, you were almost certain to have some range anxiety. Tesla has arguably solved the range anxiety problem with its vehicles' lengthy estimated range, as well as the company's fast and convenient proprietary public fast-charging network: The Tesla Supercharger network, which will be made available to other EVs in the future.
With that said, many of today's EVs have much more range than they used to, and public charging infrastructure is growing in general, not to mention that charging speed has improved significantly in many cases.
While Tesla's vehicles have more  EPA-estimated range than most other EVs, that doesn't necessarily mean they have more real-world range. It seems that based on the way various electric car range is evaluated, Tesla's estimates tend to overpromise, whereas some other brand's estimates seem to be quite conservative.
To get a better idea of how much range to expect from your EV, we suggest consulting not only the EPA, but also as many real-world range tests as possible. Each range test is different, and factors like weather, driving style, and much more can have a big impact.
Aside from the Model 3, What Car? features the following vehicles in the video:
Ford Mustang Mach-E
Porsche Taycan
Audi Q4 e-tron
Kia Niro EV
Volkswagen ID.3
Renault Zoe
Skoda Enyaq
Fiat 500 Electric
Mazda MX-30
We won't give away the results, but we will say the Tesla Model 3 isn't the overall winner. It comes close, taking the second place position. You might be quite surprised at which car has the most real-world range in this test.
See the latest news for the top stocks in the electric vehicle space including Tesla, NIO, General Motors, Lordstown Motors, Li Auto, and more.
Ford Motor  (F) – Get Report beat Wall Street's second-quarter earnings expectations and boosted its guidance despite a global semiconductor shortage that has dogged the auto industry.
The company posted adjusted earnings of 13 cents a share and revenue of $26.8 billion. Automotive revenue came to $24.13 billion.
Jim Cramer broke down how Ford CEO Jim Farley addressed the global chip shortage differently than other automakers, saying: "Jim's not like most executives. Jim said 'ok, there's a chip shortage … I'm going to make 100 calls, be very energized and find where I can get the chips. And, I'm going to cobble together these full-featured chips so I don't miss nearly as many sales. I feel awful about the $2 billion… I have to cut that and stop selling anywhere that I'm not making money, like China.' He found the chips… that's what he did to meet those orders. He worked himself and met with almost everyone in the industry…that's my kinda guy."
We are now spring-loaded for growth in the second half and beyond because of red-hot products, pent-up demand, and improving chip supply,' says Ford CEO Jim Farley.
"The demand for our first round of high-volume EVs clearly has exceeded our most optimistic projections," he added. "The reservations for the F-150 Lightning have now climbed well past 120,000 units, and 75% of those customers are new to Ford. We are now working around the clock to break constraints and increase our manufacturing capacity for these red-hot, new battery electric vehicles."
Over on Real Money, contributor Kevin Curran writes that U.S.-based firms staking their growth thesis on China, like Tesla, might be put into a tenuous position worthy of review for retail investors. Get more trading strategies and investing insights from the contributors on Real Money.
With a bullish 2021 outlook, Farley sees a long path ahead in Ford's transition to an EV world with increased confidence in the company's EV transition strategy.
Here's the bottom line: See if Ford can maintain its post-earnings low on the downside and close above the 50-day moving average on the upside, wrote TheStreet's Bret Kenwell.
General Motors  (GM) – Get Report closed up 3.23% on Thursday; it's scheduled to report next week.
The company has filed a lawsuit against rival automaker Ford claiming that the name of Ford's new automated driving system BlueCruise is an infringement on its Cruise registered trademark.
GM filed its lawsuit in the U.S. District Court for the Northern District of California seeking an injunction enjoining Ford from further use of the name BlueCruise, as well as actual and punitive damages, funds for future advertisements, disgorgement of any wrongfully obtained profits and attorneys fees.
Tesla  (TSLA) – Get Report shares added 4.69% in regular trade Thursday. The company got a muted response to its earnings earlier this week.
Cramer tweeted Monday following the call in which CEO Elon Musk mentioned potential future competitor Apple  (AAPL) – Get Report twice in a negative light and said that he would no longer be attending earnings calls in the future unless he had "something really important" to say.
Shares of luxury electric vehicle start-up Lucid Motors  (LCID) – Get Report rose nearly 10% on Monday following their Nasdaq debut as the race to populate the world's roads and highways with electric vehicles continues to heat up. The stock's lost some momentum this week, closing down 3.03% Thursday at $$23.35.
It also comes six months after Lucid announced it was joining forces with Churchill in a bid to take on Tesla and other EV makers like Fisker  (FSR) – Get Report in the U.S. and NIO  (NIO) – Get Report and XPeng  (XPEV) – Get Report in China, though Lucid has its sights set directly on Tesla.
Here is a list of the electric vehicle stocks to watch:
Tesla
Tesla stock isn't giving us the type of fireworks we have become accustomed to after the electric vehicle company reported earnings. Tesla has been a bit of a roller coaster over the past few months, but not quite the roller coaster that bears were hoping for.
Source : https://www.thestreet.com/technology/electric-vehicle-checkpoint-cramer-farleys-approach-at-ford
WASHINGTON, July 29 (Reuters) – The White House has told U.S. automakers it wants them to back a voluntary pledge of at least 40% of new vehicles sales being electric by 2030 as it works to reduce greenhouse gas pollution, sources briefed on the matter said.
The administration is set as early as next week to roll out proposed revisions to vehicle emissions standards through 2026. Sources said a voluntary electric vehicle (EV) target could be as high as 50% but emphasized that no agreement with automakers has been reached and many details remain under discussion, including whether that pledge will include various types of gasoline-electric hybrids.
United Auto Workers spokesman (UAW) Brian Rothenberg said a published report was inaccurate "that we have agreed to 40% EVs by 2030. The UAW is still in discussions and has not reached agreement at this point." The UAW has opposed EV mandates, warning it could put some jobs at risk.
This month, Stellantis (STLA.MI), parent company of Fiat Chrysler, said it was targeting over 40% of U.S. vehicles be low emission by 2030. Stellantis declined to comment on Thursday.
General Motors Co (GM.N) declined to comment on the talks. It has said it aspires to end sales of new U.S. gasoline-powered light duty vehicles by 2035. The White House declined to comment on the discussions.
Ford Motor Co (F.N) did not comment on the discussions but noted it has said it plans "at least 40% of our global vehicle volume being all-electric by 2030."
The Biden administration has resisted calls from many Democrats to set a binding target for EV adoption or to follow California in setting 2035 as a date to phase out the sale of new gasoline-powered light duty vehicles.
The National Highway Traffic Safety Administration (NHTSA) and Environmental Protection Agency (EPA) are reviewing former President Donald Trump's March 2020 rollback of fuel economy standards. Trump required 1.5% annual increases in efficiency through 2026, well below the 5% yearly boosts set in 2012 by President Barack Obama's administration.
Biden's proposed rules, which would cover 2023-2026, are expected to be similar in overall vehicle emissions reductions to California's 2019 deal with some automakers that aims to improve fuel economy 3.7% annually, sources told Reuters. The 2026 requirements are expected to exceed the Obama-era 5% annual improvements.
In March, a group of 71 Democrats in the U.S. House of Representatives urged Biden to set tough emissions rules to ensure that 60% of new passenger cars and trucks sold are zero-emission by 2030.
The United States pledged at a global climate summit this year to reduce emissions 50% to 52% by 2030, compared with 2005 levels.
Source : https://www.reuters.com/business/autos-transportation/white-house-wants-us-automakers-back-least-40-ev-target-by-2030-sources-2021-07-29/
Rural Kansans stand to save a lot of money by switching to an electric car or truck. But availability, policy and infrastructure roadblocks could get in the way.
WICHITA, Kansas — Electric cars and trucks might prove a perfect fit for rural Kansas.
"They're better vehicles. They're more reliable. They're less costly. They'll save people money," said Peter Zalzal, an attorney with the Environmental Defense Fund. "They'll clean up the air and they'll help to address climate change."
While the building of charging stations has come mostly in urban areas, Zalzal said rural areas have built-in advantages — along with some hurdles that urban areas don't.
Most people in rural areas live in single-family homes. That gives them easier access to electricity in a garage or carport to charge overnight than someone living in an apartment complex or high-rise.
He said people in rural areas also on average drive longer distances than their urban counterparts. That actually makes a plug-in car more attractive.
"The more you drive these vehicles," Zalzal said, "the more you would have spent on gas and the more economic savings you're getting."
It's far cheaper to charge an electric vehicle than to fill it with gasoline. The U.S. Department of Energy estimates fuel and maintenance savings as much as $3,500 a year.
Many people still cite range anxiety — the fear of running on empty with no convenient way to power up — for reluctance about switching from gas-powered to volt-driven.
But the industry has moved beyond vehicles with a 90-mile range per charge. Almost every new model being announced by a major manufacturer will provide more than 225 miles of range on a single charge. And several new models provide as many as 400 miles.
"That is enough now for you to do quite a bit in one day," said Maria Cecilia Pinto de Moura, a research analyst for the Union of Concerned Scientists. "So you can just do your errands and come back home and charge at night."
And then there's the larger societal benefit of curbing greenhouse gas emissions that cause climate change.
"The transportation sector is the largest source of greenhouse gases in the country and we have an opportunity to eliminate that pollution, and do it rapidly," Zalzal said.
In 2020, there were just more than 3,000 fully electric vehicles registered in the state of Kansas. That's only about 0.2% of all vehicles registered in the state. In Oklahoma there are about 3,400 registered EVs, in Missouri just over 6,000, and in Colorado, which has strict vehicle air quality standards and EV incentives, there are nearly 25,000.
Yet rural areas also come with obstacles that might slow any trend toward electric vehicles.
Rural areas typically have an older population and lower incomes.People in rural areas also keep their cars for longer. Research shows that around 40% of cars in some rural areas are 10 years old or more.
Until the cost of new electric vehicles goes down or a used market develops, the upfront cost means only wealthier drivers can afford them.
But the auto industry hopes electric pickup trucks could offer a breakthrough. And the coming all-electric Ford F-150 will give more people exposure to the potential benefits of EV ownership.
The F-150 is the most-sold vehicle of all-time. And light-duty trucks as a whole make up one in every five vehicles sold in the U.S.
"So switching those light trucks from gasoline to electricity has a real potential to elevate the visibility of EVs," de Moura said.
Electric charging infrastructure also remains a huge challenge, especially in rural Kansas. Most charging will happen at home at night.
But if you want people to pass through or stop in your rural town on longer drives, you'll need DC fast-charging stations. At the moment, there's not a single DC fast charging station in all of southwestern Kansas. (A network of slower-charging stations, where it takes several hours to completely charge most EVs, does make it possible to drive practically anywhere in the state.)
"I don't see (EVs) being able to be adopted until we can overcome that barrier," said Heidi Kolbeck-Urlacher, a policy specialist at the Center for Rural Affairs.
The Biden administration says getting funding for billions in EV infrastructure is a high priority. Kansas leaders are also looking at using money the state received from the Volkswagen emissions scandal settlement to expand rural EV infrastructure.
"The way that transportation is moving," Kolbeck-Urlacher said, "you're going to see more of these opportunities to be able to travel farther and have that reliable access to charging stations."
Brian Grimmett reports on the environment, energy and natural resources for KMUW in Wichita and the Kansas News Service. You can follow him on Twitter @briangrimmett or email him at grimmett (at) kmuw (dot) org. The Kansas News Service is a collaboration of KCUR, Kansas Public Radio, KMUW and High Plains Public Radio focused on health, the social determinants of health and their connection to public policy.
Kansas News Service stories and photos may be republished by news media at no cost with proper attribution and a link to ksnewsservice.org.
Back in 1997, Toyota was the world's first carmaker to introduce hybrid powerplants in mass-produced cars. The first-ever vehicle to be powered by a gasoline-electric hybrid was of course the ground-breaking Prius, and since then, Japan's No 1 automaker has launched hybrid or plug-in hybrid versions of more than 80% of its sizable lineup while nearly every other manufacturer on the planet has followed suit and added hybrids to their ranges.
But where as Toyota was a pioneer in the electrified vehicles game, it has been slow to take up pure electric vehicle (EVs) technology. At this juncture, we should briefly mention that the term 'electrification' includes hybrids, plug-in hybrids, hydrogen-powered fuel-cell cars and pure electric vehicles. While Toyota has invested heavily in the former three powertrains, it is working to delay the transition to EVs, still does not have a mass-produced EV, and is pushing Congress to slow down the shift to EVs.
In contrast to the vast majority of carmakers who have already launched EVs, like General Motors, Ford, Tesla, Mercedes Benz, BMW, Audi, Volkswagen, Jaguar, Mini, Fiat, Mazda, Nissan, Honda and Kia, Toyota still does not have an EV in its lineup and is opposing stricter emissions limits and electric vehicle initiatives around the world, according to a report in the New York Times.
The NYT reports that a top Toyota executive recently met with congressional leaders behind closed doors to advocate against the Biden administration's proposal to spend billions of dollars to accelerate the shift to EVs. Toyota Motor North America chief administration officer, Chris Reynolds, argued that hybrids, like the Prius, as well as fuel cell vehicles including the Mirai should also be in the mix.
Back in 2020, a number of carmakers signed a deal on tailpipe emissions with California, which had sought tougher regulations than the rest of the U.S. Under former President Donald Trump, the Environmental Protection Agency had endeavored to strip California of its ability to set its own state emissions standards. However, under Biden, that rule was reversed, allowing California and other states to impose tougher standards.
2021 Kia Sorento Hybrid Review: Efficient And Enjoyable
Ford Has Created A Fragrance Designed To Smell Like Gasoline
2021 Ford F-250 Super Duty Review: When An F-150 Just Isn't Enough
Toyota came in for criticism recently after news spread that it was the largest corporate donor to Republican lawmakers who refused to certify President Biden's election win. The firm at first, defended the donations but later agreed to stop them.
There is however, some merit in Toyota's push back against EVs. The firm's argument that hybrids and fuel-cell cars should be included in the conversation is a sound one. With it still expected to take at least a decade to create a sufficient EV charging infrastructure to support the large numbers of EV on the way in many countries, Toyota sees hybrids as a crucial stepping stone to societal acceptance and adoption of EVs.
Toyota believes that electric cars will proliferate and gain public acceptance over time as prices come down and infrastructure improves, but it sees issues with battery production capacity and the difficulty in sourcing sufficient materials needed to produce enough batteries for the growing number of EVs. Only recently, Toyota revealed plans to introduce 70 new models by 2025, including battery-electric, hydrogen fuel cell and gasoline-electric hybrids and plug-in hybrids. But the makeup of that electrification menu will focus heavily on hybrids and plug-in hybrids.
In explaining its reasoning behind the firm's slow take-up on electric cars, a company spokesman in 2019 mentioned that Toyota is able to produce enough batteries for 28,000 electric cars each year, or 1.5 million hybrid cars. One other important factor is emissions. Toyota says that selling 1.5 million hybrid cars reduces carbon emissions by a third more than selling 28,000 electric cars. So, put simply, its carbon footprint is smaller if it sells many more gasoline-electric hybrid vehicles.
In a career that spans 30 years, I have written about automobiles, innovation, games, luxury lifestyles, travel and food. Based in Tokyo since 1988, I was in the front