The announcement comes after Hertz on Monday said it would order 100,000 Tesla vehicles by the end of 2022, meaning that half of the rental company's Tesla fleet would be reserved exclusively for Uber drivers.
Global ride-hailing cab operator Uber is all set to get as many as 50,000 Tesla electric cars as part of its fleet. Uber has announced its tie-up with rental car company Hertz, which recently struck a deal with the US-based EV maker to get at least one lakh Tesla electric vehicles by next year.
Similar Bikes
Source : https://auto.hindustantimes.com/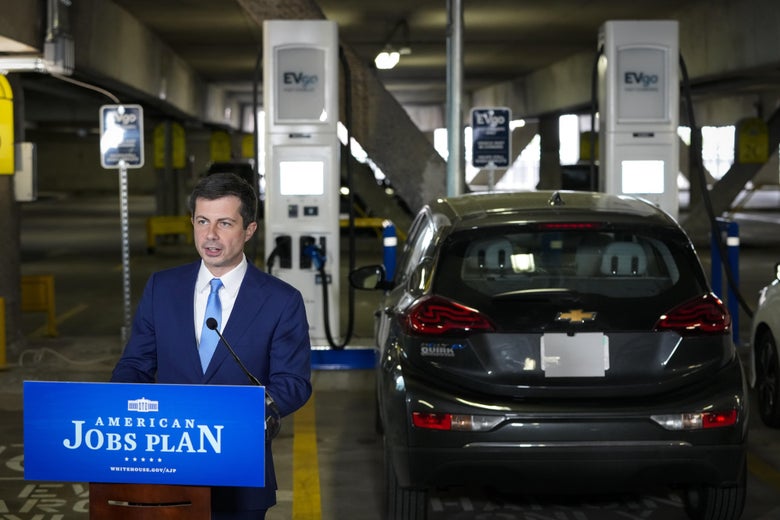 On May 7, 2019, Lisa Lemble and Robert Gordon cut the ribbon on Ann Arbor, Michigan's first curbside electric vehicle charger. It was an ordeal that required nearly a year of negotiation and permitting, and cost the couple about $15,000. "Mainly we want people to know that if they live in the city of Ann Arbor and don't have a driveway and don't have access to a garage, that it's possible to put in a charging station curbside," Lemble said at the time.
Possible, yes. Easy, no. More than two years after the Tesla-owning couple installed their dual-nozzle Level 2 charger on the curb in front of their condo, their example has not caught on. Missy Stults, the sustainability and innovations manager for Ann Arbor, said she does not know of another such project in this city of 120,000, home to the University of Michigan.
"It is so bedeviling," Stults said. "Multifamily is a large portion of our housing stock and we start to have challenges." The city estimates it needs as many as 10,000 electric vehicle chargers to prepare for full electric-vehicle adoption, and Stults is focused on getting them into publicly accessible parking lots—like the four "fast chargers" in the City Hall parking lot Ann Arbor put online just this Monday.
As for the streets, where residents like Lemble and Gordon park? "Trenching in the right of way gets complicated," Stults said of the digging required for such a project. "And then what tends to happen is people park in a spot and don't move."
Ann Arbor is one of many cities confronting a vast challenge as Democrats pin their hopes to reduce U.S. emissions on the rapid, widespread adoption of electric vehicles: How do you get power to people who park on the street? Does electrifying cars mean changing the way we park?
One in three U.S. housing units does not have a garage, according to the 2019 American Housing Survey, and many of those households do not have their own parking spots. As gas stations slowly yield to electric chargers, the ratio of fueling nozzles to vehicles is plummeting, with some studies suggesting we'll need as many as one charger for every two electric vehicles. The bipartisan infrastructure bill contains $7.5 billion to charge EVs, which President Joe Biden hopes will make up half of U.S. auto sales by 2030, up from around 2 percent today.
Where to charge them? Many cities are experimenting with EV charging at the curb, and extension cords have been spotted hanging from the windows of East Village tenements and Boston triple-deckers. Street parking has long been a lawless affair, and so far, electric vehicle charging at the curb is working much the same way: every driver for him or herself. By and large, experts fear that EV adoption will lag in places where curbside parking is dominant, such as New York City, which despite its liberal voters and enormous wealth counts just 15,000 electrics among its 2 million cars.
This raises the possibility that gas-powered cars will continue to dominate in neighborhoods with multifamily housing, and the promise of cleaner air will remain unfulfilled in exactly the places that have suffered the most from the many harms of automobile exhaust.
In Los Angeles County, a study by the Los Angeles Cleantech Incubator, or LACI, estimates the need for 84,000 public and workplace chargers as soon as 2028—about five times as many gas pumps as exist today, says Cole Roberts, who leads the North American energy business for the consultancy ARUP. Roberts worked with LACI on a tool, Charge4All, to identify good places to install curbside chargers. Why so many chargers? Because right now juicing up an electric vehicle is slow.
To understand the multidimensional infrastructural problem that is electric vehicle charging, it helps to recall that there are three types of EV chargers. The first, Level 1, is like plugging into a conventional household outlet and might replenish your battery by just a few miles each hour. The second, Level 2, can give a full charge overnight. The third, also known as "fast chargers," can deliver a full charge in less than an hour. There's a correlation between speed and cost. Each fast charger costs upward of $50,000 and, depending on the required utility work, can wind up being much more. Reliance on fast charging would put Los Angeles on the hook for billions of dollars in chargers just in the next decade. (Other factors to consider include charger utilization rates, durability, utility grids, variable energy costs … it's complicated.)
Some drivers without home chargers get by on this kind of high-tech, publicly available infrastructure now. Companies like EVgo and ChargePoint have set up shop in public parking lots and grocery store garages. Tesla has its Supercharger network. This works well enough for Nitesh Donti, a YouTube engineer in San Francisco who recently bought a long-range Tesla Model 3. There are no chargers in the garage of Donti's apartment building, but no matter. "It's not as annoying as it might seem," he said. "When I drive in the city, everything is two to three miles away." His battery holds a 300-mile charge, so he finds Superchargers on the highway or makes use of workplace chargers at his office in San Mateo County, south of the city. Kind of like going to a gas station.
Most people who study EVs think that approach isn't going to work for everyone. "We think there needs to be a mix," Roberts says. "Level 1 is a big question. It's the cheapest, it's the weakest. It might be something we could distribute more broadly. But it won't be provided by individual homeowners at scale." A Level 1 charge is treacle-slow, but it could easily cover a 20-mile range overnight, he said, which is more miles than 90 percent of U.S. vehicles cover each day.
Peninsula Clean Energy, the electric utility in San Mateo County, is trying to push widespread acceptance of lower-voltage chargers, which could be run out of existing curbside infrastructure like streetlights. These Level 1s might take days to give a car a full charge, but they are one-third the price to install compared with fast chargers, and don't require additional utility infrastructure.
"The way that traditional EV charging has been done is you put a 40 amp charger, and an old building may be able to support one of those," says Phillip Kobernick, the programs manager at Peninsula. "We think that's incredible overkill when it comes to plugging in overnight after averaging 30 miles a day. That's an hour of charging on one of those chargers."
Or as two Peninsula board members put it in a recent op-ed criticizing California's green building code: "This would be a dramatic improvement over CalGreen's current approach of providing excess capacity … to a small percentage of spaces." Those spaces fill up quick, the cars charge quick, and everyone else is left out in the cold. Better to have slower chargers for more cars and save the money.
Even at low voltages, however, curbside charging is a challenge. "You'd think they'd be simple projects—pole-mounted, streetlight-mounted—but the way it's looking right now is they're all kind of one-off, and you don't get a cost reduction from scaling. It's going to be cheaper to put it in a garage in almost any scenario. Curbside will be a niche."
Still, in cities where cars mostly sit on the street, curbside will be a necessity. In June, New York City installed its first curbside Level 2 chargers, with plans to complete 100 publicly available chargers by this month. The electric utility ConEd, which is a partner on the project, plans to invest $310 million in more than 21,000 such chargers (and 525 fast chargers) in the city by 2025. It works out to about $15,000 per charger.
That kind of limited, high-powered, high-cost infrastructure implies we'll have to change the way we park cars in cities, with EVs shuffling in and out of prized charging areas and police punishing lingering cars with parking tickets. It's a very different idea than the one Peninsula is advocating for on the West Coast, with its focus on lots of lower-cost, lower-powered chargers where plugged-in cars might sit in the same spot for days—just as they do now.
Then there's the question of where to put all these power stations. Some analysts suggest commercial destinations, where parking stays are shorter. Customers can charge as they shop, just as they would in the parking lot of a Target or a Whole Foods. Others, like San Francisco MTA parking manager Hank Wilson, wanted to avoid that outcome. "It's a very expensive thing that requires a lot of infrastructure and locks in that curb space for one specific use for decades, and because our commercial curbs are so dynamic and changing so much, we're reticent to lock that in," he said at a panel this week.
From that perspective, the real downside of electrifying the curb in densely populated neighborhoods becomes clear: It would cement the purpose of the curb for car storage for decades to come, just as activists are beginning to convince cities to explore alternate uses, including bike lanes, bus lanes, greenways, public space, and restaurant terraces.
Paul Barter, the founder of Reinventing Parking and a longtime advocate for better parking policy, told me he had mixed feelings. "On the one hand, it would be a great pity if EV penetration gets slowed by a failure to have EV charging for on-street residential car storage. On the other hand, it would be sad if charging infrastructure locks in existing on-street parking configurations and inhibits changes such as protected bike lanes, parking-protected bike lanes, bus lanes, and so on."
Last year, a viral photo showed a car charging in downtown Los Angeles with a black power cord hung waist-high across a freshly painted bike lane. At $15,000 a pop, that's not a mistake you want to make every day.
Every company seems jazzed about the electric future. Think hard about market forces, though, and it's obvious that someone is going to lose.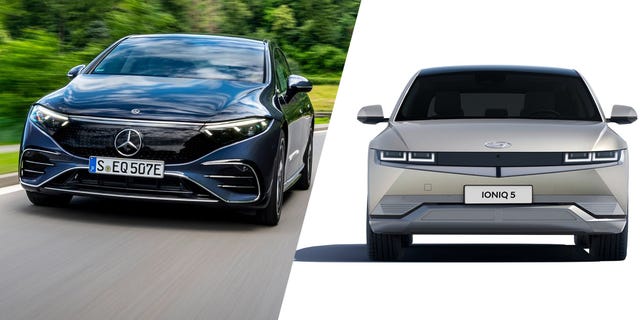 How do you justify this many high-end car brands when every electric powertrain feels fundamentally the same?
A question like that could kill a brand. Yet wandering the halls of the electric-oriented Munich auto show, you won't find answers. You won't even find anyone acknowledging the question. Here, the future is brilliant, boundless, and secure. Every brand is uniquely capable of winning. Every car is uniquely suited to its electric mission. And every executive can recite from memory the story of what will surely happen over the next decade. Getting out of one electric car demonstration drive and into another, though, I was unconvinced. Everyone cannot win. And the nature of electric cars likely means there can be fewer winners in the future.
Welcome to Uncomfortable Questions, a monthly Road & Track column focused on the issues that automakers would rather not address.
Evidence in favor surfaced in the Hyundai Ioniq 5. The electric crossover looks like an upsized Eighties hot hatch adapted for Cyberpunk, with an interior that could shame many concept cars. On the country lanes circling metro Munich, the Ioniq was brilliant. Its cabin was Cadillac quiet, its powertrain Rolls-Royce refined. Even in a lineup filled with all-stars, the Ioniq 5 is special.
To deem the Hyundai as good as Mercedes's flagship EQS electric mega-sedan would be an overstatement, of course. Going from the Hyundai to the Benz, there's a palpable step-up, not just inside, but in the overall experience of the car. But it's a gap that's not quite big enough to keep sweat off the suits in Stuttgart. The Ioniq 5 might not be the match of the EQS, but it's a hell of a lot closer than any middling Hyundai has ever been to the luxury stalwart, the Mercedes S-class.
One core competency that unites the most conventionally successful premium brands is their mastery of the internal-combustion engine. McLaren and Porsche offer not just power but power that's immediate and unending. Power with thunderous V-8 or wailing flat-six acoustic accompaniment. Rolls-Royce and Bentley, meanwhile, trade not only in suede and solidity, but smoothness and silence.
As the industry shifts toward electric propulsion, these companies will inevitably continue to offer plenty of power, effortless acceleration, and total tranquility. Trouble is, so will Hyundai. So when whatever's on the lot for $299 a month can get off the line without hesitation in its powertrain or vibrations through its seat rails, it's hard to imagine how much more will the market bear for the driving experience of a Rolls-Royce.
Surely names like Rolls-Royce and Mercedes stand for more than just engine refinement. Luxury brands have long differentiated themselves with stunning interiors, next-gen technology, seamless sales and service procedures, and exclusivity. But anyone with a cursory understanding of economics knows that the fewer differentiating factors there are to compete on, the tighter the margins will be in any market. This is why the endless variations of apples drive strong profits (have you seen what Honeycrisps go for?), while the genetic clone that is the common banana can be picked up for pennies.
Source : https://www.roadandtrack.com/car-culture/a38090275/biggest-threat-from-electric-cars/
The race to get more electric vehicles on the road is picking up speed. More car companies are following Tesla's lead and developing electric vehicles as the industry looks to become more high-tech and environmentally friendly.
In August, President Biden set an ambitious goal to transition half of new car sales to electric vehicles by 2030. But how quickly can the industry ramp up? And are consumers on board?
Electric cars currently make up a fraction of sales, and questions remain as to whether we have the infrastructure to support a huge influx of electric vehicles. Will there be enough charging stations? Will the energy grid support a massive shift from gasoline-powered vehicles over to electric?
We ask those questions, talk about what's coming on the market, and look to the future of electric cars.
Guests
Stephanie Brinley, principal automotive analyst, IHS Markit, a research firm
Daniel Sperling, distinguished professor of engineering and environmental policy and founding director of Institute of Transportation Studies at University of California, Davis
Timothy Johnson, professor of the practice in energy and the environment in the Nicholas School of the Environment at Duke University
Ford and Nio are going full throttle in their respective domestic electric-vehicle markets.
Reservations for Ford's F-150 Lightning is piling up.
Nio has huge growth plans to take over Tesla.
Motley Fool Issues Rare "All In" Buy Alert
With the world increasingly recognizing the dire need to switch to clean energy, several economies now see electric vehicles (EVs) as a key part of their energy transition plans. And the pace of adoption of EVs is faster thank you think, at least in some parts of the world. Take China, for example. EVs accounted for almost 12% of total vehicle sales in the world's top EV market in the first half of 2021.

In fact, wherever you look, the biggest automakers in the world are lining up investments worth billions of dollars to ensure they don't miss the race. You may not want to miss the race, either, so if you're looking to bet on electric vehicles, here are two top stocks you'd want to buy now.
Giving its hot-seller pickups an electrifying lift
Ford (NYSE:F) is in a much stronger position now than it was roughly a year ago thanks to a leadership change. And one area where Ford is speeding ahead under CEO Jim Farley is electric vehicles. Evidence lies in Ford's latest monthly sales.
Ford's total retail sales increased 34% sequentially in the month of September, and it entered of October with an inventory of 236,000 vehicles, up more than 21,000 from one month prior. That's a strong indicator that Ford may have found a workaround to tackle the ongoing global semiconductor chip shortage that's hit the automotive industry the hardest. While that's impressive, the biggest highlight from its sales numbers – that of EVs — is even more notable.
Ford sold a record number of 9,150 EVs in September, up 91.6% year over year. Demand for its F-150 Lightning pickups remains strong: Reservations crossed 150,000 in September, up from 100,000 as of the end of the second quarter.
Of course, it remains to be seen how many of those reservations convert into orders, but Ford's success with F-150 pickups in the U.S. over the decades has been unmistakable, and the company's launch of Mustang Mach-E all-electric SUVs has been hugely impressive as well: Ford sold 18,855 Mach-Es through September, second only to Tesla's (NASDAQ:TSLA) Model Y.
Ford is, in fact, going full throttle on EVs, having already committed to investing more than $30 billion in EVs through 2025 and projecting 40%-50% of its global vehicle sales volumes to be fully electric by as early as 2030.
Ford's stock may have been on a torrid run this year, but this could just be the beginning if Ford's F-150 Lightning can replicate even half the success the auto maker has had with its trucks so far. With Ford's third-quarter numbers also coming out anytime now, this one's an EV stock for the long-term believer.
Hungry for growth in the world's largest EV market
Nio (NYSE:NIO) is trying to give Tesla a run for its money in China, and that's no mean feat for a company that's already the "Tesla of China."
Nio is growing at lightning speed, with deliveries hitting records month after month. In September, for example, Nio's global deliveries jumped 125.7% year over year to 10,628 cars, and the luxury car maker saw delivered double in the quarter through September. Nio currently sells three electric car models: the six- or seven-seater SUV ES8, the five-seater SUV ES6, and the five-seater electric coupe SUV EC6.
Here's the thing: Nio offers much more than just cars, and that competitive advantage appears to be playing out in Nio's favor. The best example is its battery-as-a-service (BaaS) subscription plan. So instead of buying a battery-fitted Nio car, customers can save more than $10,000 on car cost by buying cars without batteries and subscribing to Nio's BaaS instead that allows customers to charge and swap battery backs at its battery swap stations.
Then there's Nio's powerful branding strategy that includes Nio Houses that have facilities like cafes, co-working spaces, and libraries for Nio owners.
With Nio also officially entering the European markets recently through Norway, preparing to start deliveries of its flagship luxury sedan ET7 from early 2022, and even planning mass-market EVs, there could be no stopping this EV stock in the coming years.
Should you invest $1,000 in NIO Inc. right now?
Before you consider NIO Inc., you'll want to hear this.
Our award-winning analyst team just revealed what they believe are the 10 best stocks for investors to buy right now… and NIO Inc. wasn't one of them.
The online investing service they've run for nearly two decades, Motley Fool Stock Advisor, has beaten the stock market by over 4X.* And right now, they think there are 10 stocks that are better buys.
*Stock Advisor returns as of October 20, 2021
Neha Chamaria has no position in any of the stocks mentioned. The Motley Fool owns shares of and recommends Nio and Tesla. The Motley Fool has a disclosure policy.
On Monday, Bellona set out for the COP26 climate summit in Glasgow in an electric car – of course. Most have heard that electric car sales in Norway are through the roof, but many don't know is how pivotal Bellona has been in inspiring the Norwegian EV policies that have put the country miles ahead the rest of the world when it comes to phasing in zero-emission solutions in road transport.
Bellona's Telsla on the way to Glasgow.Credit: Bellona
On Monday, Bellona set out for the COP26 climate summit in Glasgow in an electric car – of course. Most have heard that electric car sales in Norway are through the roof, but many don't know is how pivotal Bellona has been in inspiring the Norwegian EV policies that have put the country miles ahead the rest of the world when it comes to phasing in zero-emission solutions in road transport.
We'll get into the history of our involvement a little later, but first, why did we decided to drive an electric car through Europe to Scotland? It may not come as a surprise that an electric car can do a long trip ­– this trip is almost 3000 kilometers each way and goes through nine countries – but it might not be the first thing you'd think of.
Because, while battery range is no longer the problem it once was, even for cheaper electric cars, it's the charging infrastructure that is failing to keep pace. There is a certain density of charging stations such that you can get to most places in Europe on one route or another – so long as you don't swerve too far off the beaten path. In sparsely populated areas, however, the density of charging stations is still far too low, and along the main roads there is a risk of encountering chargers that don't work, that have long queues, or both.
We've encountered these problems in Norway for a while, and now Europe is feeling the same pain. Electric cars accounted for 9.8 percent of all new car sales in Europe during the third quarter of this year. That' a drop in the bucket when compared to Norway – but in pure volume, those sales equate to 309,000 modern electric cars on the road, all suitable for long trips – and each needing somewhere to charge up.
Bellona is driving a Tesla Model 3 to Glasgow and it has both good range and access to the Tesla charging network. This should make the trip, which in any case runs mostly along main highways, hassle-free. But as we are sure we will see, the charging infrastructure is not up to handling the huge number of EVs that will soon be rolling on European roads.
So, we're taking this trip to shed light on the challenges Europe still faces as it transitions to electromobility for both large and small vehicles. Additionally, we'll make stops along the way to talk about other climate solutions. You can follow the journey in our social media.
But back to the starting point: How has Bellona put its fingerprints on Norwegian electric car policy?
We've actually been working for an electric cars transition since 1989, and we deserve much of the credit  – or blame, depending on your point of view – for the special treatment these environmentally friendly cars receive today.
An A-Ha moment
Norway's very first electric car was almost ridiculously small – a rebuilt Fiat imported from Switzerland with lead batteries, cramped space for two and a theoretical range of 45 kilometers.
Source : https://bellona.org/news/transport/2021-10-bellona-takes-off-for-glasgow-in-an-electric-car
A recent study analyzing the cost to power electric vehicles compared with internal combustion engine vehicles has generated debate and inspired reader questions.
The study found gasoline cars to be slightly cheaper to fuel than some EVs, depending on several factors.
That study is an outlier. Many studies show the opposite to be true.
More:Study compares electric vehicle charge costs vs. gas — and results were surprising
Still, no single study can account for every scenario in car ownership.
More:Study compares electric vehicle charge costs vs. gas — and results were surprising
Still, no single study can account for every scenario in car ownership.
There are differences in: Personal driving habits, the local cost of gasoline, access to public charging, personal charging habits, fuel economy of the ICE car versus driving range of the EV model … to name a few.
The consensus is that most EV owners charge predominantly at home, but the public infrastructure required to support widespread EV adoption still needs work,.
As interest in EVs grows among buyers, here are some top-of-mind questions and answers inspired by readers.
More: 4 things to know before you buy an electric vehicle
Q: Which is cheaper to own: An EV or internal combustion engine car?
A: The consensus is an EV.
That's factoring in tax credits at time of purchase of a new EV and lower maintenance costs because EVs have fewer parts and don't need regular care such as oil changes or antifreeze. Many EV owners also say there is a time savings to not waiting in service lounges for routine vehicle maintenance.
Many local utilities offer discounts  to charge at home during night time off-peak hours.
Last year, Consumer Reports did a 45-page cost comparison and found the savings advantage to total ownership costs for an EV is significant the first few years and continues to improve the longer a person owns the car. It compared the nine most popular EVs priced less than $50,000 with the "best-selling, top-rated, and most efficient vehicles in their class."
For the EVs analyzed, the study found that fuel savings can be at least $4,700 over the first seven years. The lifetime ownership cost savings were estimated at $6,000 to $10,000.
According to Forbes, the cost to insure an EV will be slightly higher than that of a gasoline car because it generally costs more to do major repairs on EVs than on a gasoline car.
Q: How long does an EV battery last and how much is it to replace?
A: Batteries are one of the more expensive components in an EV. If you need to replace one after the warranty expires, the average cost is about $5,500, according to vehicle shopping website TrueCar. The federal government requires an eight-year warranty on EV batteries. Most automakers offer eight or 10 years.
The good news is EV batteries tend to last a long time, though they lose range as they age. The average EV battery will lose about 2.3% of its initial range annually, TrueCar wrote.
Q: Which is cheaper to power: An EV or internal combustion car?
A: This is a hot topic and depends on a lot of variables.
According to the Department of Energy's eGallon.com, it costs about half as much to drive an EV compared with a gasoline car. Based on the average price for regular gasoline in March of $2.85, the comparable eGallon cost is $1.16. The Department of Energy defines an eGallon as the cost of fueling a vehicle with electricity compared with a similar vehicle that runs on gasoline.
An independent 36-page study released last week by Anderson Economic Group found higher costs when factoring in the cost of the residential charger, cost of commercial electricity and the cost of "deadhead miles" driven to find a fast charger. There are no other surveys citing so-called "deadhead miles" as a significant cost. Most EV owners charge primarily at home and use smart phone apps to find available chargers when that's not possible.
Michigan assesses an EV tax of $100 a year  for vehicles weighing less than 8,000 pounds to offset the decrease in gasoline tax income. A $200 annual tax will be assessed for EVs weighing more than 8,000 pounds. The upcoming GMC Hummer EV pickup is likely to be the first personal use vehicle subject to that tax.
More:Study compares electric vehicle charge costs vs. gas — and results were surprising
The Anderson study said a mid-priced internal combustion car that gets 33 miles per gallon would cost $8.58 in overall costs to drive 100 miles at $2.81 a gallon. But a mid-priced EV, such as Chevrolet Bolt, Nissan Leaf or a Tesla Model 3, would cost $12.95 to drive 100 miles in terms of costs that include recharging the vehicle using mostly a commercial charger.
Q: How much does it cost to install at-home chargers?
A: EV drivers do most of their charging at home, during off-peak hours at a considerable savings.
A Level 1 charger is a cord or charging system that usually comes with the vehicle during purchase. It can be plugged into a standard 120 Volt, 20 amp circuit wall outlet, according to Evocharge website. EvoCharge is a hardware provider of EV charging stations and cable management.
A Level 2 system provides a 240-volt current for faster charging and requires a 208-240 Volt, 40 amp circuit
The average cost of an L2 charger is $500-$2,200, according to website EV Love, a website created by women for women who want to own EVs. PlugStar shopping site lists L2 home chargers for as low as $174.
Hiring an electrician to install an L2 charger can cost from $250 to over $1,000 depending on the home and charger wall mounting, various reports say.
A Level 2 home charger operates at about the same voltage used to power household appliances like dryers or electric range stoves, so there is usually no need for additional insurance coverage for a Level 2 charger in the home, according to a report by Kelley Blue Book. KBB wrote that some underwriters may require photographs or documentation that the home-charging unit has been properly and professionally installed.
Q: What is the actual charging time involved in driving an EV?
A: Most electric owners have access to Level 2 240v chargers at home, work or both.
An L2 charger will get an average of 32 miles of driving range per hour of charge.
Art Causin, who lives in Long Island, New York, owns a 2018 Tesla Model 3 with a range of 300 miles. He recharges it fully overnight using a Level 2 charger.
"The charger is programmed to start at 11 p.m. and stop at 7 a.m.," Causin said. "My electric company, PSEG LI, provides me with a 25% reduction for charging at night. My home charging setup was essentially free, as the IRS gave me a $500 rebate on my home charging setup."
Causin said the only time he uses a commercial charging station is when he travels.
"The Tesla navigation system plans your trip to route you to a Tesla Supercharger," Causin said. "A 250-mile charge takes 20 minutes. All Supercharging stations are located near a Starbucks or similar establishment. So on a trip, after four hours of driving, I charge my car, stretch my legs, get a cup of coffee, go to the bathroom and I'm on my way."
Other automakers and independent companies also offer apps to help with route-planning to commercial chargers.
Consumers Energy is addressing the "charging inconvenience" issue, said Brian Wheeler, media relations manager.
It has installed 30 Level 3 fast-charging stations around the state that can fully power an EV battery in less than an hour, he said. The current plan is for Consumers to install 200 public fast-charging stations — plus 2,000 Level 2 chargers at homes and businesses across Michigan through charger rebates and lower electrical rates — over the next three years.
DC fast-chargers, sometimes called Level 3, provide faster charging than Level 2. Wider availability of DC fast-charging is widely considered a key to expanded EV use.
Additionally, Consumers Energy recently introduced the Bring Your Own Charger program that offers special charging rates for customers who buy a home EV charging system, or use one that comes with an EV, like the Ford F-150 Lightning.
Source : https://www.freep.com/story/money/cars/2021/10/26/electric-car-gas-comparison-cost-charge/6173743001/