Electric Cars Could Represent an Existential Threat for Luxury and Performance Brands
Every company seems jazzed about the electric future. Think hard about market forces, though, and it's obvious that someone is going to lose.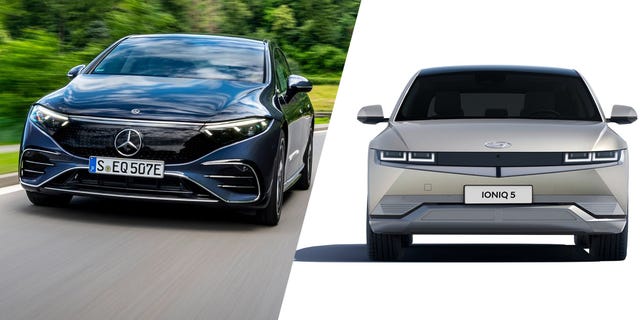 How do you justify this many high-end car brands when every electric powertrain feels fundamentally the same?
A question like that could kill a brand. Yet wandering the halls of the electric-oriented Munich auto show, you won't find answers. You won't even find anyone acknowledging the question. Here, the future is brilliant, boundless, and secure. Every brand is uniquely capable of winning. Every car is uniquely suited to its electric mission. And every executive can recite from memory the story of what will surely happen over the next decade. Getting out of one electric car demonstration drive and into another, though, I was unconvinced. Everyone cannot win. And the nature of electric cars likely means there can be fewer winners in the future.
Welcome to Uncomfortable Questions, a monthly Road & Track column focused on the issues that automakers would rather not address.
Evidence in favor surfaced in the Hyundai Ioniq 5. The electric crossover looks like an upsized Eighties hot hatch adapted for Cyberpunk, with an interior that could shame many concept cars. On the country lanes circling metro Munich, the Ioniq was brilliant. Its cabin was Cadillac quiet, its powertrain Rolls-Royce refined. Even in a lineup filled with all-stars, the Ioniq 5 is special.
To deem the Hyundai as good as Mercedes's flagship EQS electric mega-sedan would be an overstatement, of course. Going from the Hyundai to the Benz, there's a palpable step-up, not just inside, but in the overall experience of the car. But it's a gap that's not quite big enough to keep sweat off the suits in Stuttgart. The Ioniq 5 might not be the match of the EQS, but it's a hell of a lot closer than any middling Hyundai has ever been to the luxury stalwart, the Mercedes S-class.
One core competency that unites the most conventionally successful premium brands is their mastery of the internal-combustion engine. McLaren and Porsche offer not just power but power that's immediate and unending. Power with thunderous V-8 or wailing flat-six acoustic accompaniment. Rolls-Royce and Bentley, meanwhile, trade not only in suede and solidity, but smoothness and silence.
As the industry shifts toward electric propulsion, these companies will inevitably continue to offer plenty of power, effortless acceleration, and total tranquility. Trouble is, so will Hyundai. So when whatever's on the lot for $299 a month can get off the line without hesitation in its powertrain or vibrations through its seat rails, it's hard to imagine how much more will the market bear for the driving experience of a Rolls-Royce.
Surely names like Rolls-Royce and Mercedes stand for more than just engine refinement. Luxury brands have long differentiated themselves with stunning interiors, next-gen technology, seamless sales and service procedures, and exclusivity. But anyone with a cursory understanding of economics knows that the fewer differentiating factors there are to compete on, the tighter the margins will be in any market. This is why the endless variations of apples drive strong profits (have you seen what Honeycrisps go for?), while the genetic clone that is the common banana can be picked up for pennies.
Source : https://www.roadandtrack.com/car-culture/a38090275/biggest-threat-from-electric-cars/