President Biden is set to invoke the Defense Production Act (DPA) as early as this week to step up production of minerals used to manufacture electric vehicle batteries, a source familiar the plans confirmed to The Hill.
Biden is set to issue a presidential determination to stoke domestic production of the minerals, which are used for both stationary batteries and vehicles. The person emphasized that the production will not bypass existing permitting or environmental review processes.
The addition of certain minerals, including lithium, cobalt, graphite, nickel and manganese, to the list of items covered under the law could give mining companies access to some $750 million under the DPA's Title III fund, the person told The Hill.
The DPA, initially passed during the Korean War to boost aluminum and titanium production, grants the president authority to order domestic production ramped up of certain supplies. Former President Trump invoked it during the COVID-19 pandemic for meat production, while Biden used it shortly after taking office to ramp up production of pandemic-related supplies.
The person familiar told The Hill the White House will implement the order in collaboration with the Energy and Interior departments. The law will not be invoked for loans or direct purchases but rather funding for "feasibility studies, co-product and by-product production at current operations, and productivity/safety modernizations."
As gas prices increase amid the Ukraine conflict, environmental groups have frequently called for the Biden administration to invoke the DPA to aid the development of alternative and renewable fuels.
Bipartisan members of Congress have also backed the idea. Earlier this month, Sens. Joe Manchin (D-W.Va.), Lisa Murkowski (R-Alaska), James Risch (R-Idaho) and Bill Cassidy (R-La.) called for Biden to invoke the DPA for battery materials.
They specifically cited the near-monopoly Chinese companies hold on production of the materials in question, writing, "Allowing our foreign mineral dependence to persist is a growing threat to U.S. national security, and we need to take every step to address it."
BIDEN BILL CASSIDY DEFENSE PRODUCTION ACT DONALD TRUMP ELECTRIC VEHICLE BATTERIES JOE BIDEN JOE MANCHIN LISA MURKOWSKI TRUMP
The Hill has removed its comment section, as there are many other forums for readers to participate in the conversation. We invite you to join the discussion on Facebook and Twitter.
Source : https://thehill.com/policy/energy-environment/600401-biden-to-invoke-defense-production-act-for-electric-vehicle-battery/
Our buddies from Out of Spec Reviews had a Rivian R1T on loan for eight days and have delivered video after video, covering pretty much everything that was to cover about the electric pickup truck.
Actually, we counted no fewer than 12 videos on the Out of Spec Reviews channel and four on Out of Spec Motoring, so it's safe to say that you can learn everything about the Rivian R1T if you watch the entire series.
Now, Kyle Conner appears to have saved the best for last, or should we say, the most entertaining part. That would be a mega drag race between the Rivian R1T and 14 electric vehicles that are currently available in the United States. Actually, one of these EVs is no longer in production—the Mercedes-Benz B250e—and another will bow out this summer—the BMW i3.
The other 12 EVs that are trying their luck against the R1T on the runway are a very eclectic bunch. We have the Audi e-tron, Chevrolet Bolt EV, Ford Mustang Mach-E GT Performance, Hyundai Ioniq 5 AWD, Kia EV6 Wind AWD, MINI Cooper SE, Nissan Leaf SL Plus 62 kWh, Tesla Model S Plaid, Tesla Model 3 Performance, Tesla Model Y Dual Motor, Smart electric drive, and VW ID.4 AWD.
This group includes some very fast EVs that are very likely to beat the R1T or at least give it a good run for its money. We're obviously talking about the 1,020-horsepower Model S Plaid and the 430-hp Model 3 Performance, which have official 0-60 mph ratings of 1.9 seconds and 3.1 seconds, respectively.
The 835-hp Rivian R1T, on the other hand, does 0-60 in about 3 seconds. Will it manage to beat at least the Model 3 Performance? Actually, that's a very tight race and we are not going to spoil it for you.
There another vehicle in this group that could theoretically pose problems to the R1T, the 480-hp Ford Mustang Mach-E GT Performance whose claimed 0-60 time is 3.5 seconds. As for the rest of the lineup, it's safe to say the R1T will smoke them all. But don't take our word for it and watch the video to see if that's the case.
Source : https://insideevs.com/news/577105/rivian-r1t-drag-races-14-electric-vehicles-will-it-smoke-them-all/
VinFast Automotive— the Vietnamese car startup — is set to build its first North American assembly plant in North Carolina's Triangle Innovation Point, right outside of Raleigh. The company will invest a total of $5 billion in the facility which will eventually employ 13,000 workers, according to the Raleigh News and Observer. The Vinfast plant won't just be North Carolina's first EV facility, it'll also be the state's first car manufacturing plant. Toyota also announced plans last year to build a $1.29 billion battery manufacturing plant in Randolph County, further cementing North Carolina's status as the next potential EV hub.
We've already heard about VinFast's two new electric crossover cars — the VF32 and the VF33 — that it plans to debut in the US this summer. But the North Carolina plant will focus on building two other cars: the VinFast VF 9, a 7-passenger all-electric SUV and the VinFast VF 8, a 5-passenger, all-electric mid-size SUV. The company is aiming to make both lines available for delivery in the US later this year.
As far as SUVs go, both VinFast models will be reasonably priced. The smaller car, the two-row VF 8, will retail for $39,400. The three-row VF 9 will retail for $53,700. Drivers have the option of selecting different battery sizes for each model. The VF 8 with a smaller battery has a range of 285 miles, with a bigger battery the range increases to 313 miles. Meanwhile, the VF 9 is likely to come with a larger battery pack that could give it a range of up to 423 miles, InsideEVs reported. If this actually happens, this would put the VF 9 at a higher maximum range than many of its competitors in the electric SUV space. For the sake of comparison, the 2021 Tesla Model X has a range of 360 miles and the Kia EV9 SUV has a range of 300 miles.
Even as far as EV startups go, VinFast is relatively new to the game. The company is a subsidiary of a Vietnamese conglomerate called VinGroup, and only started making cars in 2017. Both its cars and scooters are popular in Vietnam, but it has yet to sell any cars abroad, reported the Raleigh News and Observer. But with its first US manufacturing facility in the works, the Vietnamese startup is likely to gain more credibility stateside.
All products recommended by Engadget are selected by our editorial team, independent of our parent company. Some of our stories include affiliate links. If you buy something through one of these links, we may earn an affiliate commission.
Source : https://www.engadget.com/ev-startup-vinfast-will-build-a-5-billion-plant-in-north-carolina-193505725.html
Cars.com, a well-known marketplace for car shoppers, officially revealed its 2022 "Top Picks" in the electric vehicle segment. The publication also provides a related EV Buying Guide with more information, which we'll provide more details about later in the article.
Fortunately for current and prospective electric car shoppers, Cars.com breaks the awards down into four different categories, which should work to appeal to a variety of consumers. Each category focuses on a different priority, though there's certainly some overlap. The categories include Value, Families, Luxury, and Commuters.
The website's panel of experts considered price, range, comfort, and features to come up with the winners. It pored over more than 30 electric cars, trucks, and SUVs before choosing the Top Picks. Cars.com editor-in-chief Jenni Newman shares:
"We have been sharing news and research on EVs ever since we reviewed our first Nissan Leaf over a decade ago. As consumer interest for EVs grows due to rising gas prices and other current events, we know shoppers have questions about what EV options are available, how much they cost, what the ownership experience is like and more. Our 2022 EV Buying Guide and Top Picks help shoppers answer those questions and cut through the noise to find the right EV for their lifestyle." 
The winner of the Value award goes to the 2022 Volkswagen ID.4, which is a compact SUV that's well-priced and loaded with appealing standard features. Cars.com notes that the average starting price of an EV in the US is $60,000, though the ID.4 starts at around $42,000.
Next up is the Families award, which could have just as easily gone to the ID.4 as well. However, Cars.com chose to give the award to the 2022 Hyundai Ioniq 5. The publication calls the unique crossover a compact SUV with a roomy cabin that offers plenty of flexibility, spacious second-row seats, and a comfortable ride.
As for the Luxury category, it comes as no surprise Cars.com picked the 2022 Lucid Air. The ultra-luxurious Lucid sedan doesn't really have a whole lot of competition, though the publication did give the Mercedes EQS an Honorable Mention award.
The publication calls the Air a "next-level EV" and a "game-changer." It says the Lucid electric sedan boasts loads of cargo capacity, an infotainment system that's more intuitive and responsive than Tesla's, a sexy exterior design, and an opulent interior. There's also the Air's impressive acceleration and segment-leading electric range.
Last but certainly not least, the 2022 Chevrolet Bolt EV and Bolt EUV get the nod in the Commuters category. Both Chevy EVs offer respectable electric range estimates and competitive pricing. Cars.com emphasizes the Bolts' peppy acceleration, fun driving dynamics, and compact size. The Bolt is small enough to offer exceptional maneuverability while remaining roomy and comfortable inside.
Cars.com also mentions the recent Bolt recall and notes that "further problems are unlikely for this established model."
Cars.com puts emphasis on its new EV Buying Guide in the 2022 EV Awards Press Release. The publication says electric vehicle searches on its website have doubled since 2021, which suggested a need for a new buying guide for the segment. The hope is that the EV Buying Guide, entitled "What to Know Before Purchasing an Electric Vehicle: A Buying Guide" will help people who are curious about EVs decide which model "fits their lifestyle."
Source: https://insideevs.com/news/576881/carscom-2022-top-ev-picks-revealed/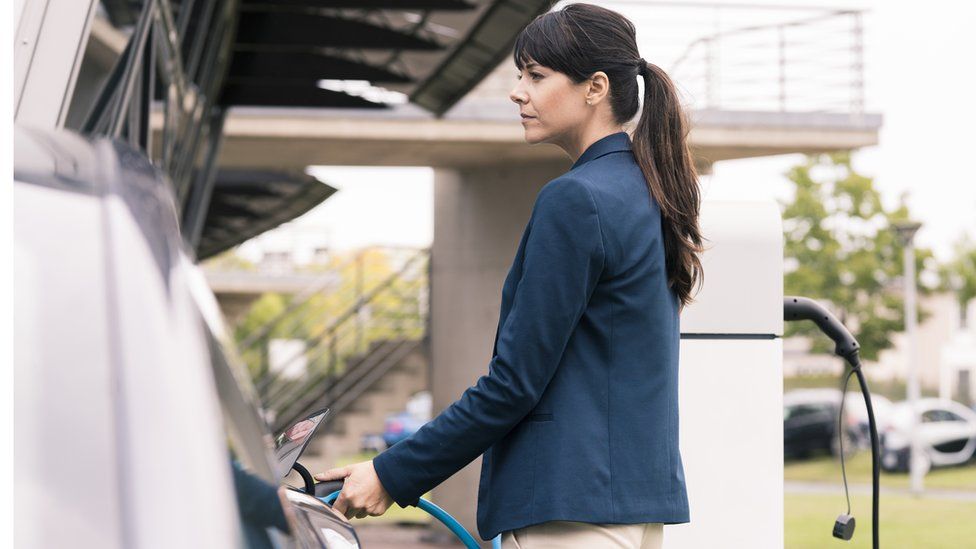 The number of electric vehicle charging points will reach 300,000 by 2030 under government plans but motoring groups say the roll out is not fast enough.
Under the plans, operators will have to ensure drivers can compare prices and pay by contactless card.
But the RAC said the chargepoint target "might sound impressive", but it is concerned the number is "not going to be sufficient" for growing demand.
The UK currently has 30,000 public electric vehicle charging points.
The Department for Transport (DfT) said the number of chargepoints by the end of the decade would be the equivalent to almost five times the number of fuel pumps on UK roads today.
It said the £500m scheme would include £450m to boost public charging stations and on-street charging for people without driveways.
According to Melanie Shufflebotham, chief operations officer of Zap-Map, an EV charging app, 80% of electric vehicle owners have off-street parking.
She went on to say that currently London is the area most "well-served" with on-street overnight charging, due to how built up it is, but that other areas of the country have better access to rapid or ultra-rapid charging.
About a third of all chargers are currently in London.
The funds were previously announced as part of the government's £1.6bn Electric Vehicle Infrastructure Strategy, but the government has now given details about how the money will be spent.
New standards and legislation will mean operators will have to provide real-time data for customers to check the status of chargepoints and apps for customers to find the nearest available one.
They will also be required to have a 99% reliability rate at rapid chargepoints.
Prime Minister Boris Johnson said: "We're powering ahead with plans to help British people go electric, with our expanding charging network making journeys easier right across the country."
What does net zero mean?
Are we ready for EVs?
Simple guide to climate change
Car industry calls for electric charge watchdog
However, Sir John Armitt, chairman of the National Infrastructure Commission, which advises the government on major infrastructure, said in a report there was a gap emerging between the government's aspirations on net zero policy and actions taken to reach it.
"We need to turbo-charge the roll out of electric vehicle charging points, accelerating the installation of both rapid and on-street charging facilities so that the 2030 date for the end of the sale of new petrol and diesel cars remains viable, he said.
RAC head of policy Nicholas Lyes said it was "pleasing" to see the government set "ambitious reliability targets on the chargepoints themselves" as many current and would-be electric car drivers "worry that charging units will be out of order when they arrive".
He also warned that the installation timescale of 300,000 chargepoints needed be quicker with drivers looking to switch to electric "en masse" ahead of the 2030 ban on the sale of new petrol and diesel cars.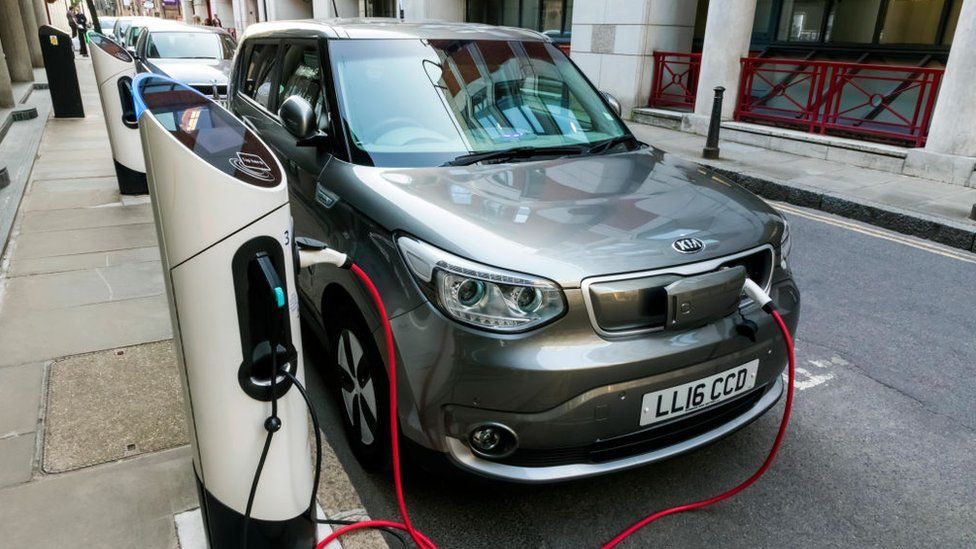 The AA said action was needed on the lack of charging points in rural areas.
Edmund King, AA president, said: "As we advance quickly to the 2030 deadline for new zero-emission vehicles, it is vital that we get our charging infrastructure in order. While great progress has been made, there is still much to do to convince drivers on the number, and importantly reliability, of charge posts.
"To bring confidence and power to potential electric car drivers we need more, and more reliable and accessible charge points as soon as possible."
Transport Secretary Grant Shapps told the BBC that the increased number of electric vehicles will eventually lead to road pricing or tolls in place of fuel duty.
Mr Shapps also acknowledged that electric cars are "still a little bit more expensive" to buy than petrol or diesel vehicles.
However, he said that people should invest in electric cars as a way of easing cost of living pressures, by saving on fuel.
Alongside the expansion of the UK's charging network, the government also has plans for at least 6,000 chargepoints across English motorways by 2035 though an existing £950m Rapid Charging fund.
Over the decade between 2011 and 2021 the total number of charge points in the UK jumped from about 1,500 to more than 48,000 both public and private, according to industry figures.
The Society of Motoring Manufacturers and Traders (SMMT) said electrified vehicles made up more than one in every four cars produced in the UK last month, at nearly 16,000 units.
Overall, UK vehicle production slumped in February, from 105,000 units in 2021 to 61,000 units for the same month this year, due to continued global shortages in computer chips used in car production.
More on this story
MPs call for new tax to plug fuel duty shortfall

Electric vehicle sales outpace diesel again

Elon Musk opens delayed 'gigafactory' in Berlin
Source : https://www.bbc.com/news/business-60863974
The 2022 Nissan Leaf is the cheapest electric car in the US, and we tested it.
It costs $27,400, or potentially around $20,000 after the federal EV tax credit of $7,500.
It has an enticingly low price, but you'll have to sacrifice some range and charging capability.
Electric cars are getting cheaper as they hit the mainstream, but by and large, they're still much pricier than their gasoline counterparts. In February, the average price paid for a battery-powered model climbed past $60,000, according to Edmunds.
Still, there are options out there for anyone looking to go green on a budget. The Nissan Leaf, benefitting from a price reduction for the 2022 model, is now the cheapest long-range electric vehicle on the market.
We tested it out to see how much EV you get for $27,400. Here's why the Leaf hatchback is a great buy — and some ways it falls short.
Pro: The lowest starting price of any electric car
For 2022, Nissan slashed the Leaf's price across trims by up to $6,500, bringing the MSRP for a base model down to $27,400. If you apply the $7,500 tax credit for plug-in purchases and local incentives, you could walk away with a Leaf for under 20 grand.
While a few electric cars can be had for around $30,000 today, most cost $40,000 and up.
Source : https://www.businessinsider.com/cheapest-electric-car-ev-nissan-leaf-review-pros-cons-2022-3
SkyDrive SD-03 prototype flying vehicle (Photo: SkyDrive)
Suzuki and SkyDrive have teamed up to develop flying cars in Japan.The firms—one a multinational automaker, the other a cargo drone manufacturer—will collaborate to commercialize flying cars (officially known as electric vertical takeoff and landing [eVTOL] aircraft).

Characterized by electrification, a fully autonomous autopilot, and vertical takeoff and landing, eVTOL are designed for urban air mobility—typically used as flying taxis, delivery vehicles, medical assistants, recreational drones, and military fliers.

Details of the alliance are scant; the pair will collaborate on technology research and development in Japan and overseas (with an initial focus on India), all while promoting carbon neutrality. They did not, however, provide a production timetable or target, let alone a glimpse at what sort of flying car they will end up producing.
SkyDrive SD-XX concept model (Photo: SkyDrive)
"The partnership with SkyDrive will provide Suzuki with opportunities to explore and potentially add flying cars as a fourth mobility business," according to a company news announcement.
RECOMMENDED BY OUR EDITORS
Boeing Successfully Tests 'Flying Car'
Flying Cars Continue to Fascinate But Never Achieve Lift-Off
Americans Are Ready for Flying Cars, Time Travel
SkyDrive, a member of Japan's Public-Private Conference for Future Air Mobility, already produces cargo drones, and is currently working on a compact, two-seater eVTOL. It plans to launch an air taxi service during the 2025 World Exposition in Osaka.
Suzuki isn't the only automaker with its head in the clouds: In 2019, Boeing and Porsche partnered to explore building a flying car for the premium market. GM, meanwhile, debuted its futuristic concept for an eVTOL last year as part of its larger electric-vehicle vision. Even Uber hired a NASA engineer five years ago to work on flying cars.
Source : https://www.pcmag.com/news/suzuki-skydrive-collaborate-on-flying-cars
One of JD Power's newest studies, the Electric Vehicle Experience study, is back for its second year, and according to the 2022 results published on Thursday, a couple things haven't changed since 2021. Once again, the top-rated electric cars are the Tesla Model 3 for the premium electric vehicle segment, and the Kia Niro EV for the mass market contenders.
The EV ownership experience, based on a 1,000-point scale, is measured by 10 factors, including range, access to charging stations, at-home charging and cost of ownership. Acing many of the categories is the Model 3, which scored 777 points. The Model Y comes in second place with 770 points to tie the premium segment's average. Third place is the Model S with 756 points, while the Audi E-Tron rounds things out with 718 points.
Moving into the mass-market side of things, the Kia Niro EV ranks highest with 744 points, but the order then shakes up compared to last year. In the 2021 study, the Chevrolet Bolt EV came in second, but this year, it lands in fifth place with just 687 points. Its fall is likely due to a string of recalls, battery fires and an upcoming campaign to replace every car's battery pack. Instead, taking the second spot this year is the Ford Mustang Mach-E, Chevy's crosstown rival, with a score of 741 points. The Nissan Leaf places third (708 points), and the Hyundai Kona EV and Volkswagen ID 4 tie for fourth place with 692 points.
The study doesn't just look at the cars individually. It takes the temperature of EV newbies and EV "veterans," those who've owned a battery-powered car for a longer period of time, alike. Overall, both camps are highly satisfied with their switch to electric powertrains, with scores of 754 for new owners and 766 for veterans. For new EV buyers, the service experience is a major factor for them to pull the trigger, at 48 points more than for veterans. Meanwhile, veterans have a higher satisfaction score when it comes to an EV's estimated and real-world range, likely because of their experiences so far.
Similar to last year, the study highlights how fluid the EV market is, despite strong brand loyalty among Tesla owners. Among owners who supplied scores over 900 points for their ownership experience, 96% of them responded they "definitely will" buy another EV and not switch back to an internal-combustion engine. However, just 62% say they'll purchase an EV from the exact same brand.
For owners that scored their experience below 600 points, it's still decent news for the EV segment. Among EV veterans, 89% said they will buy another EV, even with a ho-hum experience, and 78% of new owners said the same. As satisfaction decreases, though, the drop-off for loyalty is strong. In other words, for those providing scores under 600 points, the likelihood of owners purchasing an EV from the same brand drops to just 6%. That means a whole lot of buyers who are less than impressed with their experience are willing to abandon Tesla, Chevy, Volkswagen, Ford or whichever brand they bought from to try something new.
Tesla Model 3 remains the gold standard for electric sedans
See all photos