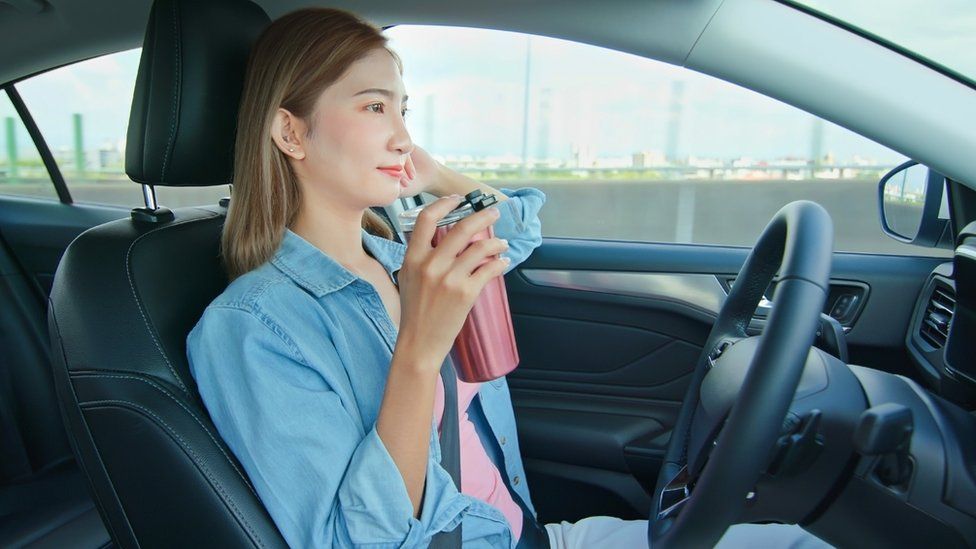 People using self-driving cars will be allowed to watch television on built-in screens under proposed updates to the Highway Code.
The changes will say drivers must be ready to take back control of vehicles when prompted, the government said.
The first use of self-driving technology is likely to be when travelling at slow speeds on motorways, such as in congested traffic.
However, using mobile phones while driving will remain illegal.
No self-driving cars are currently allowed on UK roads, but the first vehicles capable of driving themselves could be ready for use later this year, the Department for Transport (DfT) said.
The planned changes to the code are expected to come in over the summer.
The updates, proposed following public consultation, were described as an interim measure to support the early adoption of the technology and a full regulatory framework is planned to be implemented by 2025.
They will also lay out that users of self-driving cars will not be responsible for crashes.
Instead insurance companies, not individuals, will be liable for claims in many circumstances, the DfT said.
Major legal changes needed for driverless car era
Milton Keynes to hold large-scale driverless car trial
Self-driving car stopped by San Francisco police
The government announced in April last year hands-free driving in vehicles with lane-keeping technology on congested motorways would be permitted.
Automated lane-keeping system technology lets a vehicle drive in a single lane, up to 37mph (60kmph), while maintaining the ability to return control to the driver when required.
Under the new guidance, motorists should be ready take control from an automated system when prompted, for example when approaching a motorway exit.
Currently available technology is 'assistive', which means drivers should always retain control, the DfT said.
Experts have suggested a vehicle can stop built-in screens displaying material unrelated to driving when the motorist is required to resume control.
But there is currently no comparable system to turn off handheld mobile devices.
Transport Minister Trudy Harrison said updating to the Highway Code will be a "major milestone in our safe introduction of self-driving vehicles".
She also claimed their use "revolutionise the way we travel, making our future journeys greener, safer and more reliable".
The development of self-driving vehicles could create around 38,000 new jobs and be worth £41.7 billion to the UK economy by 2035, according to the DfT.
The Law Commission published recommendations on how the law should be updated in light of self-driving technology in January, concluding human drivers should not be legally accountable for road safety in the era of autonomous cars.
Car safety experts Thatcham Research described the focus on the driver's legal responsibilities as important, adding drivers need to be made aware they "must remain engaged" and be ready to resume driving "at any time".
Eventually, self-driving technology could "improve road safety across Britain by reducing human error, which is a contributory factor in 88% of all recorded road collisions," the government said.
However, the technology for fully-autonomous vehicles has proved difficult to safely introduce and previous estimates of when cars will be able to drive themselves have been unrealistic.
Steve Gooding, director of motoring research charity the RAC Foundation, said driverless cars "promise a future where death and injury on our roads are cut significantly".
However, he said there is likely to be a "long period of transition" while drivers retain "much of the responsibility for what happens" while operating vehicles.
More on this story
Driverless car takes police by surprise

Milton Keynes to hold major driverless car trial

Major legal changes needed for driverless cars

'Self-driving' cars to be allowed on roads this year

Source : https://www.bbc.com/news/technology-61155735
NCDOT said electric vehicle owners pay about $50 less per year than gas vehicle owners when it comes to total taxes and fees for their cars.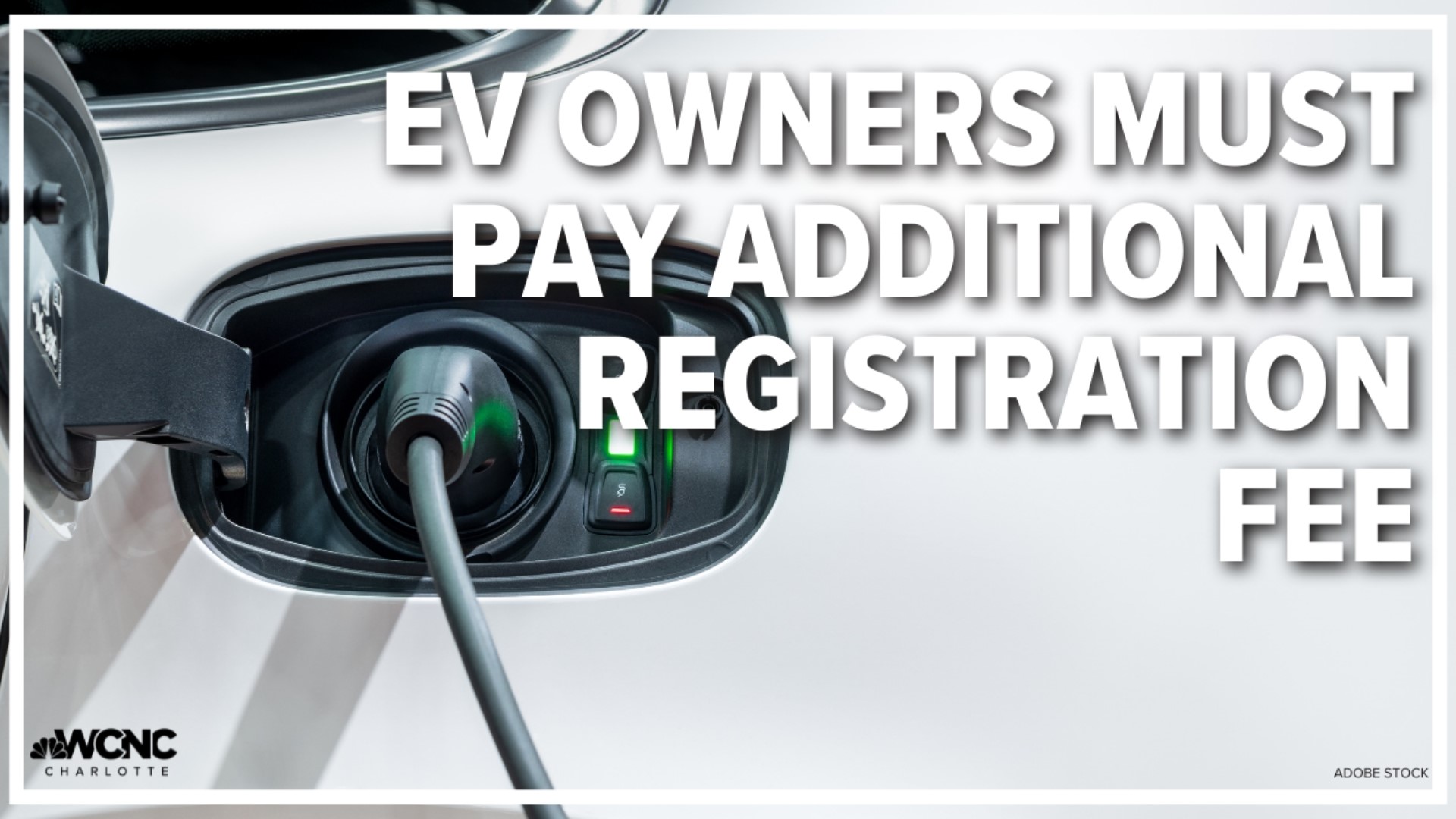 CHARLOTTE, N.C. — According to the North Carolina Department of Transportation, more than 21,000 electric vehicles were registered in the state last year.
EV owners do not pay for gas, and therefore the state doesn't receive money from those drivers that would come from the gas tax. That's money the state is missing out on to repair and maintain roads.
RELATED: Yes, the grid can handle the demand if more people adopt electric vehicles
But, it turns out, electric vehicle owners pay in another way.
North Carolina state law requires EV owners to pay an additional $140 vehicle registration fee. Hybrid owners don't pay anything beyond normal registration fees.
You can stream WCNC Charlotte on Roku and Amazon Fire TV, just download the free app.

NCDOT said electric vehicle owners pay about $50 less per year than gas vehicle owners when it comes to total taxes and fees for their cars.
A 2018 executive order from North Carolina Gov. Roy Cooper pushes the number of zero-emission vehicles registered in North Carolina to at least 80,000 by 2025.
RELATED: National effort seeks solutions to lithium battery waste
If that happens, NCDOT estimates it could lose between $10.7 million and $18.4 million in revenue.
"The highway use tax, which is you know, the larger of the fees goes into paying for building and maintaining roads and bridges," Marty Homan with NCDOT told WCNC Charlotte. "So that's how we're funded, along with the gas tax."
So it's a delicate line state officials are trying to walk: Maintaining revenue equity for these new vehicles while also encouraging drivers to adopt them to make the climate cleaner.
Source : https://www.wcnc.com/article/money/cars/electric-vehicle-owners-north-carolina-gas-tax/275-64e8c282-bfa9-417e-991c-38091fcd78e5
Ford's luxury brand promises four production EVs by 2026.
In this article: 
electric vehicle, news, gear, concept, Ford, Lincoln, EV, transportation, electric car, cars, SUV
Lincoln has finally unveiled its first electric vehicle concept, and it's now a little clearer as to where the company is headed. The upscale Ford badge has unveiled the Star, a luxury SUV that hints at the design direction for production EVs. There are some of the usual concept car excesses, but also some technological developments that might reach something you can drive.
The Star is sleeker than Lincoln's existing lineup, and includes light-up exterior features and doors. The front trunk is covered with electrochromatic glass that turns transparent while in motion. The A-pillars (at the front) and D-pillars (the back) even use 3D-printed metal to allow more natural light. The interior includes lounge-like wraparound rear seating focused on relaxation. Accordingly, the brand is touting "rejuvenation moods" that sync displays, sounds and even scents to calm or reinvigorate you, such as Coastal Morning (complete with sea mist scent) and Evening Chill (evergreen).
In-cabin tech plays an important role, of course. A giant, panoramic front display provides both the essentials as well as a canvas for those moods, with a much smaller control screen sitting underneath. Rear passengers have their own displays, and an "Attaché" briefcase concept hiding in the rear coach door can wirelessly charge and store devices. The Star connects to other vehicles and city grids, and promises driving assistants that help with parking, vision and other common problems.
Gallery: Lincoln Star concept EV | 16 Photos
Lincoln is shy on specs, although that's not surprising when the company doesn't intend to sell the Star. We'd also expect any shipping vehicles to scale back the displays, seating and other flashier elements. This is more about advertising Lincoln's EV ambitions and design language than previewing a real product.
The automaker won't take long to electrify, at least. Lincoln now plans to launch four EVs by 2026, and expects more than half of its sales to come from electric-only models by the middle of the 2020s. It previously echoed Ford with plans to exclusively sell EVs by 2030. These aren't the most difficult feats given Lincoln's smaller range and a wealthier clientele that can more readily afford EVs. Even so, they suggest you might not recognize Lincoln's selection within a few years.
All products recommended by Engadget are selected by our editorial team, independent of our parent company. Some of our stories include affiliate links. If you buy something through one of these links, we may earn an affiliate commission.
Source : https://www.engadget.com/lincoln-star-concept-ev-020027718.html?guccounter=1&guce_referrer=aHR0cHM6Ly93d3cuZ29vZ2xlLmNvbS8&guce_referrer_sig=AQAAAFueMZzlsDubDSm8tYb_UJKzmf-mGhAYUxkO06Y8o6AJI8KkUNvUnGJNcz-s5vKQSzhXZXcAgOquhNGr_cI_g7PKDV_A0L4tUwnZ9334RAlwnI2oRTGX6v1QB-5ZtOiFaqoo_p81lBGL3I8z9GahxVW41rXoj_3UWaXEUHDhO4Vd
The 6 coolest new electric cars at the New York auto show, from a 250-mph supercar to a Chevy pickup
New and upcoming electric cars, trucks, and SUVs stole the show at this year's New York auto show.
Mercedes-Benz is taking on Tesla with a new electric SUV that's dripping in luxury — see the EQS SUV
There's no word on pricing yet, but expect Mercedes's new electric family-hauler to start north of $100,000.
Tesla, like Apple, will now make you buy a charger for your car separately
And no, none of the 100 random charging cables in your junk drawer will fit.
We got a close-up look at the Volkswagen ID.Buzz — see inside VW's nostalgic electric minivan
The VW ID.Buzz is an incredibly cool electric minivan that hits the US in 2024. We saw it in person and toured its functional and quirky features.
Source : https://www.businessinsider.com/author/tim-levin
The Biden administration has set a goal that half of all new cars sold in the U.S. will be electric by 2030, and many states are creating plans to encourage drivers to make the switch.
Christian Mitchell is deputy governor for public safety, infrastructure, energy, and the environment in Illinois.
"The governor has a very exciting goal around electric vehicles. We want to have a million electric vehicles on the road by 2030, and we are attacking that from all ends," Mitchell says. "On the cost side … we're providing a $4,000 incentive for consumers to go out and buy an electric vehicle."
Combined with federal tax credits, that can lower the price of an electric vehicle by more than $10,000.
But cost is not the only barrier to electric vehicle adoption. Some drivers are hesitant to go electric because they're worried that they'll run out of battery power on longer drives.
"The question is … can I take an electric vehicle from start to finish? How do I make sure there are enough chargers between here and there to know that I can get to my destination with reasonable reliability?" Mitchell says.
So to help expand charging infrastructure, the state will offer rebates and grants to cover up to 80% of the cost of installing new charging stations.
Mitchell says the investments will help position Illinois as a leader in the transition to electric vehicles.
BMW has ambitious plans for electric vehicles, projecting that at least one of every two sales by 2030 will be fully electric.
As its sales grow, the German automaker intends to challenge Tesla's dominance of the US electric vehicle market. As a reminder, Tesla ended the Bavarian company's reign over the US luxury car market last year.
This year, BMW aims to sell 200,000 EVs globally, doubling last year's deliveries. While that's still far from Tesla's more than 930,000 sales in 2021 and likely 1 million+ sales in 2022, BMW executives appear confident that Tesla will lose its competitive advantage.
Speaking to US journalists at a press event, BMW Group sales chief Pieter Nota said the company will focus "on a very strong and fast ramp-up of electric vehicles," according to Automotive News.
"Tesla had a unique selling point for quite some time. That's over."
He added that EV customers in the past couple of years were very much early adopters, while EVs are now attractive to a much broader audience.
BMW has two fresh weapons against Tesla, the Model 3-rivaling i4 fastback and the iX SUV, which targets the Model X. Nota described the i4 as the "ultimate electric driving machine" and the "electric product that customers expect from BMW."
The order books are already full for the i4 and iX, with US dealers having hundreds of orders for those two vehicles. Furthermore, the order time now at around six months, Nota said.
The i4 and iX are just the beginning of BMW's US electric offensive. Three more BMW Group EVs will be coming stateside over the next two years: the i7 flagship sedan later this year, followed by the i5 large sedan and all-electric MINI Countryman in 2023.
Pieter Nota's optimistic statements were echoed by BMW CEO Oliver Zipse.
"We will push the company to the limits of production capability. Demand will be surging. We already see that with the iX, with the i4."
For the first two months of 2022, BMW had 54,210 new-vehicle registrations in the US (ICE+EV), compared to Tesla's 71,250, according to data from the financial information company Experian.
Source : https://insideevs.com/news/580747/bmw-says-tesla-electric-vehicle-dominance-is-over/
Autonomous vehicles could become teachers in Driver's Ed.
LEWIN DAY
View Lewin Day's Articles
Over the past decade, work on autonomous vehicles has become a major focus for automakers around the world. Much of this work has involved humans training autonomous vehicles on how to drive. GM looks to flip that script, however, patenting a design for an autonomous vehicle system intended to teach human students how to drive, as reported by Motor1.
While many think of autonomous vehicles as supplanting human drivers entirely, GM sees the issue differently. It notes in the patent filing that humans may wish to drive for pleasure, or may need to take over from an autonomous vehicle in areas or situations where such systems may not be allowed to drive or be capable of doing so.
Thus, the patent filing with the USPTO proposes a system where a student driver would be placed in an autonomous vehicle, which then trains the human on the driving task. The student's inputs during driving, such as throttle and steering, for example, would be compared with the autonomous system's own idea of what the best actions would be.
The driver can then be scored on their performance relative to the ideal set by the autonomous vehicle itself. This can be in the form of a numerical representation after completion of a task, or in the form of real-time feedback during the driving process itself.

The vehicle could also help train student drivers in an incremental fashion. Various features would be placed under the student's control, bit by bit. as the driver became more familiar with the operation of the vehicle.
Such vehicles aren't likely to show up at your local high school's Driver's Ed course for some time. Such a system would necessarily need to be based on a Level 4 or Level 5 autonomous vehicle that was capable of driving itself in a majority of situations. Down the track, though, autonomous vehicles with in-built scoring systems could be the first teacher for a great deal of future student drivers. At that point, though, it raises the question of whether many will feel the need to learn to drive at all. Time will tell.
Source :  https://www.thedrive.com/news/gm-wants-student-drivers-to-learn-with-autonomous-cars
NORMAL, Ill.—Rivian Automotive Inc. Chief Executive RJ Scaringe is warning that the auto industry could soon face a shortage of battery supplies for electric vehicles—a challenge that he says could surpass the current computer-chip shortage.
Car companies are trying to lock up limited supplies of raw materials such as cobalt, lithium and nickel that are key to battery making, and many are constructing their own battery plants to put more battery-powered models in showrooms.
Electric vehicle and autonomous vehicle stories keep flowing, and below are several from the past week that we appreciate but didn't cover in full. First, though, in case you missed this fun one, what a nice change to find a lighthearted traffic stop:
Perhaps the most uplifting story was one about the usefulness of scooters in Kiev, Ukraine. Bird Cities Blog shares:
"It's difficult for cars to navigate damaged city streets strewn with anti-tank obstacles. That's where shared scooters come in." — In Kyiv, Scooters Are Helping Local Businesses Reopen