SEATTLE — Seattle City Light is on a mission to make owning an electric vehicle more equitable by bringing curbside charging stations to neighborhood streets.
Research from the US Department of Energy shows up to 90% of charging happens at home. But some homes don't have driveways or garages in Seattle's Central District or Queen Anne neighborhoods.
"If you rely entirely on street parking, it's almost impossible to provide your own electric vehicle (EV) charging," said Jacob Orenberg, senior capital projects coordinator at Seattle City Light.
The new pilot program is part of the city's goal to reduce transportation emissions 83% by 2030 and has been a year in the making.
A similar program by National Grid in Melrose Massachusetts helped the team in Seattle lay down the technical framework.
"If we can pull the appropriate power to the location and if there's any bike lanes or transit lanes already planned, we don't want to interfere with that," said Angela Song, team member with Seattle City Light.
Homeowners and landlords who either own an electric vehicle or plan to own one in the next 12 months can submit a request for one of 30 curbside charging stations. The city plans to install the level two stations early next year.
Submissions have been open since June 1. The city said they have received more than 300 requests.
"It's going to be tight," said Orenberg who adds selection will be based on community needs. "Is it near condos and apartments? Is it near public amenities like a park or school? Is it near shopping and restaurants?"
While installation won't cost the public anything, the charging fee will be .20 cents per kilowatt equal to about $1.80 a gallon of gas for a similar type vehicle.
With gas prices reaching record highs, it's good news for electric vehicle drivers. Violators could face a $124 fine in neighborhoods where parking is already scarce.
"Yes these spaces will be restricted for EVs only but those EVs that are parking there would have parked somewhere else," said Orenberg who is hopeful the program will be enough for someone thinking about buying an EV to do so.
The pilot is accepting requests through the end of August.
Hyundai has official plans to bring an affordable, entry-level electric vehicle to market in Europe, though it's not going to happen right away. The brand recently launched its popular Ioniq 5 crossover and has plans to follow it with multiple fully electric vehicles going forward.
Hyundai and Kia have both dipped their toes in electrification in the past, and more affordable "entry-level" models have been available for some time. We're talking about lhe likes the Hyundai Kona Electric, Kia Soul EV, and Kia Niro EV. However, the Ioniq 5 – as well as the Kia EV6 – are the brands' first purpose-built electric cars that ride on a global platform specifically developed for EVs.
While the Ioniq 5 crossover is a Tesla Model Y rival, Hyundai will bring the Ioniq 6 sedan to market next, which will compete with the Tesla Model 3. In just a few years, the South Korean brand aims to launch the Ioniq 7 three-row SUV. There are currently few fully electric three-row SUVs available. Much like electric pickup trucks, it's a market that deserves to be addressed by electric car makers, sooner rather than later.
In addition to Hyundai's growing list of compelling EVs that will compete with the likes of Tesla, Ford, and others, the brand also sees the importance of value-oriented options, especially for Europe. Hyundai and Kia have been the value leaders in the industry for years, though they've made it clear that's not necessarily the focus with lineups like that of the series of higher-end Ioniqs and Genesis models coming to market now and into the future.
With all of that said, according to Hyundai Motor Europe marketing chief Andreas-Christoph Hofmann, the brand has committed to bringing an all-electric entry-level car to market in Europe down the road. However, Hofmann was clear that the "battery-powered minicar" is going to take some time to develop into a version that can go into production.
Small cars are popular in Europe, and automakers like Volkswagen Group aim to bank on this fact as they plan their future EV lineups. Automotive News Europe reports that VW Group is targeting starting prices at around €20,000 (~$20,500) for entry-level electric cars from Cupra, Skoda, Volkswagen, and other brands under its umbrella.
According to Hofman, Hyundai is aiming for a similar starting price once it's ready to bring its affordable mini EV to market. He said at an Automotive News Europe Congress in Prague
"Everybody in the industry knows the target of this kind of vehicle is 20,000 euros."
Tesla has talked of a more affordable entry-level car for the future as well, though, much like its Cybertruck, that project continues to get pushed back. Meanwhile, GM CEO Mary Barra continues to reiterate that General Motors is planning to beat Tesla on price by bringing several affordable EVs to market in the near future.
Hofman added that, by 2030, Hyundai will have launched 11 fully electric vehicles, and that's in addition to the Ioniq 5. The Ioniq 6 sedan is set to arrive in Europe prior to the end of 2022, but it won't be available in most markets until the beginning of 2023, or later.
Hofman also explained that the Ioniq 7 is geared more toward the US since many people on our shores tend to be fans of larger vehicles. However, some EV fans would likely argue that an affordable EV minicar might sell quite well in the States.
Source : https://insideevs.com/news/599181/hyundai-confirms-affordable-minicar-ev-europe/
New partnership addresses key constraint on EV driving range
Sony is developing its own electric vehicles. (Photo by Rie Ishii)
TOKYO — Sony Group will develop a new self-driving sensor that uses 70% less electricity, helping to reduce autonomous systems' voracious appetite for power and extend the range of electric vehicles.
The sensor, made by Sony Semiconductor Solutions, will be paired with new software to be developed by Sompo Holdings-backed startup Tier IV with the goal of cutting the amount of power used by EV onboard systems by 70%. The companies hope to achieve Level 4 technology, allowing cars to drive themselves under certain conditions, by 2030.
Electric vehicles will make up 59% of new car sales globally in 2035, the Boston Consulting Group predicts. Over 30% of trips 5 km and longer are expected to be made in self-driving cars, which rely on large numbers of sensors and cameras and transmit massive amounts of data.
Existing autonomous systems are said to use as much power as thousands of microwave ovens, hindering improvements in the driving range of EVs. Combined with the drain from air conditioning and other functions, EVs could end up with a range at least 35% smaller than on paper, according to Japan's Ministry of Economy, Trade and Industry. If successful, Sony's new sensors would limit this impact to around 10%.
Sony plans to lower the amount of electricity needed in self-driving systems through edge computing, processing as much data as possible through AI-equipped sensors and software on the vehicles themselves instead of transmitting it to external networks. This approach is expected to shrink communication lags as well, making the vehicles safer.
The Japanese group has already commercialized edge computing technology in chips for retailers and industrial equipment, and will draw on its existing know-how in the field.
Sony will also incorporate image recognition and radar technologies into the new sensor, drawing on various types of data to facilitate self-driving even in rain and other difficult conditions.
The group controls almost half the global market for image sensors. It entered the automotive market in 2014, and aims to have dealings with 75% of key automakers worldwide by fiscal 2025.
Meanwhile, Tier IV offers open-source self-driving software, which is used by Yamaha Motor as well as the EV operations of Taiwan's Hon Hai Precision Industry, or Foxconn. It anticipates developing basic self-driving technology in cooperation with Sony for use in Japan and overseas.
The initiative will be overseen by Japan's New Energy and Industrial Technology Development Organization, under the Ministry of Economy, Trade and Industry. NEDO is expected to soon make a formal announcement.
Autonomous vehicles are starting to hit the road worldwide. Waymo, a unit of Google parent Alphabet, began operating an autonomous taxi service in Arizona at the end of 2018 and launched fully unmanned vehicles two years later. General Motors unit Cruise in June obtained a license to operate a robotaxi service in California, with plans to launch in parts of San Francisco. China's Baidu operates driverless taxis in Beijing.
But research into power-saving solutions have taken a back seat, and many automakers are instead increasing battery capacity to meet the demands of self-driving systems. Reducing the amount of electricity needed would make EVs easier to use, potentially helping turn Japanese technology into a global standard.
The Republican Party's Twitter account claimed 'the pain is the point' with Biden admin energy policy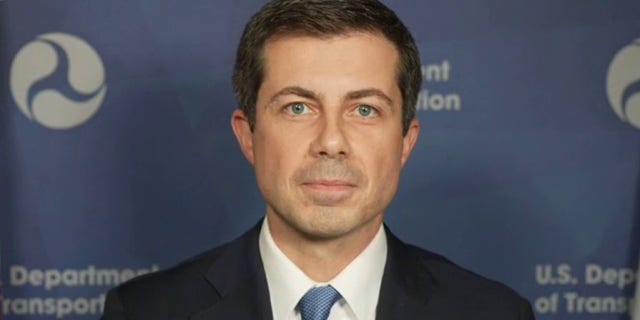 NEW
You can now listen to Fox News articles!Critics heaped scorn upon a clip showing Department of Transportation Secretary Pete Buttigieg excitedly talking about the prospect of "most Americans" switching to electric vehicles due to high gas prices.
During the short clip, which was taken from a Thursday interview between the government official and radio show BigBoyTV, Buttigieg discussed how the U.S. government is looking to cut the cost of electric vehicles so that more Americans will buy them and get out of paying so much for gas.
All smiles, Buttigieg claimed, "We're for cutting the cost of electric vehicles, because when you have an electric vehicle then you're also gonna be able to save on gas, but you've got to be able to afford it in the first place."
Buttigieg continued, "Now we're actually starting to see on some models, the cost come to where, even if your car payment's a little higher, your gas payment will be a little lower and you come out ahead."
WILL BIDEN'S HIGH-STAKES VISIT TO SAUDI ARABIA SECURE LOWER GAS PRICES AND DETER IRAN?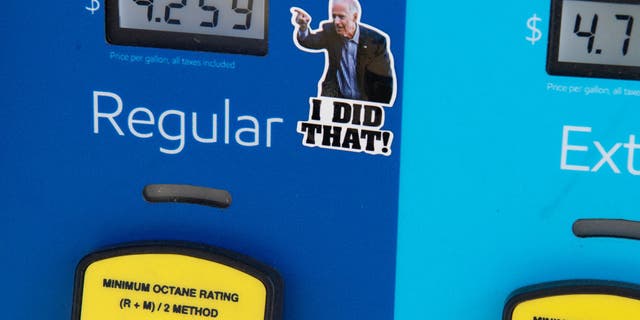 Pras Subramanian ·Senior Reporter ·3 min read
New data out of AAA finds the shift to EVs (electric vehicles) might happen faster than the industry expected.
AAA's latest consumer survey finds that one-quarter of Americans say they would likely buy an EV for their next car purchase. The survey finds that among generations, millennials lead the way with 30% wanting an EV next and that the major factor in driving that decision is to save money on fuel costs, with 77% of respondents citing that as the top reason.
"The increase in gas prices over the last six months has pushed consumers to consider going electric, especially for younger generations," said Greg Brannon, AAA's director of Automotive Engineering and Industry Relations, in a statement.
While EV supporters may cheer these results, a number of survey respondents said they were hesitant to purchase an EV, with a number of concerns keeping adoption lower. Among those reasons cited were:
Higher purchase price – 60%
Concern there are not enough places to charge – 60%
Concern about running out of charge when driving – 58%
Unsuitable for long-distance travel – 55%
High cost of battery repair or replacement – 55%
Also, while 25% of respondents say they will buy an EV, actual sales numbers are not bearing this out, at least not yet. New data out of KBB finds a record number of EVs were sold in Q2, up 66% from a year ago. KBB also reports EVs now make up 5.6% of the car market, a strong showing versus the 2.7% it made up a year ago.
But that 5.6% of overall sales is still a small fraction of the 25% that say they would be an EV.
3d rendering group of EV charging stations or electric vehicle recharging stations
A number of factors are holding down adoption figures at the retail level, supply being a big one, and pricing, where EVs maintain near luxury car sticker prices versus more mainstream automobiles, KBB says.
"People are saying, 'I'm open to the idea of getting an electric car or a plug-in hybrid,' but that doesn't always translate into sales, and I think what happens is people look at the price and they say, 'Okay, maybe next time,'" said Brian Moody, KBB Executive Editor in an interview with Yahoo Finance. "Right now the average price of an electric car, let's just say for June, was over $66,000 – that's quite a bit of money when you think about where we are today, even with gas prices."
But there's another factor that Moody thinks will boost EV sentiment in the coming years even with higher prices — actual seat time.
"I think one more thing, the average American, if they were to drive an electric car, I think they would really like it," he said. "The average American probably hasn't spent much time in an electric car, I think they would like it once they try it and maybe that will be worth spending a little extra money for."
Source: https://finance.yahoo.com/news/14-of-americans-say-theyre-likely-buy-an-ev-next-as-sales-jump-174337621.html
By Andrew Liszewski 6/14/22 10:45AM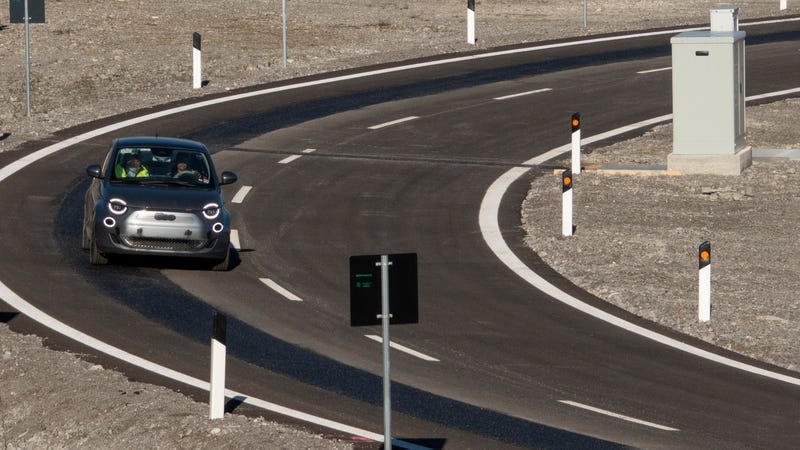 Image: Stellantis
As prices drop and availability increases, some of the last road blocks to mass adoption of electric vehicles is range anxiety and charging times. But a prototype test track in Italy solves both of those issues by borrowing the same technology that makes it easy to charge your smartphone without wires.
Although the earliest EVs were often recommended for shorter daily commutes or city driving because of their limited range, there are now many options promising well over 300 to 400 miles of travel before the vehicle's batteries need a charge. But what still complicates a long road trip in an EV is that even the fastest charging stations require at least half an hour to replenish rechargeable batteries, and usually much longer than that depending on the range of the vehicle. Compare that to filling up a tank with gasoline, which takes just a couple of minutes, and it makes sense why some drivers are still hesitant to go electric.
Ranges and charging times will inevitably improve over time, but other companies are looking into completely different solutions that could eliminate charging pit stops altogether. Stellantis isn't exactly a household name as far as car makers go, but it's the parent company for iconic brands like Jeep, Chrysler, Dodge, Ram, and even Maserati. As with any car maker hoping to stay relevant over the next few decades, it's investing heavily into research surrounding electric vehicles, and recently unveiled a unique new test track in Chiari, Italy, called the "Arena del Futuro" circuit (Arena of the Future) that could potentially allow EVs to run laps forever without ever needing to stop and charge.
Instead of bending the laws of physics and creating a track that's perpetually running downhill like some impossible loop from an Escher painting, Stellantis, along with a handful of partnering companies, have embedded a series of coils just below the Arena del Futuro track's asphalt surface as part of a system called Dynamic Wireless Power Transfer, or DWPT. It's more or less a similar approach to the charging pad that lets you simply set your smartphone down to charge its battery without having to plug anything in, with DWPT using a long chain of coils to transfer power while a vehicle is still in motion.
The track runs on DC power, which allows it to be directly connected to renewable energy sources such as solar panel arrays or wind turbines. It also facilitates the use of thinner aluminum wires, which require less material to manufacture, are easier to recycle, and cost half as much as wiring made from materials like copper. To take advantage of the track's power-sharing capabilities, an EV simply needs to be upgraded with a special receiver that sends the power directly to its electric motor. In testing, a Fiat New 500 was able to maintain highway speeds while circling the track without having to use any of the power stored in its batteries.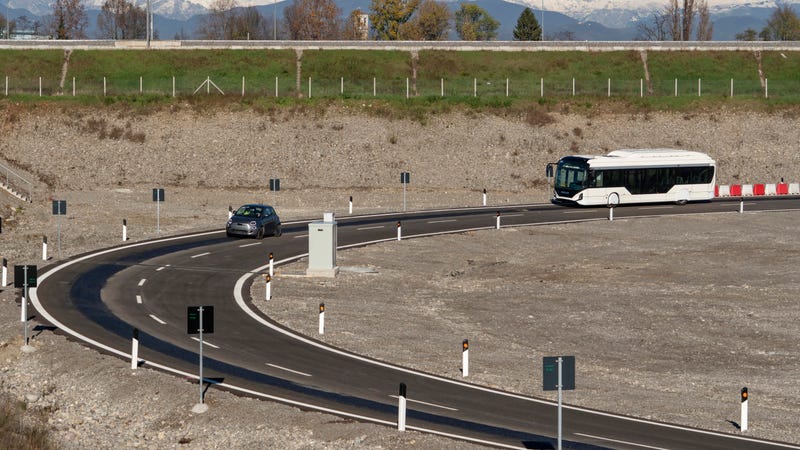 Image: Stellantis
The system is completely safe to everyone inside an electric vehicle driving over it, and even safe to pedestrians crossing a road with the coils installed. There are some challenges to this approach, however. The system provides enough power to keep a Fiat New 500 running, but that's a relatively small vehicle with a minimal payload. Larger vehicles like buses or transport trucks may need to rely on multiple receivers, but that also raises the question ofhow many vehicles can share the road while still drawing enough power to keep motors running. Would a heavy traffic jam force vehicles to start drawing power from their batteries to keep running?
The power coils also occupy just a thin strip of the road, and proper alignment of the coils and the vehicle's receiver are crucial to efficient power transfer. But the advent of autonomous vehicle technologies could be a solution to that problem. The biggest issue facing widespread adoption of the DWPT system is the work needed to upgrade roads across the country with the coils. It doesn't require roads to be completely torn up: a small groove for the coils is cut and filled back in afterwards, but it still represents a massive infrastructure project. Given the country's resistance to simply ensuring bridges are safe to drive on, it might be a hard sell on this side of the pond.
Source: https://gizmodo.com/wireless-charging-road-electric-cars-street-stellantis-1849058448/amp
With its vehicle-to-load capability, the EV6 can play the role of a small generator for backup power.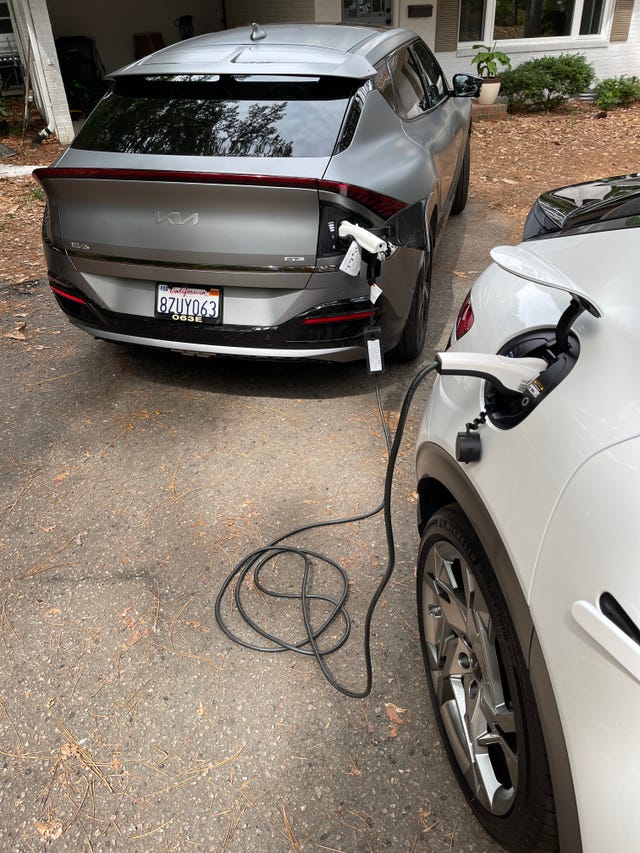 While the 2022 Ford F-150 Lightning has received a lot of attention for its ability to function as a mobile generator, it's not the only new EV that can pull that trick. The 2022 Kia EV6, for instance, also has a vehicle-to-load function, in which owners can use its battery pack (77.4 kWh in the extended-range model) to power household items. Or, as we demonstrated, lend a charge to another electric car. It wouldn't be as quick as splashing a few gallons of unleaded down a filler neck, but the EV6 could theoretically rescue a fellow traveler by sharing enough juice to get to a proper charger.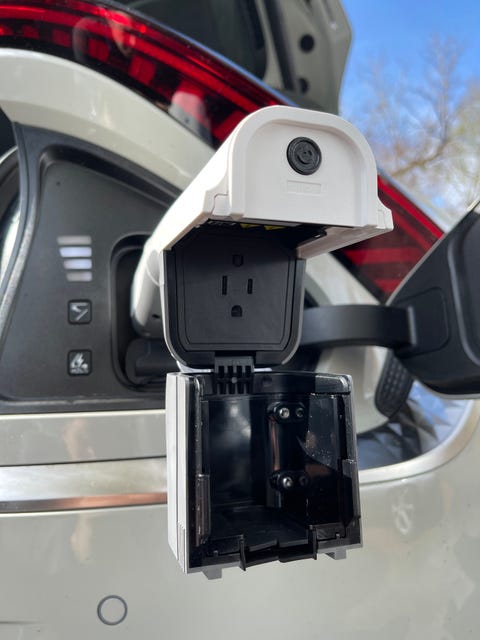 There are two ways to extract 115-volt power from the EV6. The easiest is to simply plug into the 16-amp outlet positioned beneath the rear seat—which has a locking cover, distinguishing it from the light-duty 115-volt outlets you often see in passenger cars. This one would run your refrigerator, so you don't want anyone inadvertently jamming their McFlurry spoon into it. Unlocking the cover requires extracting the thin metal key hidden in the electronic fob.
Sarah Kuta
The California Public Utilities Commission is allowing Cruise to charge for rides in its autonomous vehicles, without a safety driver