Jan 14, 2022
 at
 12:41pm ET
Tesla Model 3 owner Dan Kanninen writes, "I'm grateful that I was driving my EV when I got stuck on I-95." We appreciate his precise use of words since it's not just Tesla's vehicles that will fare better than gas cars in such a situation, but virtually all electric cars.
Several media publications have published recent reports about people being stranded on Virginia's I-95 freeway. Following the reports, some people started a misinformation campaign stating that if EV owners had been stuck on the freeway, they would have been "left out in the cold" when the battery quickly died.
We've already published an article debunking such nonsense. In addition, several people in the Tesla and EV community have put out articles and videos to prove that the misinformation isn't just wrong, but the exact opposite is actually true.
A gas-powered car will almost certainly run out of gas sooner than an EV will die from its battery being depleted. In the meantime, as the ICE owner sits and waits in their car, they're parked on top of dangerous exhaust fumes, which could cause health issues. Kanninen shared:
"No, the recent nightmare on Virginia's I-95 would not have been worse if everyone had been driving electric vehicles instead of gas-powered vehicles. In fact, everyone would have had a far better experience if they had been driving an EV."
Kanninen points to the recent Washington Post op-ed that claims EVs may "have littered the highway for miles" if everyone was driving electric cars during such a traffic backup. However, Kanninen was stuck on I-95 for 14 hours in his Model 3 Standard Range as he watched ICE drivers burning gas to keep the cars running. Meanwhile, his Model 3 wasn't really "running" per se, but just using the battery pack to keep the cabin warm.
When an EV is parked, it doesn't "run" like a gas car. It's similar to when you turn a gas car off but leave the accessories on so you can listen to music. However, in a gas car, leaving the accessories on doesn't heat the cabin. The engine must be running to do that, and while it's running, it's cranking out toxic exhaust fumes, which are supposed to be left behind the car as it moves.
If a gas car isn't moving, those fumes tend to collect around the car and it can begin to smell inside the vehicle. If you can smell the fumes, you'd better bet they're entering your body and causing potential health problems.
Kanninen goes on to share that he didn't have to worry about running out of gas, and he had a clear indication at all times of how much battery capacity was remaining. He also noted that since he charges his car at home, he hit the road with a full charge. There's a very good chance many gas-powered cars didn't get stuck in the situation with a topped-off tank of gas.
As an aside, the Model 3 owner also wrote about the long lines at gas stations after the incident was over, as well as the fact that EVs can handle flood conditions much better than gas cars. To read Kanninen's article in its entirety, follow the source link below.
Source : https://insideevs.com/news/560870/tesla-model3/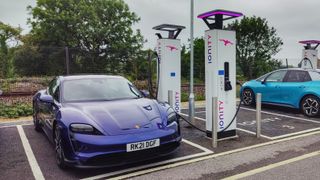 (Image credit: TechRadar)
The all-electric Taycan sold more than 41,000 units last year, placing it ahead of the legendary 911 and third only to the brand's two SUV models.
2021 end-of-year sales numbers from major automakers have been trickling out and Porsche in particular has reason to brag, because its newest vehicle has grown into a significant sales success.
The Taycan was just one part of an excellent 2021 for Porsche. The brand's overall sales set records, with 301,915 units sold worldwide. Sales in the US were equally strong, as the more than 70,000 vehicles sold represented another sales record.
At the top end of the Taycan lineup, the Turbo S starts at $185,000 / £139,280 and the Turbo S Cross Turismo starts at $187,600 / £140,360.
The Taycan is far from cheap, but it does come in slightly less than the 911 while giving you a couple of extra doors and two proper rear seats – making it more practical day-to-day.
Surprised?
That the Taycan outsold the 911 isn't all that surprising, as the electrified newcomer has previously edged the iconic 911 in quarterly sales numbers.
Also unsurprising is the fact that Porsche's most popular vehicles were its SUVs, led by the compact Macan, which sold almost 90,000 units worldwide. The Cayenne came in at just over 83,000 units, both more than double the Taycan's impressive sales numbers.
Porsche buyers and newcomers have flocked to the Taycan for its breathtaking performance and striking design. Anecdotally, it's easy to find stories of hopeful 911 buyers shifting to the Taycan after having difficulty ordering or buying a new sports car at a dealer.
While there's no official data to demonstrate how many buyers made that move, the benefits of strong Taycan sales go both ways, for both buyers and Porsche.
Buyers get extreme performance and the latest tech in an exclusive package, while Porsche can tout strong demand for what could have become an oddball niche product.
Porsche Taycan 4S review: if your pockets are deep, it's a superb EV
Hello and welcome back to the channel as we pick our favorite 5 Budget Long-Range EVs for 2022. Now when we say budget…it doesn't necessarily mean the cheapest, we're just talking about EVs that will be affordable for a lot of people and might be bought in good numbers!
But we haven't just pulled up a list of the longest WLTP or EPA estimates, we've factored in price, functionality, and desirability also. We can't imagine everyone's going to agree…so let us know what you think in the comments below!
Hyundai Kona 
So…first up, and in no particular order, is a car that I had for a good few weeks last year and one that we've reviewed on this channel before…the Hyundai Kona. It's an oldie, but a goodie! We'd love to include the IONIQ5 or the EV6 on that new bespoke e-GMP platform, but truth be told, we're not amazed by their efficiency compared to the older generation. And they're just that little bit more expensive.
The Kona has an advertised range of just under 300 miles. But the amazing thing is the efficiency of the Kona, even at highway speeds. At 64kWh usable, it's far from the biggest battery on the market, yet it still gets up there with the big boys in terms of distance covered. It's smaller and lighter, and we've heard of some Kona drivers challenging the 350-mile mark from a charge in city driving!
You also have to factor in the price. Sure the Kona isn't quite as desirable, fast, or quick-charging as some of the competition, but it's also under a third of the price of some of them! With 11kW AC and DC in the mid-70s, it won't set the world alight, but it'll do nicely for the vast majority of cases.
MG ZS EV 
Next up represents some serious value for money, but not for you folks in the US, unfortunately! Now we've reviewed the MG ZS EV on the channel already and it's got a great reception so check that out if you want to know more. Blake had it for a few days, put up a few hundred miles in it…and was amazed at the range!
The 73.6kWh battery, with 68kWh usable, is good for 275 miles on the WLTP cycle. And it'll easily do that pottering around in summer, even clearing 300 miles on a good day. In winter, it'll drop to about 200 miles on the highway. But we don't think that people will be buying this car for road trips across continents so the range is absolutely fantastic for the price!
Depending on the market you're in, the ZS EV will charge at 7 or 11kW on AC and will peak on DC at 76kW. So it won't be as effective on a long trip as say a Model 3 Long Range…but then again it's about half the price!
Renault Zoe
And now on to a car that I hold dear in my heart…the Renault Zoe! Heck, I bought two of them over the years! So, ok, the Zo e doesn't hit the top of the list in terms of desirability, but for us it represents really good value in terms of range per £ or € spent. Although with the likes of the MG and the Ora Cat on the way, that is being challenged admittedly!
You can get the entry-level Zoe ZE 50, which has a usable capacity of 52kWh for well under £30k in the UK or early €30k in Europe. For that, you get a real-world range of nearly 200 miles. But the Zoe will probably be bought for city and extra-urban driving. In nice conditions there, with it weighing barely over 1.5 tonnes, you're looking at getting close to 300 miles.
On charging, it's a mixed bag. DC has always been Zoe's weakness. But it shines on AC. Now, this mightn't mean much to you due to how your country has set up its grid and electricity supply. But in many regions, 3-phase AC is prominent, and in the likes of France, there are sooooo many 22kW AC posts. The Zoe takes 22kW on AC so you can easily go from 5% back up to full in the time it takes you to go see a movie or meet a friend for dinner.
Chevrolet Bolt 
We had to think about this one hard considering the troubles the Bolt had in 2021. As we are writing this, production is still at a standstill. But we're going to trust that the issue will be fully resolved, and the Bolt will hit some nice numbers again in 2022!
Apart from a few examples badged as the Opel Ampera-e, we didn't really get the Bolt in Europe. But it's been a mainstay in the US and beyond for years. But for 2022, we're looking at a refreshed, much sharper-looking car. It's going to have 200 hp, 11.5kW level 2 charging. The estimated EPA range rating is 259 miles from a battery of 65kWh.
But it's the price that will draw a lot of people, with the Bolt starting just above $30,000!
VW iD.3 
Next up we're in Germany. The VW iD.3 has kind of been forgotten about since its bigger brother, the iD.4, came out and started hitting big numbers! But it's always been on our radar. Sure, it has a few quirks and annoyances, but we still think there's some serious value in there.
Since we're talking range today, we're looking at the Pro S that has 77kWh usable battery. It's not quite as efficient as some of its competition, but we're not expecting it, considering the interior space and battery weight.
The Pro S has a WLTP range of about 345 miles, which is pretty impressive. The real-world range we think is around that 300-mile mark depending on the time of the year. In summer, in good conditions, we think you'll challenge 400 miles on a good day.
And the iD.3 charges at a decent rate also. You'll pull 11kW on AC and up to 135kW on DC. Now that doesn't sound that impressive compared to the EV6 at 230ish…but then again, the iD.3 has a decent charging curve, and it'll be a few years before we start to see 350kW chargers in any significant number anyway to take advantage of those speeds.
Source : https://insideevs.com/news/560378/best-cheap-long-rang-evs/
The best cars of 2022 aren't the innovative EVs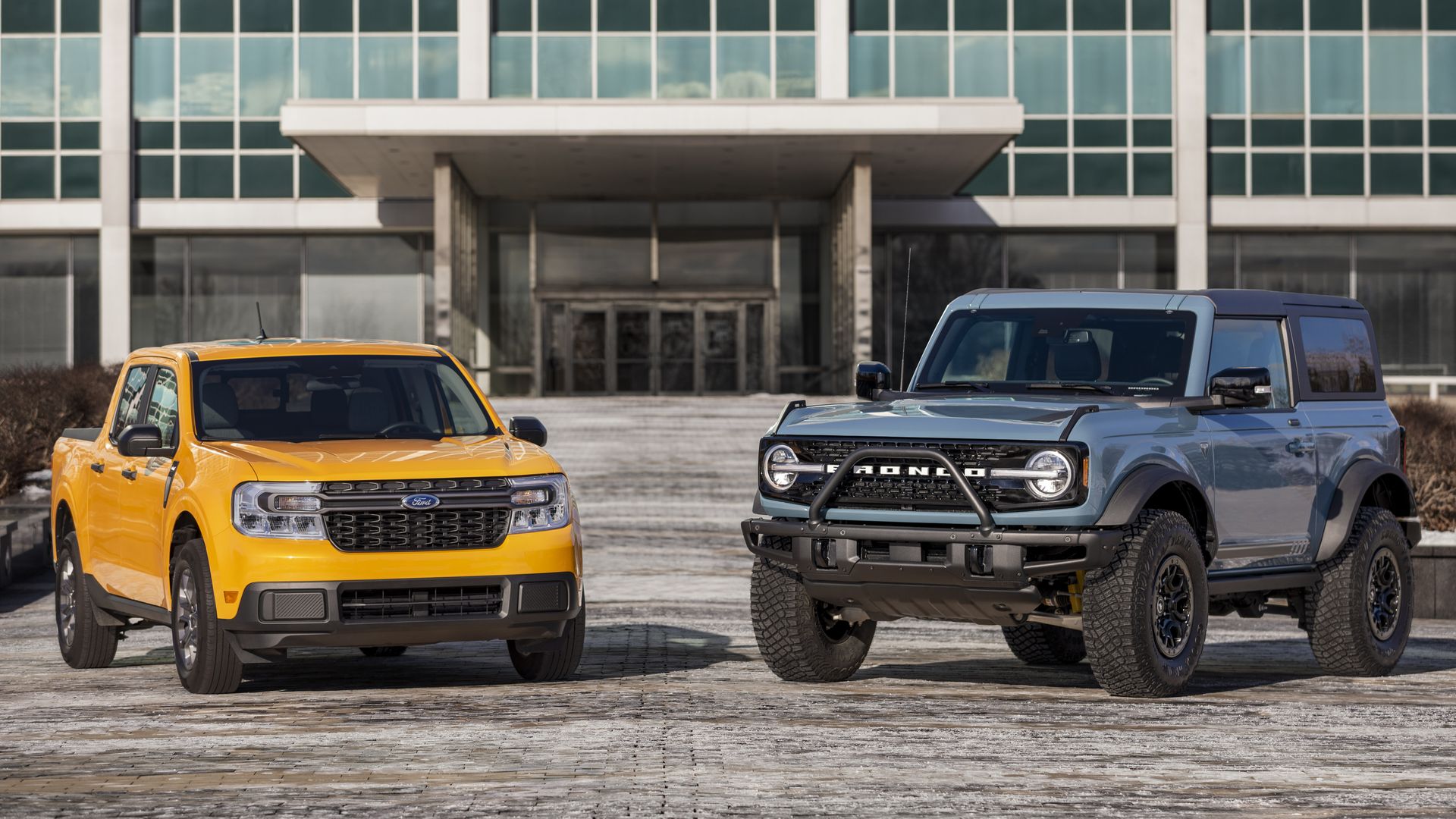 Some of the most innovative electric vehicles we've test-driven in the past year were snubbed as 2022 North American Car, Truck and Utility of the Year, announced on Tuesday.
Driving the news: The Lucid Air sedan, Rivian R1T pickup and Hyundai Ioniq 5 crossover utility were all finalists for best vehicles in their category, but they lost out to traditional models from well-known brands.
The winners: Honda Civic (car), Ford Maverick (truck) and Ford Bronco (utility).
The jury: 50 leading automotive journalists from the U.S. and Canada (including yours truly).
My thought bubble: The winners stood out for their value for the money and, in the case of the Bronco, technology that enabled even me to excel at off-roading.
Starting at $19,995, the small and efficient Maverick hybrid finally makes pickup trucks affordable for entry-level buyers, and the 11th-generation Civic is rock solid as always.
Yes, but: I was impressed by all three EV finalists, especially since Lucid and Rivian are newcomers to the industry.
The $169,000 Lucid Air Dream is a game-changer that could unlock more affordable electric vehicles for the masses.
Rivian's fresh and surprisingly capable R1T opens up a new market for electric pickup trucks.
And Hyundai's spacious Ioniq 5, which can charge to 80% in just 18 minutes, shows how EVs can easily fit into our lives.
The bottom line: These futuristic EVs hold promise, but it's too early to declare them winners.
Source : https://www.axios.com/electric-cars-could-become-charging-stations-too-205b3d25-46d7-486c-b44c-6f99ab261525.html
A new survey found that 69% of respondents want nothing to do with hybrids, plug-in hybrids, or battery electric vehicles — just good old fashioned internal combustion engines for them, please and thank you.
The secret to marketing, according to those who are supposed to know about such things, is to find out what customers want and then give it to them. Seems simple enough, but it's not simple to do. Steve Jobs, the founder of Apple, had a different philosophy. He said, "People don't know what they want until you show it to them. That's why I never rely on market research. Our task is to read things that are not yet on the page."
The EV revolution is crucial to reducing carbon dioxide emissions, but that doesn't mean everyone wants to rush right out and buy an electric car. Consumers need to be educated about these newfangled contraptions, and manufacturers need to be educated about what their customers want.
Deloitte is a global consulting company whose mission is to help business leaders learn what their customers want. It creates surveys and then sells the results to the companies who are willing to pay for them. It has just released its rather grandly named 2022 Global Automotive Consumer Study.
According to The Drive, it surveyed 927 Americans "of driving age" (not necessarily people in the market for a new car) and found 69% of them want nothing to do with hybrids, plug-in hybrids, or battery electric vehicles — just good old fashioned internal combustion engines for them, please and thank you. In fact, only 5% said they were interested in buying a battery-electric vehicle at all.
But if they were to consider a BEV, it would need to have 518 miles of range and cost no more than a conventional car. What that means is not exactly clear. Business Insider this week reported the average price of a new car in the US has just passed the $47,000 mark. The days of the entry level car priced below $10,000 are long gone. Dare we say that there are plenty of electric cars available in the US market right now this very minute that can be had for less than $47,000? One could say that when it comes to the old canard about how EVs are so expensive that only wealthy people can afford them, some consumers doth protest too much.
One item that concerned many Americans who responded to the survey was what they perceive to be the high cost of installing a charger for an electric car at home. This is a topic that defies easy analysis. Many manufacturers like Hyundai and Ford have established programs to help EV customers get home chargers installed, but it is impossible to say specifically how much each installation will cost.
A lot depends on the customer's individual circumstances. If a home is limping along with 100 amp service, there may not be room for a new 50 amp breaker to power an EV charger. Upgrading the electrical service can be an expensive proposition. The distance from the entry panel to the garage can be a big factor in the cost of installing a charger, particularly if there are foundations that need to be breached to run wires.
On the other hand, not everyone needs a 50 amp circuit to charge an electric car. If there is a 30 amp outlet for an electric dryer available, a proud new EV owner can simply purchase a splitter from NeoCharge or other company that plugs right in and provides electricity to both the dryer and the charging cable that comes with every EV. No electrician to pay. No EV charger to buy.
One interesting item the survey found was that only 11% of Americans think they would use a public charger, which calls into question the Biden administration's push for installing half a million EV chargers all across the country. Many said they would charge at work — which assumes a.) that they actually drive to work any more and b.) that their employer has installed chargers for employees or will do so soon.
Source : https://cleantechnica.com/2022/01/13/survey-says-americans-want-cheaper-electric-cars-with-longer-range/
Electric cars can help reduce greenhouse gases and companies are taking note — racing to become the next Tesla. Today on the show, guest host Dan Charles talks with business reporter Camila Domonoske about how serious the country is about this big switch from gas to electric cars. Plus, what could get drivers to ditch the gas guzzlers?
For more of Camila's reporting on electric cars, check out "The age of gas cars could be ending" and "2 little-known automotive startups are leading the race to become the next Tesla"
You can email the show at ShortWave@NPR.org.
This episode was produced by Thomas Lu, edited by Sara Sarasohn, and fact-checked by Indi Khera. The audio engineer for this episode was Gilly Moon.
Source : https://www.roadandtrack.com/news/a38698676/does-anyone-want-an-electric-car/